Maristem—Stem Cells of Marine/Aquatic Invertebrates: From Basic Research to Innovative Applications
1
Dipartimento di Biologia, University of Padova, Via U. Bassi 58/B 35100 Padova, Italy
2
Israel Oceanography and Limnological Research, National Institute of Oceanography, Tel Shikmona, PO Box 8030, Haifa 31080, Israel
3
Max Planck Institute for Molecular Biomedicine, Röntgenstraße 20, and Medical Faculty, University of Münster, Albert-Schweitzer-Campus 1, 48149 Münster, Germany
4
Institute of Oceanology, Polish Academy of Sciences, Powstańców Warszawy 55, 81-712 Sopot, Poland
5
Luxembourg Institute of Science and Technology, 5, avenue des Hauts-Fourneaux, L-4362 Esch-sur-Alzette, Luxembourg
6
Department of Earth and Marine Sciences, University of Palermo, Via Archirafi 22, 90123 Palermo, Italy
7
Muséum National d'Histoire Naturelle, MCAM Laboratory (UMR 7245CNRS-MNHN) 75005 Paris, France
8
Biotechnical Faculty, University of Ljubljana, Večna pot 111, 1000 Ljubljana, Slovenia
9
Achucarro Basque Center for Neuroscience, Science Park of the UPV/EHU, Sede Building, Barrio Sarriena, E-48940 Leioa, and Ikerbasque, The Basque Foundation for Science. María Díaz Haroko Kalea, 3, 48013 Bilbo, Spain
10
Centre for Chromosome Biology, School of Natural Sciences, National University of Ireland Galway, Galway, Ireland
11
Sorbonne Université, UPMC, Univ Paris 06, CNRS, Biologie Intégrative des Organismes Marins (BIOM), Observatoire Océanologique, F-66650 Banyuls/Mer, France
12
Institut für Zoologie, Universität Innsbruck, Technikerstraβe 50, A-6020 Innsbruck, Austria
13
Tallinn University of Technology, Ehitajate tee 5, 19086 Tallinn, Estonia
14
Center for Marine Research, Ruđer Bošković Institute, G. Paliaga 5, HR-52210 Rovinj, Croatia
15
Departament de Genetica, Universitat de Barcelona, Av. Diagonal 643, 08028-Barcelona, Spain and Institut Català de Recerca i Estudis Avancats (ICREA), 08010-Barcelona, Spain
16
GEE & CDB Departments, University College London, Darwin Building, Gower Street, London WC1E 6BT, UK
17
Rudjer Boskovic Institute, Laboratory for Aquaculture and Pathology of Aquaculture Organisms, Bijenicka cesta 54, HR-10000 Zagreb, Croatia
18
Dipartimento di Scienze e Tecnologie Biologiche ed Ambientali, Università del Salento, Strada Provinciale Lecce-Monteroni, 73100 Lecce, Italy
19
National Institute of Biology, Marine Biology Station, Fornače 41, SI-6330 Piran, Slovenia
20
Fraunhofer Research Institution for Marine Biotechnology and Cell Technology, Mönkhofer Weg 239a, 23562 Lübeck, Germany
21
Sars International Centre for Marine Molecular Biology, University of Bergen, Thormøhlensgt. 55, N-5006 Bergen, Norway
22
Israel Oceanography and Limnological Research, National Institute of Oceanography, Tel Shikmona, PO Box 8030, Haifa 31080, Israel
23
Biomaterials, Biodegradables and Biomimetics, University of Minho, AvePark—Parque de Ciência e Tecnologia, 4805-017 Barco, Guimarães, Portugal
24
Scottish Oceans Insitute, East Sands, University of St Andrews, KY16 8LB and School of Biology, Biomedical Sciences Research Complex, North Haugh, University of St Andrews, St Andrews KY16 9ST, UK
25
Anatomy Department, Faculty of Medicine & Surgery, University of Malta, Msida MSD2080, Malta
26
Universitade Nova de Lisboa, ITQB NOVA, Instituto de Tecnologia Química e Biológica António Xavier, Av. da República, 2780-157 Oeiras, Portugal
*
Author to whom correspondence should be addressed.
Received: 23 January 2018 / Revised: 10 February 2018 / Accepted: 12 February 2018 / Published: 15 February 2018
Abstract
The "stem cells" discipline represents one of the most dynamic areas in biomedicine. While adult marine/aquatic invertebrate stem cell (MISC) biology is of prime research and medical interest, studies on stem cells from organisms outside the classical vertebrate (e.g., human, mouse, and zebrafish) and invertebrate (e.g.,
Drosophila
,
Caenorhabditis
) models have not been pursued vigorously. Marine/aquatic invertebrates constitute the largest biodiversity and the widest phylogenetic radiation on Earth, from morphologically simple organisms (e.g., sponges, cnidarians), to the more complex mollusks, crustaceans, echinoderms, and protochordates. These organisms contain a kaleidoscope of MISC-types that allow the production of a large number of novel bioactive-molecules, many of which are of significant potential interest for human health. MISCs further participate in aging and regeneration phenomena, including whole-body regeneration. For years, the European MISC-community has been highly fragmented and has established scarce ties with biomedical industries in an attempt to harness MISCs for human welfare. Thus, it is important to (i) consolidate the European community of researchers working on MISCs; (ii) promote and coordinate European research on MISC biology; (iii) stimulate young researchers to embark on research in MISC-biology; (iv) develop, validate, and share novel MISC tools and methodologies; (v) establish the MISC discipline as a forefront interest of biomedical disciplines, including nanobiomedicine; and (vi) establish collaborations with industries to exploit MISCs as sources of bioactive molecules. In order to fill the recognized gaps, the EC-COST Action 16203 "MARISTEM" has recently been launched. At its initial stage, the consortium unites 26 scientists from EC countries, Cooperating countries, and Near Neighbor Countries.
View Full-Text
►

▼

Figures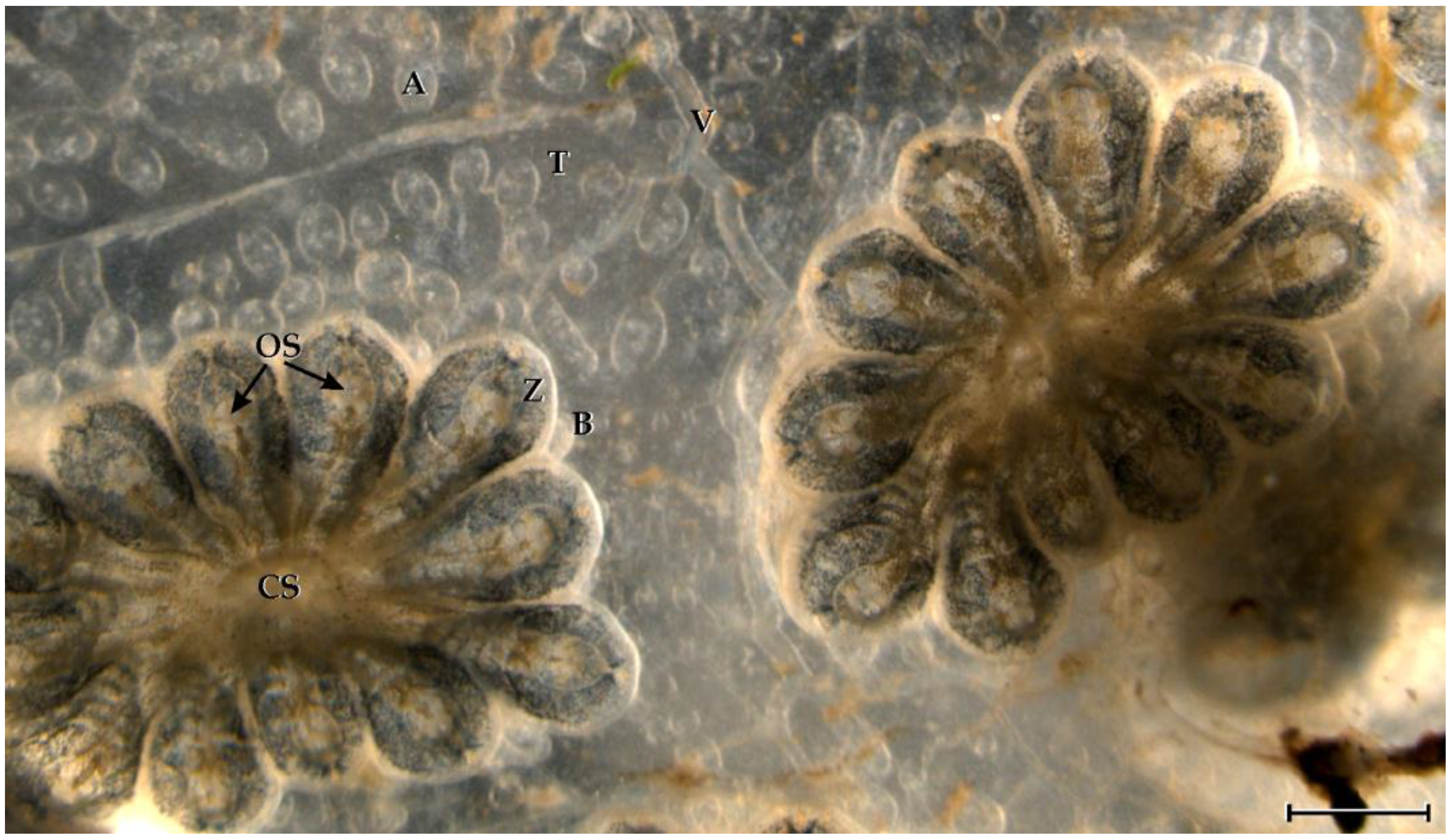 Figure 1
This is an open access article distributed under the
Creative Commons Attribution License
which permits unrestricted use, distribution, and reproduction in any medium, provided the original work is properly cited. (CC BY 4.0).
Scifeed alert for new publications
Never miss any articles
matching your research
from any publisher
Get alerts for new papers matching your research
Find out the new papers from selected authors
Updated daily for 49'000+ journals and 6000+ publishers
Share & Cite This Article
MDPI and ACS Style
Ballarin, L.; Rinkevich, B.; Bartscherer, K.; Burzynski, A.; Cambier, S.; Cammarata, M.; Domart-Coulon, I.; Drobne, D.; Encinas, J.; Frank, U.; Geneviere, A.-M.; Hobmayer, B.; Löhelaid, H.; Lyons, D.; Martinez, P.; Oliveri, P.; Peric, L.; Piraino, S.; Ramšak, A.; Rakers, S.; Rentzsch, F.; Rosner, A.; da Silva, T.H.; Somorjai, I.; Suleiman, S.; Coelho, A.V. Maristem—Stem Cells of Marine/Aquatic Invertebrates: From Basic Research to Innovative Applications. Sustainability 2018, 10, 526.
Note that from the first issue of 2016, MDPI journals use article numbers instead of page numbers. See further details here.
Related Articles
Comments
[Return to top]