Gene Editing in Human Lymphoid Cells: Role for Donor DNA, Type of Genomic Nuclease and Cell Selection Method
1
Faculty of Biology, Lomonosov Moscow State University, 1–12 Leninskie Gory, 119991 Moscow, Russia
2
NRC Institute of Immunology FMBA of Russia, 24 Kashirskoe shosse, 115472 Moscow, Russia
3
Cell and Gene Technology Group, Institute of Gene Biology RAS, 34/5 Vavilova Street, 119334 Moscow, Russia
*
Author to whom correspondence should be addressed.
Received: 10 October 2017 / Revised: 30 October 2017 / Accepted: 31 October 2017 / Published: 2 November 2017
Abstract
Programmable endonucleases introduce DNA breaks at specific sites, which are repaired by non-homologous end joining (NHEJ) or homology recombination (HDR). Genome editing in human lymphoid cells is challenging as these difficult-to-transfect cells may also inefficiently repair DNA by HDR. Here, we estimated efficiencies and dynamics of knockout (KO) and knockin (KI) generation in human T and B cell lines depending on repair template, target loci and types of genomic endonucleases. Using zinc finger nuclease (ZFN), we have engineered Jurkat and CEM cells with the 8.2 kb human immunodeficiency virus type 1 (HIV-1)
∆
Env genome integrated at the adeno-associated virus integration site 1 (AAVS1) locus that stably produce virus particles and mediate infection upon transfection with helper vectors. Knockouts generated by ZFN or clustered regularly interspaced short palindromic repeats (CRISPR/Cas9) double nicking techniques were comparably efficient in lymphoid cells. However, unlike polyclonal sorted cells, gene-edited cells selected by cloning exerted tremendous deviations in functionality as estimated by replication of HIV-1 and human T cell leukemia virus type 1 (HTLV-1) in these cells. Notably, the recently reported high-fidelity eCas9 1.1 when combined to the nickase mutation displayed gene-dependent decrease in on-target activity. Thus, the balance between off-target effects and on-target efficiency of nucleases, as well as choice of the optimal method of edited cell selection should be taken into account for proper gene function validation in lymphoid cells.
View Full-Text
►

▼

Figures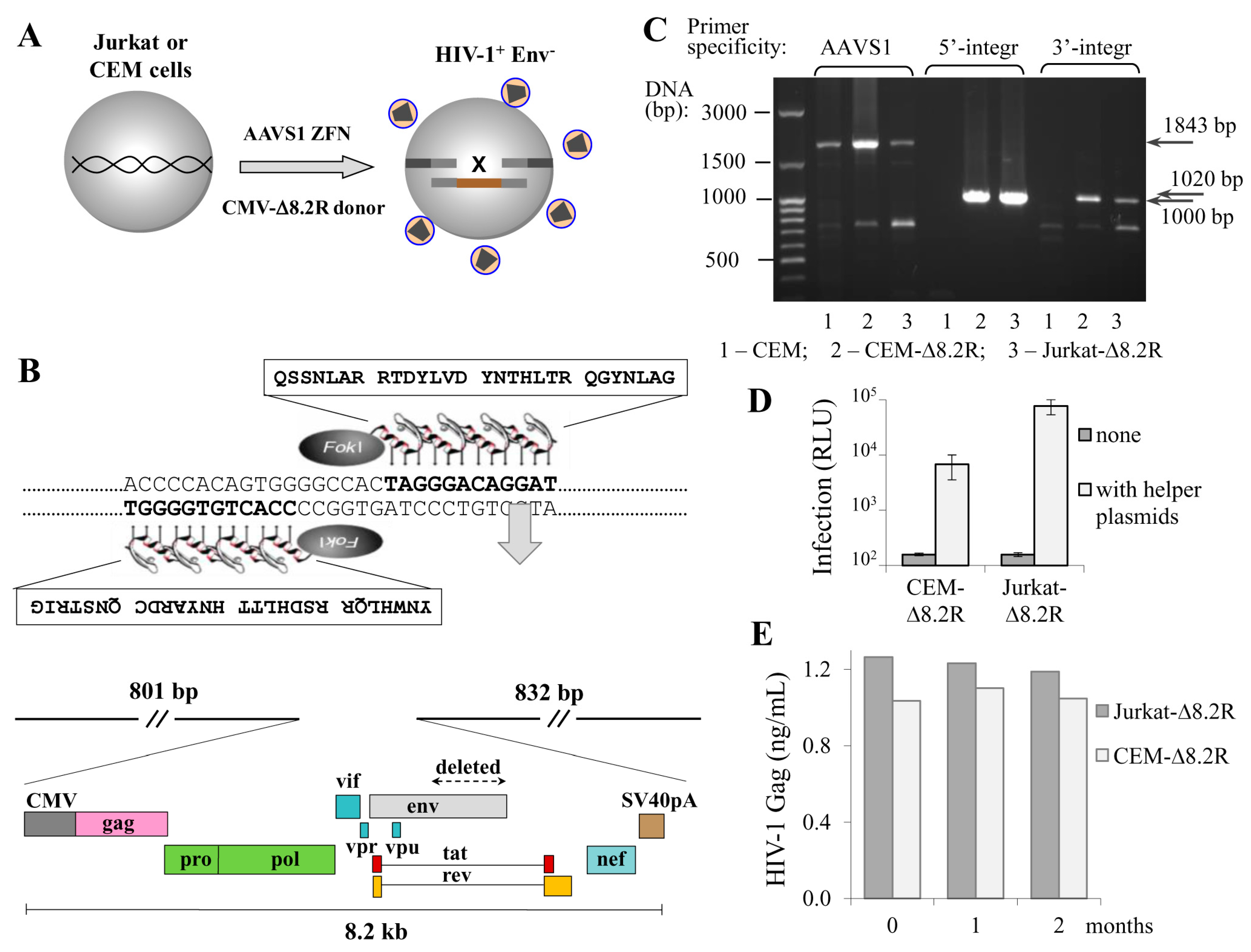 Figure 1
This is an open access article distributed under the
Creative Commons Attribution License
which permits unrestricted use, distribution, and reproduction in any medium, provided the original work is properly cited. (CC BY 4.0).
Share & Cite This Article
MDPI and ACS Style
Zotova, A.; Lopatukhina, E.; Filatov, A.; Khaitov, M.; Mazurov, D. Gene Editing in Human Lymphoid Cells: Role for Donor DNA, Type of Genomic Nuclease and Cell Selection Method. Viruses 2017, 9, 325.
Note that from the first issue of 2016, MDPI journals use article numbers instead of page numbers. See further details here.
Related Articles
Comments
[Return to top]