Insights into Human Astrocyte Response to H5N1 Infection by Microarray Analysis
1
State Key Laboratory of Agricultural Microbiology, Huazhong Agricultural University, Wuhan 430070, China
2
Laboratory of Animal Virology, College of Veterinary Medicine, Huazhong Agricultural University, Wuhan 430070, China
3
Key Laboratory of Development of Veterinary Diagnostic Products, Ministry of Agriculture, College of Veterinary Medicine, Huazhong Agricultural University, Wuhan 430070, China
*
Author to whom correspondence should be addressed.
Academic Editor: Eric O. Freed
Received: 24 March 2015 / Accepted: 20 May 2015 / Published: 22 May 2015
Abstract
Influenza virus infects not only the respiratory system but also the central nervous system (CNS), leading to influenza-associated encephalopathy and encephalitis. Astrocytes are essential for brain homeostasis and neuronal function. These cells can also be infected by influenza virus. However, genome-wide changes in response to influenza viral infection in astrocytes have not been defined. In this study, we performed gene profiling of human astrocytes in response to H5N1. Innate immune and pro-inflammatory responses were strongly activated at 24 h post-infection (hpi). Antiviral genes, as well as several cytokines and chemokines, including CXCL9, CXCL10, and CXCL11, were robustly induced. Phosphorylation of p65 and p38 can be activated by viral infection, suggesting their potential critical roles in H5N1-induced pro-inflammatory response. Moreover, H5N1 infection significantly upregulated the gene expressions related to the neuroactive ligand-receptor interaction pathway at 24 hpi, such as MC2R, CHRNG, P2RY13, GABRA1, and HRH2, which participant in synaptic transmission and may take part in CNS disorders induced by H5N1 infection. Targeting key components of innate immune response and the neuroactive ligand-receptor interaction pathway may provide a strategy to control H5N1-induced encephalopathy and encephalitis. This research can contribute to the understanding of H5N1 pathogenesis in astrocytes.
View Full-Text
►

▼

Figures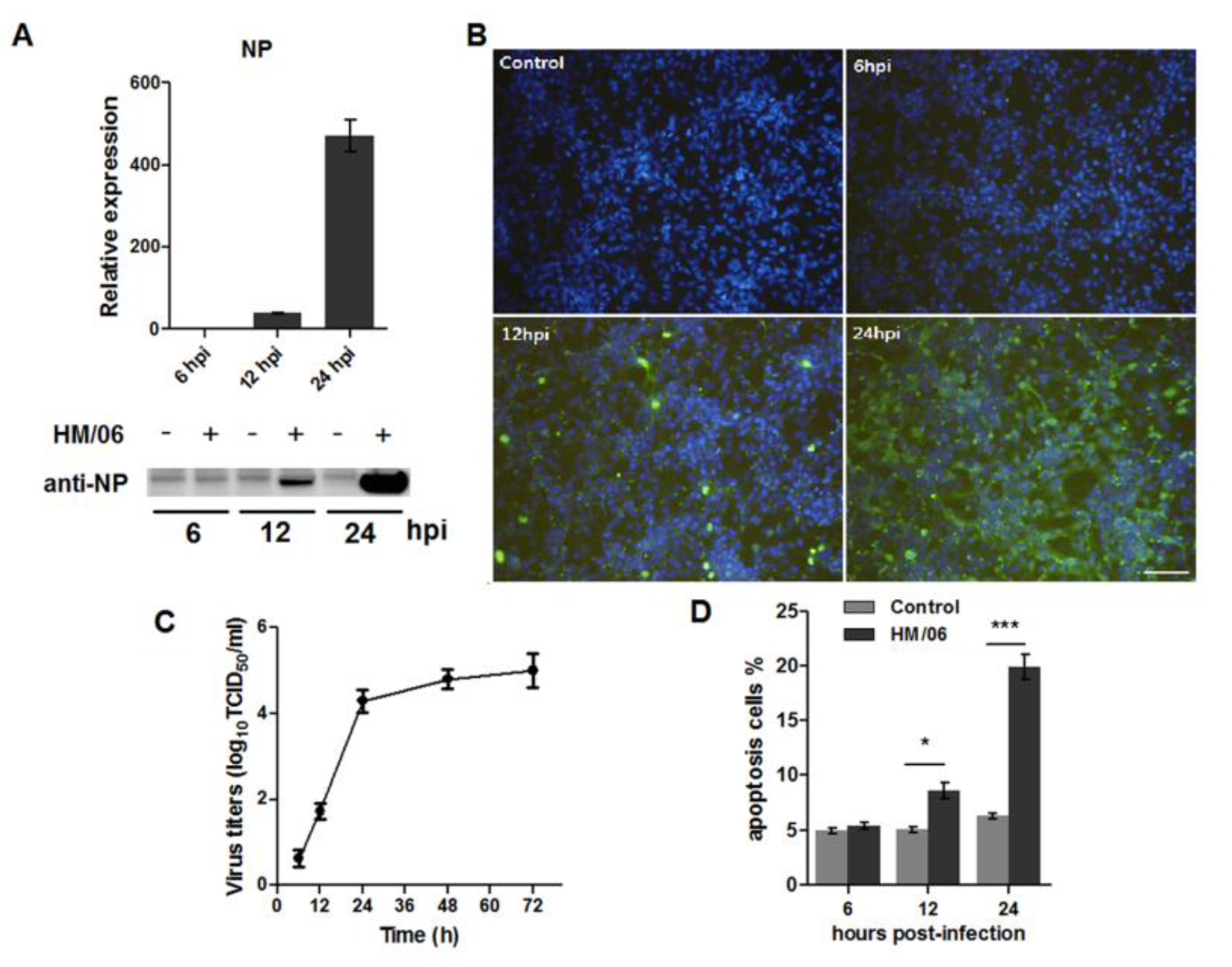 Figure 1
This is an open access article distributed under the
Creative Commons Attribution License
which permits unrestricted use, distribution, and reproduction in any medium, provided the original work is properly cited. (CC BY 4.0).
Share & Cite This Article
MDPI and ACS Style
Lin, X.; Wang, R.; Zhang, J.; Sun, X.; Zou, Z.; Wang, S.; Jin, M. Insights into Human Astrocyte Response to H5N1 Infection by Microarray Analysis. Viruses 2015, 7, 2618-2640.
Related Articles
Comments
[Return to top]