Open Access This article is
freely available
re-usable
Review
Nuclear Trafficking of Retroviral RNAs and Gag Proteins during Late Steps of Replication
1
Division of Infectious Diseases and Epidemiology, Department of Medicine, Penn State College of Medicine, 500 University Drive, Hershey, PA 17033, USA
2
Department of Microbiology & Immunology, Penn State College of Medicine, 500 University Drive, Hershey, PA 17033, USA
*
Author to whom correspondence should be addressed; Tel.: +1-717-531-3997; Fax: +1-717-531-4633.
Received: 12 October 2013; in revised form: 31 October 2013 / Accepted: 12 November 2013 / Published: 18 November 2013
Abstract
: Retroviruses exploit nuclear trafficking machinery at several distinct stages in their replication cycles. In this review, we will focus primarily on nucleocytoplasmic trafficking events that occur after the completion of reverse transcription and proviral integration. First, we will discuss nuclear export of unspliced viral RNA transcripts, which serves two essential roles: as the mRNA template for the translation of viral structural proteins and as the genome for encapsidation into virions. These full-length viral RNAs must overcome the cell's quality control measures to leave the nucleus by co-opting host factors or encoding viral proteins to mediate nuclear export of unspliced viral RNAs. Next, we will summarize the most recent findings on the mechanisms of Gag nuclear trafficking and discuss potential roles for nuclear localization of Gag proteins in retrovirus replication.
Keywords:
nuclear entry; nuclear export; nucleocytoplasmic trafficking; virus assembly; viral RNA packaging; retroviral Gag protein; HIV-1 Rev protein; Rous sarcoma virus; retroviruses
1. Introduction: Nuclear Trafficking Events in Retrovirus Replication
Retroviruses interact with nuclear trafficking machinery during several different phases of their replication cycles (Figure 1). Retrovirus replication has been divided into "early" and "late" stages, with early events extending from virus entry through integration and late stages encompassing expression of viral RNA from the provirus through virus assembly and budding of immature virus particles from the host cell. During early infection, all retroviruses must gain access to the host chromatin for the provirus to integrate. Most retroviruses depend on mitosis and breakdown of the nuclear envelope to undergo integration. However, lentiviruses like human immunodeficiency virus type 1 (HIV-1) infect non-dividing cells, having developed strategies to enter the nucleus by passing through intact nuclear pores (reviewed in [1,2,3]). Although several viral factors, including HIV-1 MA (matrix), IN (integrase), Vpr, and the reverse-transcribed proviral DNA have been implicated in nuclear entry of the pre-integration complex (PIC), more recent data indicate that the CA (capsid) protein, nuclear import factor transportin-3 (TNPO3), and the nucleoporin Nup358 are important determinants [4,5,6,7,8,9,10,11,12,13,14,15]. Thus, retroviruses have evolved different strategies to promote proviral integration through complex interactions between host and viral factors. Although these early events are essential to establish retroviral infection, this review will focus primarily on interactions of retroviruses with nuclear transport machinery following integration.
Once integration is completed, viral RNA is synthesized by the cellular RNA polymerase II. Retroviral transcripts are co-transcriptionally modified with the addition of a 5' cap and 3' poly(A) tail, like cellular mRNAs. A fraction of the viral RNA is spliced and exported out of the nucleus to serve as mRNA for translation into viral proteins. The remainder of the viral RNA remains unspliced and must be transported from the nucleus into the cytoplasm where it serves two functions: (i) as the template for translation of the viral structural proteins, Gag and Gag-Pol; and (ii) as the viral genome, which is packaged into virus particles. Because export of unspliced and incompletely spliced cellular RNAs is prevented by host machinery to prevent translation of abnormal proteins (reviewed in [17]), retroviruses must circumvent this cellular blockade to export their full-length RNA molecules (reviewed in [16,18]). Prior translation of the unspliced viral RNA is not a prerequisite for genome encapsidation, as genomic RNA can be packaged in trans (reviewed in [16]). The genomic RNA forms a noncovalent dimer and is encapsidated through an interaction between the psi (ψ) packaging sequence near the 5' end of the genome and the NC (nucleocapsid) domain of the Gag protein.
The Gag protein, which directs the assembly and budding of virus particles from the plasma membrane, is localized primarily in the cytoplasm of infected cells. However, the Gag proteins of Rous sarcoma virus (RSV), feline immunodeficiency virus (FIV), mouse mammary tumor virus (MMTV), prototype foamy virus (PFV), murine leukemia virus (MLV), Mason-Pfizer monkey virus (MPMV), HIV-1, and several retrotransposons undergo nuclear localization under certain conditions (Table 1). The RSV, FIV, and PFV Gag proteins utilize the cellular CRM1 protein for nuclear export [19,20,21], but the host importins involved in nuclear import of Gag have only been defined for RSV. In this review, we will focus on nuclear transport events associated with the nucleocytoplasmic trafficking of unspliced retroviral RNAs and Gag proteins and their roles in virion assembly.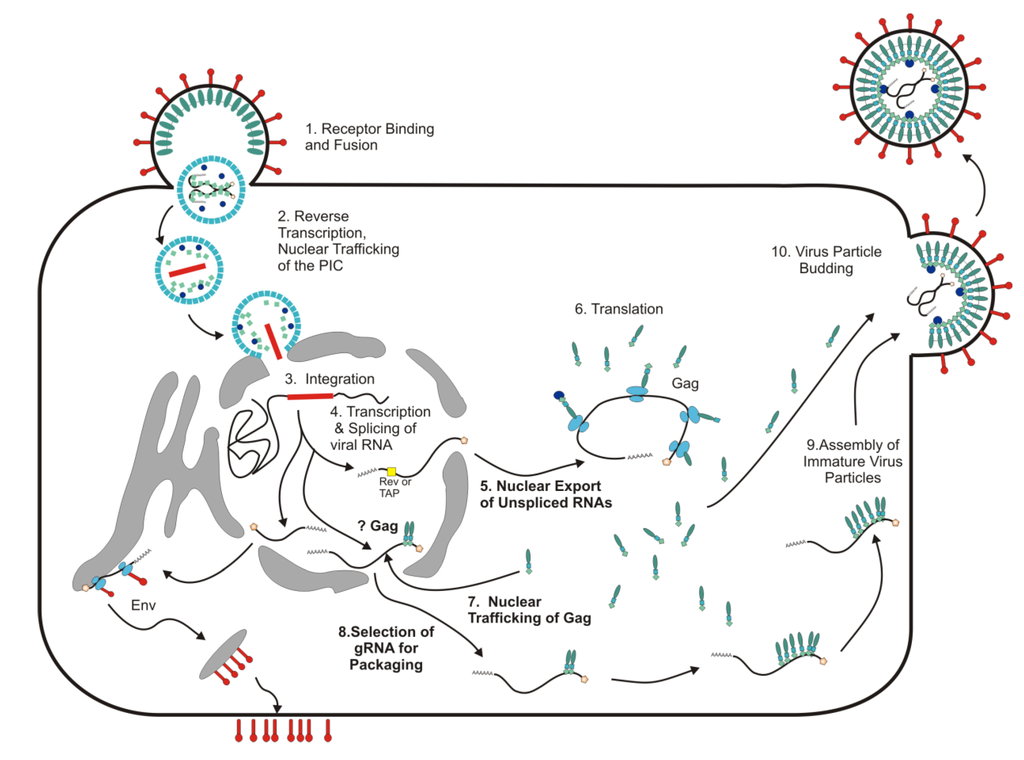 Figure 1.
Model of retrovirus replication. Retroviral infection is initiated with binding of the viral Env protein to a cell surface receptor and fusion of the viral envelope with the cellular membrane (step 1). The viral RNA genome is reverse transcribed from RNA to DNA (step 2) to form the provirus, which is stably integrated into the genome of the host cell (step 3). Viral RNA is transcribed by the host polymerase II, and a portion of the RNA is spliced to direct the translation of the Env glycoprotein and other viral proteins (step 4). A portion of the viral RNA remains unspliced and is exported from the nucleus by the host factor TAP/NXF1 (e.g., simple retroviruses MPMV and RSV) or virally encoded Rev-like proteins (e.g., complex retroviruses like HIV-1 and HTLV-I) (step 5) to serve as a template for Gag and Gag-Pol translation (step 6). The Gag proteins of some retroviruses traffic through the nucleus during assembly (step 7). It has been postulated that the nuclear population of Gag (denoted by "?") might select genomic RNA (gRNA) and transport it into the cytoplasm for packaging. Alternatively, selection of genomic RNA may occur in the cytoplasm (step 8). In either case, the Gag-gRNA complex is transported to the plasma membrane (step 9) where additional Gag molecules bind the viral RNP to complete assembly of the immature virus particle, which buds from the plasma membrane (step 10). The steps in replication that are covered in this review are indicated in bold. Figure modified from [
22
] and used with the author's permission.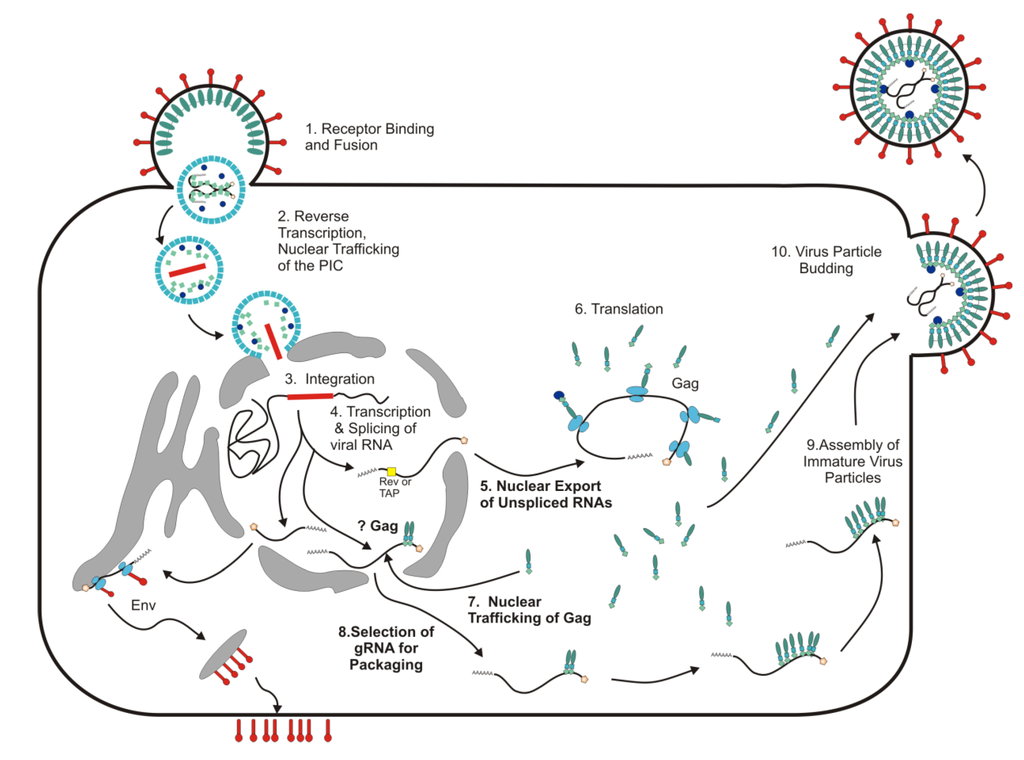 Table 1. Retroviral proteins that undergo nuclear trafficking*
Retroviral Protein
Localization of the Population Associated with the Nuclear Compartment
Nuclear Localization Mechanism
Nuclear Export Mechanism

Alpharetrovirus

RSV Gag
Nucleus [ 20,23]
Punctate Nuclear Foci [23,24]
Nucleoli [24]
Imp11 (MA domain) [ 25,26]
TNPO3 (MA Domain) [26]
Importin α/β (NC Domain) [25,26]
CRM1 [ 20,25]
RSV NC
Nucleoli [24]
Importin α/β [25,26]
None
RSV RT, β subunit
Nucleus [27]
Unknown
None
RSV IN
Nucleus [28]
Shares Import Pathway with Histone H1 [29]
None

Betaretrovirus

MMTV Gag
Nucleoli [30]
Unknown [30]; Nucleolar Localization Increased with RPL9 Overexpression [30]
No Identified NES
MMTV NC
Nucleoli [24,30]
Unknown;
None
MMTV Rem
Nucleoli [31]
Retrotranslocation from Endoplasmic Reticulum to Nucleus [32]
CRM1 [31]
MPMV Gag
Nuclear Pore Complex; Low Levels in Nucleus [33,34]
Unknown; Nuclear localization Increased with Ubc9 Overexpression [34]
CRM1 [35]
JSRV Rej
Nucleus and Nucleoli [36,37]
Unknown
Rej Function Depends on CRM1 [37]

Gammaretrovirus

MLV Gag
Nucleus [38]
Unknown
No Identified NES
MLV NC
Nucleus [24,39]
Nucleoli [24,39]
Unknown
None
MLV p12
Mitotic Chromatin [40,41]
Unknown
None
MLV IN
Nucleus and Nucleoli [39]
Unknown; Interacts withBrd4 in Nucleus [42]
None

Deltaretrovirus

HTLV Rex
Nucleus and Nucleoli [43,44,45]
Punctate Nuclear and Nucleolar Foci [43]
Importin β [46]
CRM1 [47,48]
BLV Rex
Punctate Nuclear Foci [49]
Nuclear Pore Complex [49]
Unknown
CRM1 [49]

Lentivirus

HIV-1 Gag
Nucleolar [24]
Unknown
Not CRM1 [19,35,50]
HIV-1 IN
Nucleus [14,51,52,53,54,55]
Importin α3 [51]
Importin α [14,52]
Importin 7 [56]
None
HIV-1 NC
Nucleoli [24]
Nucleus [57,58]
Unknown
None
HIV-1 Rev
Nucleus andNnucleoli [44,59]
Nuclear Foci [59]
HIV-1 Transcription Sites [60]
Importin β [61,62]
Transportin, Importin 5, and Importin 7 [63]
CRM1 [47,64]
HIV-1 Vpr
Nucleus [65,66]
Nuclear Pore Complex [6,66]
Importin α [66]
Interacts Directly with Nuclear Pore Complex [67,68]
CRM1 [65]
HIV-2 Rev
Nucleoli [69]
Unknown
Unknown
HIV-2 Vpx
Nucleoplasm [70,71]
Unknown
No Identified NES
FIV Gag
Nucleus [19], Nucleoli [19], and Nuclear Envelope [72]
Unknown
CRM1 [19]
FIV Rev
Nucleolus [73]
Unknown
CRM1 [74]
EAIV Rev
Nucleus [74]
Unknown
CRM1 [74]
BIV Rev
Nucleus and Nucleoli [75,76]
Importin α [77]
CRM1 [77]
MVV Rev
Nucleoli [78]
Unknown
Unknown
CAEV Rev
Nucleoli [79,80]
Unknown
Unknown

Spumaretrovirus

PFV Gag
Nucleus [21,81]
Punctate Nuclear Foci [82,83]
Mitotic Chromatin [82]
Binds to H2A/H2B on Mitotic Chromatin [82,83]
CRM1 [21]
* Note: Transcriptional activators related to HIV-1 Tat were not included in the table.
2. Nuclear Export of Unspliced and Incompletely Spliced RNAs of Complex Retroviruses
Productive retroviral infection requires unspliced viral transcripts to be transported into the cytoplasm where they are translated into the essential viral proteins Gag and Gag-Pol. To circumvent intrinsic cellular blockades that prevent the export of incompletely spliced RNAs from the nucleus, complex retroviruses encode trans-acting viral proteins that export their intron-containing viral RNAs from the nucleus. HIV-1 Rev was the first member of this family to be discovered; however, Rev-like proteins have been described in the Lentivirus [e.g., Rev proteins of human immunodeficiency virus type-2 (HIV-2), simian immunodeficiency virus (SIV), FIV, equine infectious anemia virus (EIAV), bovine immunodeficiency virus (BIV), Maedi-visna virus (MVV) and caprine encephalitis-anemia virus, CAEV)] [73,84,85,86,87,88,89,90,91,92,93], Deltaretrovirus [(e.g., Rex proteins of human T cell leukemia virus type-I (HTLV-I) and bovine leukemia virus (BLV)], and Betaretrovirus [e.g., Rem protein of MMTV and Rej protein of Jaagsiekte sheep retrovirus (JSRV)] genera [31,36,37,77,94,95,96]. Rev-like proteins localize to the nucleus and nucleolus through interactions with a variety of import factors (see (1), and they contain CRM1-dependent nuclear export signals (NESs) [45,47,77,97,98,99,100].
HIV-1 Rev recognizes and binds to the highly structured cis-acting Rev-responsive element (RRE) in HIV-1 RNAs [101,102,103,104] and undergoes multimerization, which is important for its export function (reviewed in [105]). Multimerization of Rev was demonstrated within the nucleolus in living cells, suggesting that the nucleolus may be the site of Rev multimer formation [106]. However, the relevance of these experiments is somewhat limited because they were not performed in the context of HIV-1 infection, nor was the RRE sequence expressed in the cells. Attempts to define whether nucleolar localization of Rev is important for binding to RRE-containing RNAs have been difficult because the Rev RNA binding domain overlaps with the nuclear/nucleolar localization signal. However, HIV-1 unspliced RNA appears to undergo nucleolar trafficking based on the finding that the RNA is cleaved by ribozymes artificially targeted to the nucleolus [107] and small nucleolar RNAs engineered to contain the RRE are exported into the cytoplasm by Rev [108,109]. Together, these data provide evidence that Rev and the RRE-containing viral transcripts both traffic through the nucleolus, but there is no definitive evidence that nucleolar trafficking of the Rev-RRE complex is essential for nuclear export of HIV-1 RNA during natural virus infection.
In the nucleoplasm, Rev co-localizes with the SR-domain splicing factor SC-35 in nuclear speckles [59,110], intrachromatin granule clusters enriched in mRNA splicing factors and snRNPs located adjacent to sites of active transcription [111,112,113,114,115]. The association of Rev with splicing factors in speckles suggests that Rev binds to the RRE co-transcriptionally, just as splicing factors bind to cellular transcripts as they are synthesized [116]. In support of this idea, previous studies demonstrated that the Rev-RRE interaction is abrogated by transcription inhibitors [117]. More recently, it was shown that Rev co-localizes with HIV-1 RNA at transcription sites, providing strong evidence that Rev binds RRE-containing transcripts co-transcriptionally [60].
HIV-1 Rev mediates export of unspliced viral RNAs through an interaction between the NES of Rev and the CRM1/RanGTP export complex. However, many other cellular proteins also interact with Rev, indicating that nuclear export of unspliced HIV-1 RNA depends upon a complex network of interactions [60,62,105,118,119,120,121,122,123,124,125,126,127]. For example, several RNA helicases interact with Rev, including DDX1 and DDX3, which help to maintain Rev localization in the nucleolus and nucleus [124,126,127,128]. In addition, the nuclear matrix-associated protein Matrin 3 binds HIV-1 RNA co-transcriptionally and facilitates Rev-mediated nuclear export of unspliced RNA [60,129]. Although the precise mechanism by which Matrin 3 facilitates HIV-1 RNA export has not been elucidated, Matrin 3 increases the stability and expression of cellular mRNAs, suggesting that it may have a similar effect on HIV-1 RNA [130]. The finding that Matrin 3 interacts with HIV-1 RNA also creates an intriguing connection between HIV-1 RNA export and the nuclear matrix, which not only provides structural support to the nucleus [131] but also associates with areas of euchromatin involved in ongoing transcription [132]. Recent evidence also suggests that components of the nuclear matrix called nuclear regulatory networks bind genomic DNA and form a tubular pathway leading to nuclear pore complexes for nuclear export of transcripts and proteins [133,134]. Therefore, it is intriguing to postulate that Matrin 3 bridges the interaction between Rev and active HIV-1 RNA transcription sites [60,129,135,136], recruiting the CRM1 nuclear export machinery associated with nuclear regulatory networks to transport viral ribonucleoprotein complexes (RNPs) through the nuclear pore and into the cytoplasm.
3. The Role of
cis

-Acting Sequences in RNA Export of Simple Retroviruses

In contrast to complex retroviruses that encode trans-acting factors to facilitate nuclear export of unspliced RNA, simple retroviruses have evolved cis-elements to circumvent the blockade to export of unspliced transcripts from the nucleus. MPMV and other type D retroviruses, including simian retrovirus-1 and 2 (SRV-1 and SRV-2), contain a small cis element, the constitutive transport element (CTE), which is required for nuclear export of unspliced viral RNA [137,138]. When inserted into unspliced or incompletely spliced HIV-1 transcripts, the MPMV CTE sequence replaces the function of the Rev/RRE complex, leading to expression of Gag and Env followed by the production of infectious virus particles [137]. Thus, Rev/RRE and the CTE provide similar roles in the nuclear export of unspliced RNA in complex and simple retroviruses.

Insight into the mechanism by which CTE-containing RNAs are exported from the nucleus was provided by proteomic studies that identified the host nuclear export protein Tip-associating protein/Nuclear RNA export factor 1 (TAP/NXF1) as a binding partner of CTE complexes [139,140]. Microinjection of Xenopus oocyte nuclei expressing TAP/NXF1 and an intron containing the CTE resulted in nuclear export of the RNA in the absence of splicing [141,142]. The TAP/NXF1 protein, homologous to the mRNA export protein Mex67p in yeast, forms a heterodimer with NXT1 to transport mRNAs out of the nucleus [139,140,143,144,145]. The N-terminal domain of TAP/NXF1 contains an RNA recognition motif that binds to a structured stem-loop in the CTE, inducing structural changes in both TAP/NXF1 and the CTE-containing RNA to promote nuclear export of the viral RNP [146]. Mutations in the RNA or in the coding region of TAP/NXF1 that disrupt CTE-TAP/NXF1 complex formation prevent expression of CTE-containing reporters in vivo [146].

A putative cis-acting unspliced RNA transport element was also identified in RSV, which lies within 115 nucleotide direct repeat (DR) sequences flanking the v-src oncogene [147]. DR elements are highly conserved in avian retroviruses [148], and strains missing the src sequence maintain at least a single DR element to remain replication-competent [149,150]. The biological role of the DR elements is complex; pleotropic, contradictory effects on virus replication have been reported, including differences in levels of cytoplasmic accumulation of RSV RNA, viral RNA stability, expression of the Gag polyprotein, viral RNA packaging and virus assembly [148,151,152,153]. These conflicting results may be explained by differences in cell types or the use of subviral reporter constructs in some studies and full-length, replication-competent viruses in others.

RSV RNAs containing the DR elements are exported by the cellular mRNA export factor TAP/NXF1 and the RNA helicase Dbp5 [139,154,155]. An additional host factor may bridge the interaction because neither TAP/NXF1 nor Dbp5 bind the DR element directly. Because the RSV Gag protein was reported to traffic through the nucleus [20], LeBlanc et al. used a subviral reporter construct containing either the DR sequence or the ψ sequence to examine whether Gag could enhance translation by promoting nuclear export of unspliced RNA [155]. Gag did not enhance translation of the reporter; however, nucleocytoplasmic fractionation of the RNA was not performed, so it is unclear whether Gag had an effect on cytoplasmic levels of the DR- or ψ-containing RNAs. Thus, these experiments suggest that DR elements mediate nuclear export through TAP/NXF1 and Dbp5 to stimulate translation of RSV unspliced RNA, but Gag is not likely to be involved in DR-mediated RNA transport.

Taking the available data into account, we postulate that there is a temporal switch in RSV replication, such that viral transcripts produced early after integration are exported using DR-mediated interactions with Tap/NXF1 and Dbp5 to initiate the synthesis of Gag and GagPol proteins. We hypothesize that as the levels of these viral structural proteins increase, the Gag protein enters the nucleus where it may bind unspliced viral RNA and export it into the cytoplasm for encapsidation into virions [20,156]. It is possible that other simple retroviruses may use a similar mechanism. We speculate that MPMV RNA export could be similarly regulated, since a subpopulation of MPMV Gag localizes to the nucleus and nuclear envelope, and the pp24 domain NLS has been linked to genomic RNA incorporation [33,34,35]. Complex retroviruses regulate this temporal switch between early and late gene expression differently; the Rev protein is synthesized from a fully spliced mRNA and then traffics into the nucleus to promote nucleocytoplasmic transport of unspliced RNAs for structural gene expression and genome packaging.
4. Foamy Viruses Use a Unique Pathway among Retroviruses for Nuclear Export of Viral RNAs
FVs, members of the genus Spumavirus, share similarities with both simple and complex retroviruses, yet they have several unique characteristics (reviewed in [157,158]). Unlike other retroviruses, Gag is the only protein translated from an unspliced transcript [159,160,161]. Additionally, instead of being expressed as a fusion protein with Gag using frameshifting or termination codon suppression, Pol is expressed from a separate spliced viral mRNA [162]. Similar to complex retroviruses however, FVs encode the transcriptional transactivator protein Tas, which functions analogously to HIV-1 Tat [163]. FVs do not encode an accessory protein with Rev-like functionality [164], therefore, FVs rely entirely on host factors to mediate the export of unspliced RNA from the nucleus, similar to the simple retroviruses MPMV and RSV.
Among retroviruses, PFV utilizes a unique set of cellular factors that bind to its viral RNA for nucleocytoplasmic transport. Rather than using TAP/NXF1, like the cis-acting RSV and MPMV RNA transport elements [139,155], spliced and unspliced PFV RNAs interact with host proteins HuR and ANP32A/B to exit the nucleus through the CRM1 pathway [165]. HuR associates with PFV RNAs and the adaptor proteins ANP32A or ANP32B, which bridge the association with CRM1 [165,166,167]. The HuR-interacting RNA sequence likely resides in the 3' region of the genome, which is shared among spliced and unspliced PFV RNAs [165], although the PFV 3' end does not share homology with previously-characterized RNA sequences that bind HuR [165]. Although both the spliced and unspliced PFV transcripts appear to be exported by the same pathway, subsequent interaction with the cytoplasmic mRNA processing factor DDX6 may distinguish the genomic RNA from the viral transcripts earmarked for translation on polysomes [168]. It is not yet known whether all PFV RNPs exported by HuR-ANP32A/B-CRM1 traffic to the same subcellular location where DDX6 co-localizes with genomic RNA in association with Gag. However, having spliced and unspliced RNAs targeted to the same cytoplasmic localization may not pose a problem for selective genomic RNA selection by PFV Gag because both segments of the bipartite cis packaging signal are present only on unspliced viral RNA [169].
7. Localization of Gag to Subnuclear Sites
The Gag proteins of RSV and HIV-1 localize to the nucleolus under certain conditions [24] (Figure 2), and nucleolar trafficking of RSV Gag is dependent on basic residues in the NC domain. For RSV NC NoLS activity resides in residues 36–39 (KKRK), 61–63 (RKR) and 70R/73K. By contrast, the HIV-1 NC domain contains two independent NoLSs (R10/K11 and R32/K33/K34), each of which is sufficient for nucleolar localization of NC [24]. HIV-1 NC localizes to the nucleus during infection [57,58], but it is not clear whether nucleolar localization of the mature NC protein plays an important role during early infection. It is intriguing that many capsid and nucleic acid binding proteins from diverse viruses localize to the nucleolus, prompting the nucleolus to be referred to as "the gateway to viral infection" [19,24,26,39,57,58,207].
Due to the transient nature of its trafficking through the nucleus, detecting RSV Gag in nucleoli requires disruption of the nuclear export activity of Gag, either by mutating the p10 NES or treating infected cells with LMB [24]. The retention of Gag in nucleoli is decreased in the presence of the RSV Ψ packaging signal, suggesting that Gag binding to the packaging signal may either induce the Gag-RNA complex to leave the nucleolus or may prevent trafficking of the RSV RNP through the nucleolus. Whether there is a host protein or RNA that binds to RSV Gag-RNA complexes in the nucleolus is unknown. A subset of the HIV-1 Gag protein also localizes to nucleoli when the provirus is expressed at high levels from an inducible, Rev-dependent, integrated provirus. HIV-1 Gag accumulates in nucleoli when co-expressed with Rev or NC, and positive FRET (fluorescence resonance energy transfer) was observed between Gag and Rev, indicating an intimate association between these proteins within the nucleolus [24]. Whether the nucleolar localization of HIV-1 Gag or the interaction between Gag and Rev has any significant role in genomic RNA encapsidation or virus replication remains to be determined.
Other retroviral Gag proteins have been reported to localize to the nucleolus under certain conditions. For example, LMB treatment of transfected cells causes FIV Gag to accumulate in nucleoli when expressed alone and nucleolar localization was dependent on NC [19] (Figure 2). However, the importance of Gag or NC nucleolar localization was not further investigated. In addition, MMTV Gag is partially nucleolar-localized in a murine mammary cell line chronically infected with a highly tumorigenic strain of the virus [30]. Furthermore, a subset of MMTV Gag can be induced to accumulate in the nucleolus with overexpression of ribosomal protein L9, which interacts with MMTV Gag in an extraribosomal context (Figure 2). A functional role for this interaction was demonstrated by knockdown of L9, which causes a decrease in MMTV particle production [30]. Thus, it is possible that nucleolar trafficking of MMTV Gag is an important step in virus assembly pathway, although further experiments will be needed to test this intriguing idea.
In addition to localizing to the nucleolus, the RSV Gag protein also accumulates in discrete nucleoplasmic foci when restricted to the nucleus by mutating the NES or inhibiting CRM1-mediated nuclear export [20,23] (Figure 2). It will be interesting to determine whether RSV Gag is associated with a particular subnuclear body or tethered to a specific cellular protein or RNA at these sites. The appearance of these subnuclear foci of RSV Gag is similar to the localization of Spumaretrovirus PFV Gag in nucleoplasmic foci during prophase [82]. In the case of PFV, it was recently discovered that the Gag protein binds to the host chromosome in mitotic cells using a chromatin-tethering domain encoded in the glycine-arginine box II domain, which binds to core histones H2A and H2B [82]. The PFV Gag-chromatin interaction facilitates proviral integration, although the precise mechanism has not been defined. In addition, a CRM1-dependent nuclear export pathway was reported for PFV Gag, although this finding is controversial [21,83]. An intriguing idea not yet experimentally tested is whether the association PFV Gag with the proviral integration site [82] could position Gag at the site of PFV RNA synthesis to facilitate selection of genomic RNA. Additional studies are required to determine whether PFV Gag nuclear localization plays a role in genomic RNA encapsidation or whether its function is restricted to early events, when it facilitates integration of the provirus.
8. Remaining Questions about Nuclear Trafficking during Retrovirus Assembly
In the past decade, great strides have been made in understanding the mechanisms that guide nuclear import, nuclear export, and the intranuclear activities of retroviral and retrotransposon Gag proteins. The use of a comparative approach to identify common and unique features of different Gag proteins in the nucleus has been very illuminating. Although it is not yet clear whether all Gag proteins transit through the nucleus at some low level, examination of the roles of nucleocytoplasmic trafficking in those Gag proteins that do enter the nucleus or associate with the nuclear envelope (RSV, MPMV, MLV, HIV-1, FIV, PFV, Ty1 and Tf1) are important to pursue.
Is Gag nuclear trafficking involved in genomic RNA packaging? To date, studies of RSV, MPMV, and Ty1 support this idea. PFV Gag associates with chromatin and plays a role in integration, although it might also function in genome encapsidation of nuclear transcripts [21,83]. In simple retroviruses, there could be a temporal switch with unspliced viral RNA export mediated by Tap/NXF1 for translation of structural proteins early after integration. As Gag proteins accumulate, they could enter the nucleus and export viral RNA for packaging. Thus, could there be two pathways of nuclear export of unspliced viral RNAs, or two distinct viral RNPs, one primed for packaging and the other for translation? If so, it is logical to suggest that the cytoplasmic fates of retroviral RNAs may be pre-determined in the nucleus according to the composition of the RNP.
Finding that several retroviral Gag proteins undergo nucleolar localization raises intriguing questions about whether there is a unifying function of the nucleolus in virus replication. One possibility is that retroviral Gag proteins interact with a host protein or RNA in the nucleolus involved in genome packaging or virus assembly. It is intriguing that several RNA pol III transcripts are enriched in retroviral particles, including RNAs that are processed in the nucleolus such as tRNA, U6 small nuclear RNA, 7SL [208,209], and 5S rRNA, [187,210,211,212,213,214,215,216]. Whether these RNAs are recruited into virus particles as passengers encountered along the subcellular trafficking route of Gag or whether they play a facilitating role in virus replication remains to be seen. As an interesting connection with endogenous retroelements and the nucleolus, there is strong genetic evidence that the nucleolus may be the site of RNP maturation for the LINE (long-interspersed nuclear element) retrotransposons, with U6 potentially playing a central role [217]. Thus, further investigation into the role of nuclear machinery in retrovirus and retrotransposon RNA processing, nuclear export, and RNP trafficking may generate new paradigms about genomic RNA encapsidation and virus particle assembly.
Acknowledgments
This work was supported by grants from the National Institutes of Health R01CA76534 (LJP), P50GM103297 (LJP), F30 CA165774 (DVB), F31 CA171862 (RJK) and CURE Funding from the Pennsylvania Department of Health (LJP). The Pennsylvania Department of Health specifically disclaims responsibility for any analyses, interpretations, or conclusions of this project.
Conflicts of Interest
The authors declare no conflict of interest.
© 2013 by the authors; licensee MDPI, Basel, Switzerland. This article is an open access article distributed under the terms and conditions of the Creative Commons Attribution license (http://creativecommons.org/licenses/by/3.0/).