The Revolution in Viral Genomics as Exemplified by the Bioinformatic Analysis of Human Adenoviruses
1
Clinical Investigation Facility, David Grant USAF Medical Center, Travis AFB, CA 94535, USA
2
Department of Ophthalmology, Howe Laboratory, Massachusetts Eye and Ear Infirmary, Harvard Medical School, Boston, 02114 MA, USA
3
Department of Bioinformatics and Computational Biology, George Mason University, Manassas, VA 20110, USA
*
Author to whom correspondence should be addressed.
Received: 27 May 2010 / Accepted: 24 June 2010 / Published: 28 June 2010
Abstract
Over the past 30 years, genomic and bioinformatic analysis of human adenoviruses has been achieved using a variety of DNA sequencing methods; initially with the use of restriction enzymes and more currently with the use of the GS FLX pyrosequencing technology. Following the conception of DNA sequencing in the 1970s, analysis of adenoviruses has evolved from 100 base pair mRNA fragments to entire genomes. Comparative genomics of adenoviruses made its debut in 1984 when nucleotides and amino acids of coding sequences within the hexon genes of two human adenoviruses (HAdV), HAdV–C2 and HAdV–C5, were compared and analyzed. It was determined that there were three different zones (1-393, 394-1410, 1411-2910) within the hexon gene, of which HAdV–C2 and HAdV–C5 shared zones 1 and 3 with 95% and 89.5% nucleotide identity, respectively. In 1992, HAdV-C5 became the first adenovirus genome to be fully sequenced using the Sanger method. Over the next seven years, whole genome analysis and characterization was completed using bioinformatic tools such as blastn, tblastx, ClustalV and FASTA, in order to determine key proteins in species HAdV-A through HAdV-F. The bioinformatic revolution was initiated with the introduction of a novel species, HAdV-G, that was typed and named by the use of whole genome sequencing and phylogenetics as opposed to traditional serology. HAdV bioinformatics will continue to advance as the latest sequencing technology enables scientists to add to and expand the resource databases. As a result of these advancements, how novel HAdVs are typed has changed. Bioinformatic analysis has become the revolutionary tool that has significantly accelerated the in-depth study of HAdV microevolution through comparative genomics.
View Full-Text
►

▼

Figures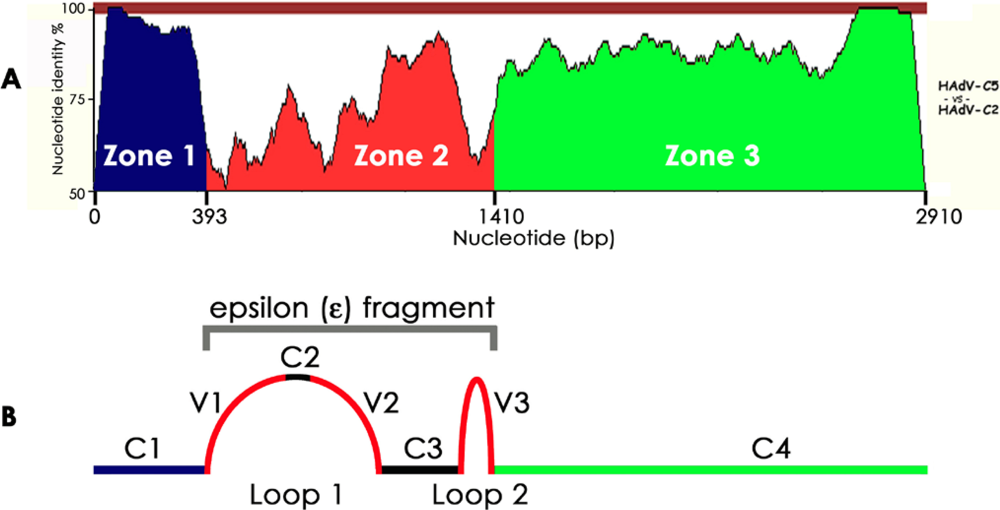 Figure 1
Share & Cite This Article
MDPI and ACS Style
Torres, S.; Chodosh, J.; Seto, D.; Jones, M.S. The Revolution in Viral Genomics as Exemplified by the Bioinformatic Analysis of Human Adenoviruses. Viruses 2010, 2, 1367-1381.
Related Articles
Comments
[Return to top]