Release of Ciprofloxacin-HCl and Dexamethasone Phosphate by Hyaluronic Acid Containing Silicone Polymers
1
Centre for Contact Lens Research, School of Optometry, University of Waterloo, 200 University Avenue West, Waterloo, ON N2L 3G1, Canada
2
School of Biomedical Engineering, McMaster University, 1280 Main Street West, Hamilton, ON L8S 4L7, Canada
3
Department of Chemical Engineering, McMaster University, 1280 Main Street West, Hamilton, ON L8S 4L7, Canada
*
Author to whom correspondence should be addressed.
Received: 8 March 2012 / Accepted: 10 April 2012 / Published: 19 April 2012
Abstract
The purpose of this study was to determine the effect of the covalent incorporation of hyaluronic acid (HA) into conventional hydrogel and hydrogels containing silicone as models for contact lens materials on the uptake and release of the fluoroquinolone antibiotic ciprofloxacin and the anti-inflammatory steroid dexamethasone phosphate. A 3 mg/mL ciprofloxacin solution (0.3% w/v) and a 1 mg/mL dexamethasone phosphate solution (0.1%) was prepared in borate buffered saline. Three hydrogel material samples (pHEMA; pHEMA TRIS; DMAA TRIS) were prepared with and without the covalent incorporation of HA of molecular weight (MW) 35 or 132 kDa. Hydrogel discs were punched from a sheet of material with a uniform diameter of 5 mm. Uptake kinetics were evaluated at room temperature by soaking the discs for 24 h. Release kinetics were evaluated by placing the drug-loaded discs in saline at 34 °C in a shaking water bath. At various time points over 6–7 days, aliquots of the release medium were assayed for drug amounts. The majority of the materials tested released sufficient drug to be clinically relevant in an ophthalmic application, reaching desired concentrations for antibiotic or anti-inflammatory activity in solution. Overall, the silicone-based hydrogels (pHEMA TRIS and DMAA TRIS), released lower amounts of drug than the conventional pHEMA material (
p
< 0.001). Materials with HA MW132 released more ciprofloxacin compared to materials with HA MW35 and lenses without HA (
p
< 0.02). Some HA-based materials were still releasing the drug after 6 days.
View Full-Text
►

▼

Figures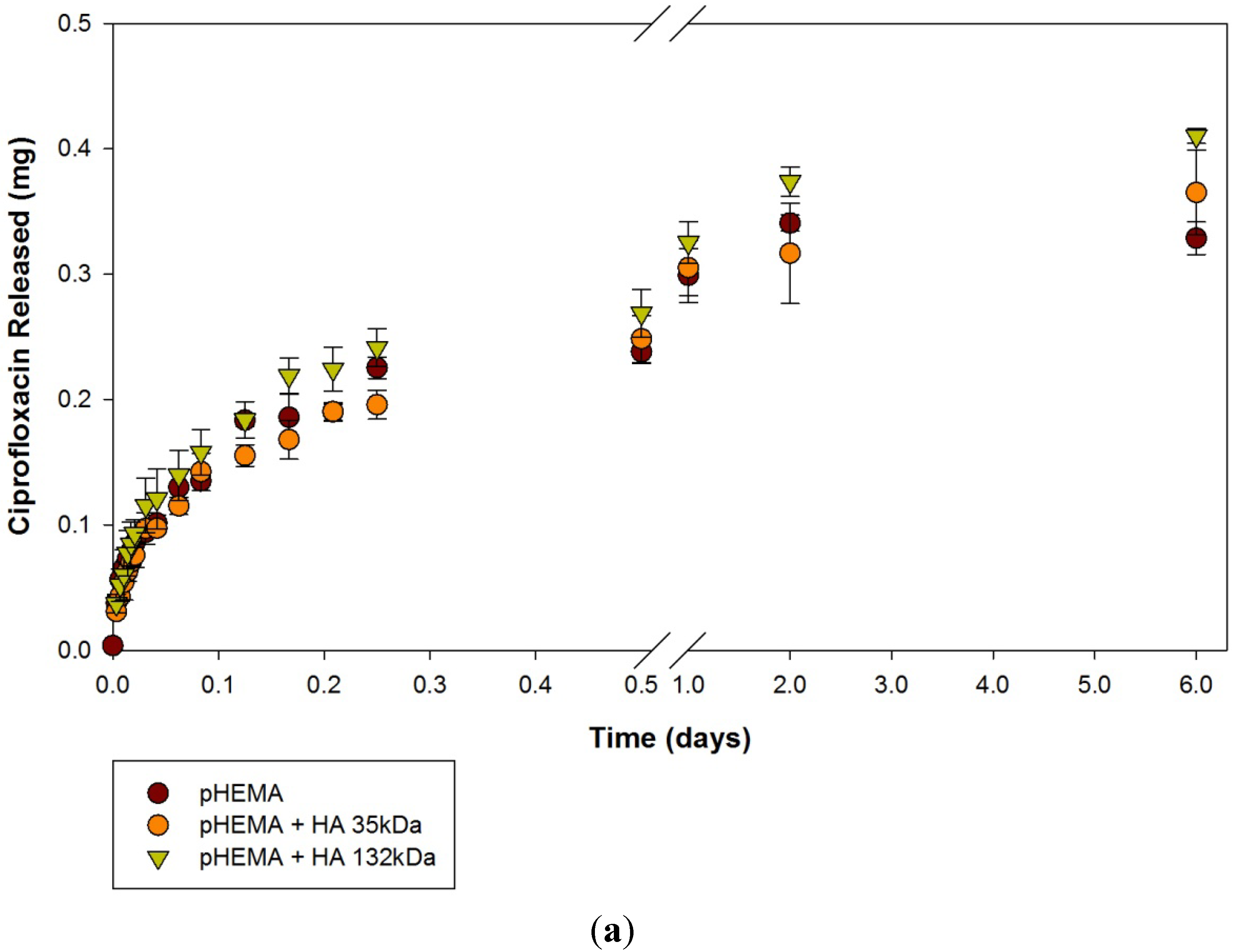 Figure 1a
Share & Cite This Article
MDPI and ACS Style
Nguyen, D.; Hui, A.; Weeks, A.; Heynen, M.; Joyce, E.; Sheardown, H.; Jones, L. Release of Ciprofloxacin-HCl and Dexamethasone Phosphate by Hyaluronic Acid Containing Silicone Polymers. Materials 2012, 5, 684-698.
Related Articles
Comments
[Return to top]