Gene Expression, Bacteria Viability and Survivability Following Spray Drying of Mycobacterium smegmatis
1
Harvard School of Engineering and Applied Sciences, 58 Oxford Street, ESL 406, Cambridge, MA 02138, USA
2
Harvard School of Engineering and Applied Sciences, 29 Oxford Street, 322 Pierce Hall, Cambridge, MA 02138, USA
3
Wyss Institute of Biologically Inspired Engineering, Harvard University HIM, 10th Floor,4 Blackfan Circle, Boston, MA 02115, USA
*
Authors to whom correspondence should be addressed.
Received: 13 January 2010 / Revised: 23 March 2010 / Accepted: 8 April 2010 / Published: 13 April 2010
Abstract
We find that
Mycobacterium
smegmatis
survives spray drying and retains cell viability in accelerated temperature stress (40 °C) conditions with a success rate that increases with increasing thermal, osmotic, and nutrient-restriction stresses applied to the mycobacterium prior to spray drying.
M.smegmatis
that are spray dried during log growth phase, where they suffer little or no nutrient-reduction stress, survive for less than 7 days in the dry powder state at accelerated temperature stress conditions, whereas
M.
smegmatis
that are spray dried during stationary phase, where cells do suffer nutrient reduction, survive for up to 14 days.
M. smegmatis
that are spray dried from stationary phase, subjected to accelerated temperature stress conditions, regrown to stationary phase, spray dried again, and resubmitted to this same process four consecutive times, display, on the fourth spray drying iteration, an approximate ten-fold increase in stability during accelerated temperature stress testing, surviving up to 105 days. Microarray tests revealed significant differences in genetic expression of
M.
smegmatis
between log phase and stationary phase conditions, between naïve (non spray-dried) and multiply cycled dried
M.
smegmatis
(in log and stationary phase), and between
M. smegmatis
in the dry powder state following a single spray drying operation and after four consecutive spray drying operations. These differences, and other phenotypical differences, point to the carotenoid biosynthetic pathway as a probable pathway contributing to bacteria survival in the spray-dried state and suggests strategies for spray drying that may lead to significantly greater room-temperature stability of mycobacteria, including mycobacterium
bovis
bacille Calmette-Guerin (BCG), the current TB vaccine.
View Full-Text
►

▼

Figures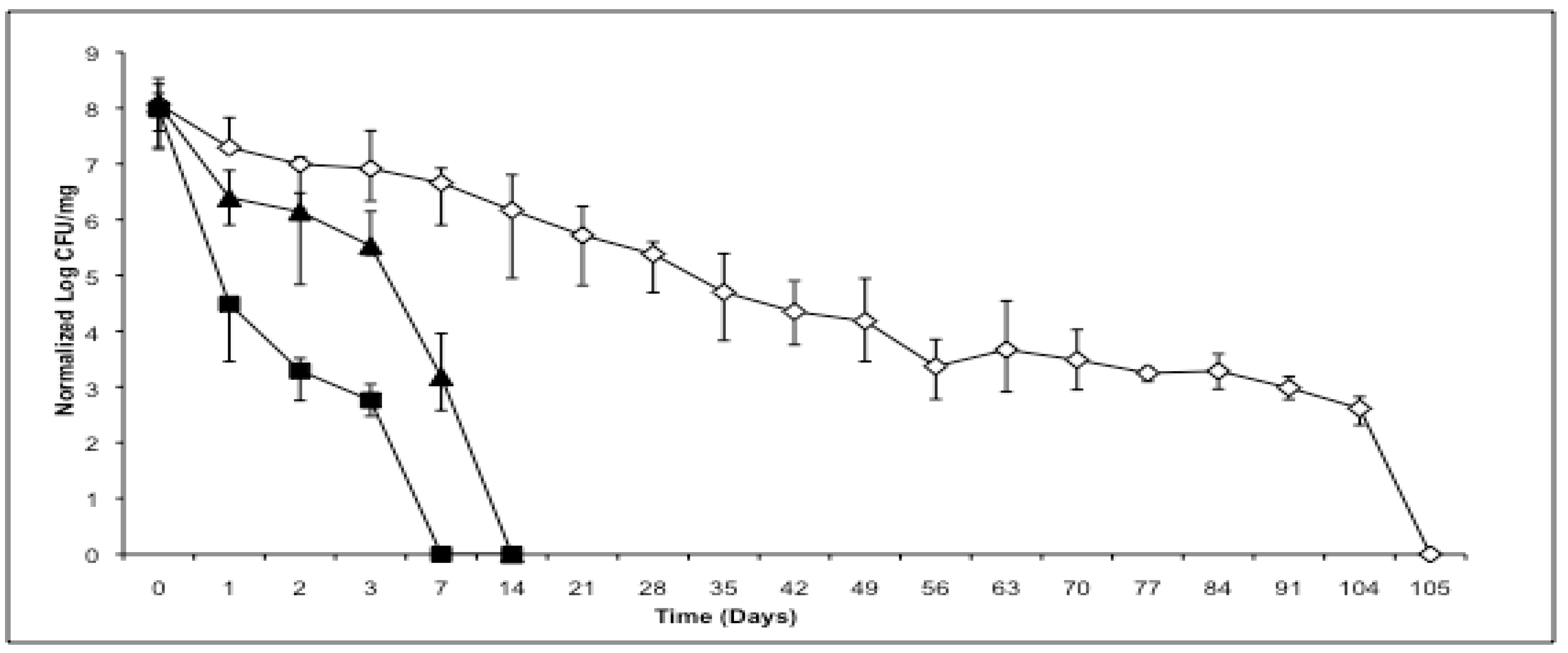 Figure 1
Share & Cite This Article
MDPI and ACS Style
Lauten, E.H.; Pulliam, B.L.; DeRousse, J.; Bhatta, D.; Edwards, D.A. Gene Expression, Bacteria Viability and Survivability Following Spray Drying of Mycobacterium smegmatis. Materials 2010, 3, 2684-2724.
Related Articles
Comments
[Return to top]