Charge Transport in Carbon Nanotubes-Polymer Composite Photovoltaic Cells
1
Laboratoire de Physique et Chimie des Interfaces, Faculté des Sciences de Monastir, Avenue de l'Environnement, 5019 Monastir, Tunisia
2
Ingénierie des Matériaux Polymères, CNRS - Université Claude Bernard-Lyon 1, 43 Bd du 11 Novembre, 69100 Villeurbanne, France
*
Author to whom correspondence should be addressed.
Received: 21 May 2009 / Accepted: 26 June 2009 / Published: 29 June 2009
Abstract
We investigate the dark and illuminated current density-voltage (J/V) characteristics of poly(2-methoxy-5-(2
'
-ethylhexyloxy)1-4-phenylenevinylene) (MEH-PPV)/single-walled carbon nanotubes (SWNTs) composite photovoltaic cells. Using an exponential band tail model, the conduction mechanism has been analysed for polymer only devices and composite devices, in terms of space charge limited current (SCLC) conduction mechanism, where we determine the power parameters and the threshold voltages. Elaborated devices for MEH-PPV:SWNTs (1:1) composites showed a photoresponse with an open-circuit voltage V
oc
of 0.4 V, a short-circuit current density J
SC
of 1 µA/cm² and a fill factor FF of 43%. We have modelised the organic photovoltaic devices with an equivalent circuit, where we calculated the series and shunt resistances.
View Full-Text
►

▼

Figures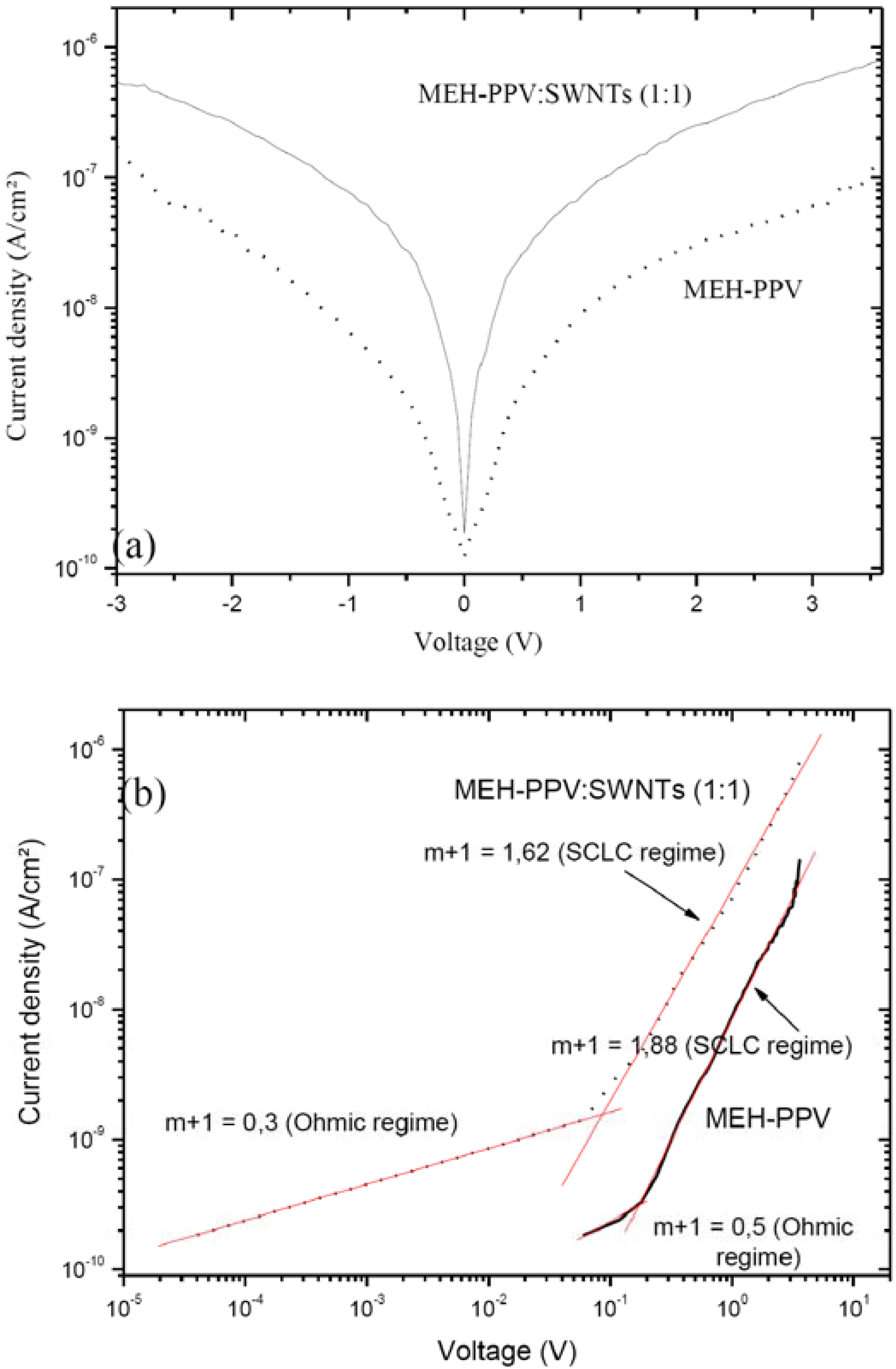 Figure 1
Share & Cite This Article
MDPI and ACS Style
Ltaief, A.; Bouazizi, A.; Davenas, J. Charge Transport in Carbon Nanotubes-Polymer Composite Photovoltaic Cells. Materials 2009, 2, 710-718.
Related Articles
Comments
[Return to top]