Open Access This article is
freely available
re-usable
Article
Towards an Ultrasonic Guided Wave Procedure for Health Monitoring of Composite Vessels: Application to Hydrogen-Powered Aircraft
1
Institut de Soudure, 4 Bvd Henri Becquerel, Espace Cormontaigne, 57970 Yutz, France
2
Unité Mixte Internationale Georgia Tech—CNRS 2958, George W. Woodruff School of Mechanical Engineering, Metz Technopole, 2 Rue Marconi, 57070 Metz, France
*
Author to whom correspondence should be addressed.
Received: 30 May 2017 / Accepted: 15 September 2017 / Published: 19 September 2017
Abstract
:
This paper presents an overview and description of the approach to be used to investigate the behavior and the defect sensitivity of various ultrasonic guided wave (UGW) modes propagating specifically in composite cylindrical vessels in the framework of the safety of hydrogen energy transportation such as hydrogen-powered aircrafts. These structures which consist of thick and multi-layer composites are envisioned for housing hydrogen gas at high pressures. Due to safety concerns associated with a weakened structure, structural health monitoring techniques are needed. A procedure for optimizing damage detection in these structural types is presented. It is shown that a finite element method can help identify useful experimental parameters including frequency range, excitation type, and receiver placement.
Keywords:
composite over-wrapped pressure vessel; hydrogen safety; structural health monitoring; ultrasonic guided waves technique; testing procedure; finite element method
2. Background and Scope of the Work
To ease understanding to the non-specialist reader, terminologies, needed to better understand the current topic, and to assess the real need of this study, are introduced and described in this section. Most of these key terminologies are italicized.
3. Problem Statement
Consider a structure consisting of a cylindrical body with two spherical end-caps, comprising of two layers: a thin 'macroscopically isotropic' liner and a thicker 'macroscopically anisotropic' layer, as shown in
Figure 2
. Although, the spherical end caps may also undergo damage, this present work will focus mainly on the cylindrical central portion of the reservoir that makes up the majority of its surface area, as shown in the same figure. In addition, the circumferential stress in the cylindrical part is roughly two times the stress elsewhere [
2
] and so, a given damage in this part should be more severe than in end-caps.
In addition, COPVs exist in industry in various volumes (i.e., different dimensions). If the radius-to-thickness ratio is large enough, the problem can be simplified from a cylindrical configuration to approximate that of a plate [
31
,
32
]. In the current case, the diameter is 100 mm and the thickness is 10 mm. The model can be simplified further from 3D to 2D by taking advantage of material symmetry. This simplification is possible if the UGW being modeled is a plane wave traveling in a direction where the energy propagation vector is perpendicular to the surface of the traveling plane wave front. This occurs due to material symmetry in orthotropic materials when the propagation direction is aligned with any of the principal directions of the medium.
In the 2D model, computations are chosen to be carried out in the frequency domain, thus greatly reducing computational time. Therefore, the Helmholtz equation is solved in lieu of the wave equation. This equation is given by:
where
Cijkl
is the material's stiffness matrix and can be composed of complex moduli;
i
,
j
,
k
and
l
are indices referring to one of the three Cartesian coordinates;
uq
is the displacement in the direction given by its subscript
q
; and
ρ
and are density and angular frequency, respectively.
A small portion of the boundary is subject to forces that act as the excitation source. The propagation of UGW is along the
x
-direction and the surface of the plate structure is perpendicular to the
y
-direction, i.e., in the
z
-direction. For convenience, the origin of the Cartesian reference frame is placed at the interface between the two layers. Here, the plate is considered infinite in the
z
-direction. Concerning the
x
-direction, the propagation domain (PD) is finite, and of length L, as shown in
Figure 3
.
To eliminate wave reflections by the extremities of the PD, Absorbing Boundary Regions (ABR) or some similar boundary setting to dampen unwanted reflections must be added. In a previous work [
33
], a comparative study concerning the ABR models that have been developed in the past was carried out. The optimal solution is to use ABR's that increase their dampening capabilities cubically as per the work of Hosten and Castaings [
34
], and improved later by Ke et al. [
35
].
Moreover, end-caps (i.e., geodesic form) complicate the shape of the signals to be collected and so, impact the wave propagation features that are needed to determine the pass-fail criteria of COPVs. This is because UGW is sensitive, in nature, to geometrical characteristics, which can undergo multiple propagation paths [
36
,
37
]. To complement the frequency modelling done in 2D, simulations in 3D will be carried out in the time domain (see [
27
] for further details). Although mechanical properties influence waves' propagation, the 3D models are simplified by using isotropic stainless steel as material to get a first glimpse of what may occur. This takes into consideration only geometry as the main influence factor in our 3D studies. The model in this study uses a given geometry with a diameter of 100 mm, 600 mm cylinder body length and thickness of 3 mm. Simulations are performed for two different kinds of excitation shape. In both cases, the excitation is localized on the top side and near the extremity of the cylindrical part of the COPV. Further details are given in
Section 4.5
.
The actual material properties are subject to a non-disclosure restriction. However, in order to understand the results in this paper, we can mention that the lay-up (inside to outside) consists of a polyamide liner, a carbon-fiber reinforced polymer overwrap and a glass fiber reinforced polymer shell. The polyamide layer is very thin and can be represented by typical nylon-type material properties. The carbon fiber reinforced polymer overwrap shows orthotropic stiffness behavior with principle symmetry directions along the axial (
x
), the radial (
y
) and the tangential (
z
) cylindrical directions. The glass fiber reinforced polymer shell acts as a protective shell which is also orthotropic and principle directions equal to those of the carbon fiber reinforced polymer. The relative wall thicknesses are mentioned, as needed, elsewhere in the paper. The presented numerical simulations have been preceded by convergence tests to ensure that the mesh size was sufficiently small to allow correct simulations; more particularly, we ensured that the difference between the presented monitored quantities between two successive mesh sizes was less than 2%.
4. Results and Discussions
5. Conclusions
This paper dealt with hydrogen safety, through developing techniques and procedures to monitor and reliably test COPVs, envisioned for hydrogen storage. It expounded comprehensive investigations carried out in order to establish an efficient operational health monitoring procedure. Engineering analyses basing on numerical simulations in 2D and 3D domains have been achieved. The main conclusion is that UGW is a good candidate for testing and/or monitoring COPVs, and so contributing to the safety of hydrogen use. More technically, the foremost parameters to detect a specific defect type (surface-originating cracks which is the most dangerous kind of defects in COPVs) were identified and optimized. Specifically, it has been shown that:
there is a significant and non-linear increase in the number of modes with the thickness and the number of layers;

dispersion curves must be plotted on a case-by-case basis due to varying layer thickness ratios;

a shear contact transducer was more efficient than longitudinal contact transducers at propagating UGW in the given thick COPV;

modal amplitudes depend on frequency. Some frequency bands are more suitable than others. Some bands should be avoided;

mode 2 appears to be the best mode for detecting the said defect type and that in pulse-echo measurement arrangement. This mode, although slightly dependent on the incident phase, was more or less robust to the distance between the emitter and damage site;

concerning COPVs testing, further studies are needed for developing specific algorithms to help interpret signals, when operating local transducers;
These main findings will help to perform optimal experiments, which will be presented and debated in the second part of this paper.
Acknowledgments
This work is a part of Hydrogen Horizon Energy (H2E) project, which is supported in part by BpiFrance foundation. The authors would like to thank their partners, more particularly STELIA Composites and Air Liquide for their collaboration.
Author Contributions
Slah Yaacoubi and Fethi Dahmene carried out experiments, Peter McKeon performed finite element in bi-dimensional structure, Weina Ke achieved finite element simulations in tri-dimensional structure, Slah Yaacoubi and Peter McKeon searched literatures, Slah Yaacoubi provided the idea of the paper, and whole the project from which this paper is issued, and managed the various tasks of the paper. Peter McKeon and Weina Ke extracted results. Slah Yaacoubi designed figures. Peter McKeon, Slah Yaacoubi and Nico F. Declercq are involved in writing. Slah Yaacoubi, Peter McKeon and Weina Ke analyzed data. Slah Yaacoubi and Nico F. Declercq revised the manuscript.
Conflicts of Interest
The authors declare no conflict of interest.
Figure 1.
Dispersion curves in two cases of COPV thicknesses: thin (black) and thick multi-layer (green) with a thickness equal two times that of the thinner one (5 mm). M
i
is the
i
th mode where
i
represents its order.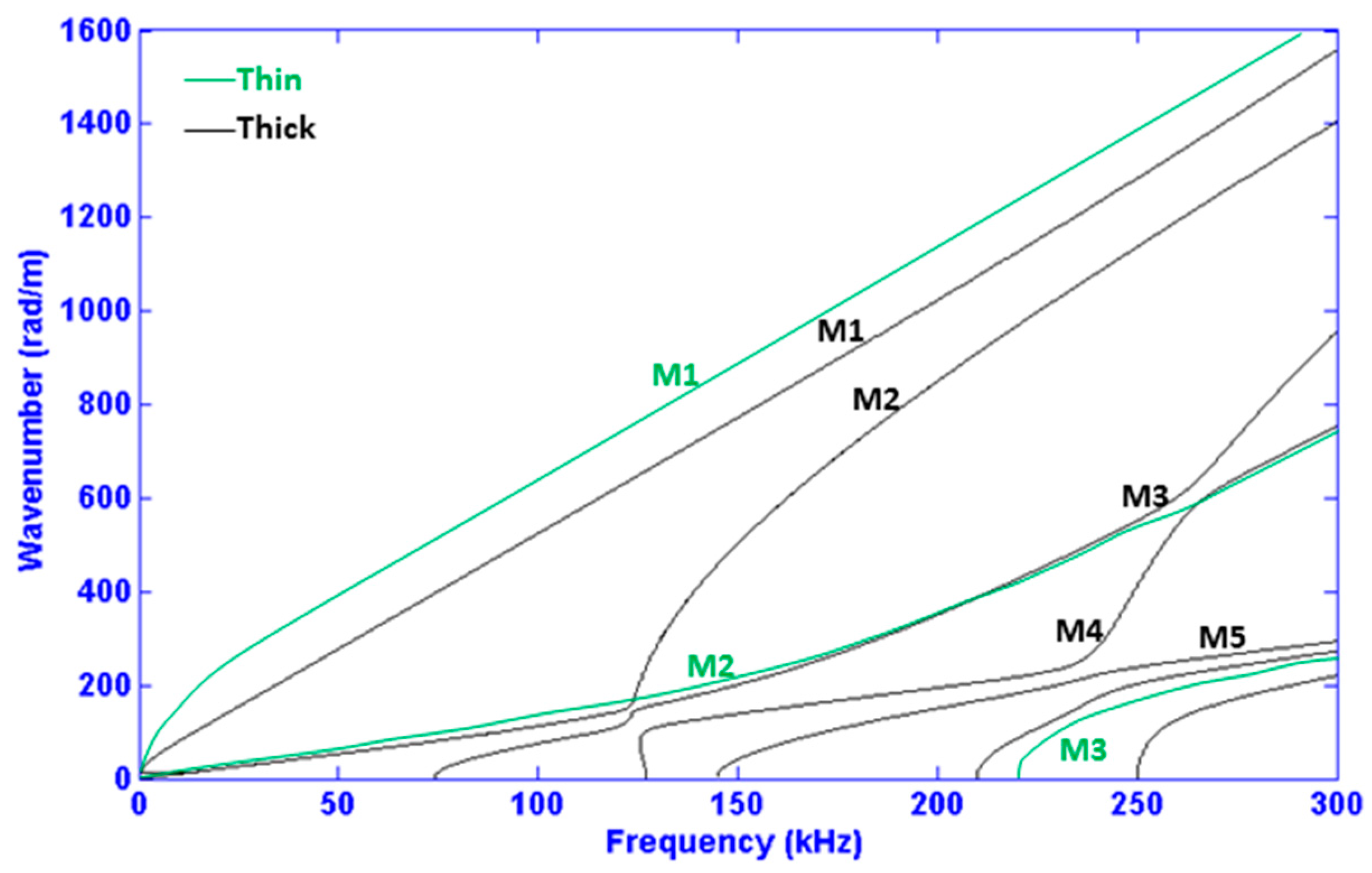 Figure 2. Example of a multi-layer COPV intended for housing hydrogen gas at high pressures: overview (a) and partial sectional view (b).

Figure 4.
Wavenumber (
a
) and group velocity (
b
) dispersion curves determined along the direction of propagation (
x
) for the two-layer structure shown in
Figure 3
. M
i
denotes modes
i
with
i
= 1, 2, 3, 4 and 5.
Figure 5. Mode shapes calculated for a specific case of COPV (2 layers having thicknesses 7.85 mm and 1.39 mm respectively) at around 180 kHz for Modes 1 through 5, from left to right.
Figure 6. Typical FEM simulation results for longitudinal (top) and shear (bottom) mode transducer types shown on the same scale, for excitation frequency of 200 kHz.
Figure 7.
Locations of local maxima of the spatial Fourier transform of the incident (o), reflected (x) and transmitted fields (+) for a surface-originating crack type defect. Continuous black lines are the theoretical dispersion curves, plotted here to validate numerical results. The wavenumber is in absolute value to better compare which mode is which, even for reflected waves that in reality have a negative wavenumber [
41
].
Figure 8. Mode 1 (a) and Mode 2 (b) amplitudes for the reflected (red) and transmitted fields (green) for a surface-originating crack type defect. All amplitudes are normalized by the maximum of the amplitude of Mode 2. The threshold is chosen arbitrarily to help identify the (−) and (+) frequency bands. Stars and continued lines are the collected values and the splined ones, respectively.
Figure 9.
Same title as
Figure 8
left but for different distances between the emitter and the crack (i.e., 195, 200 and 205 mm). R and T denote the reflected and the transmitted fields, respectively.
Figure 10. Transducer excitation: circumferential global excitation (a); the signal time of excitation (b) used for both excitations and local excitation (c). Note that the circumferential excitation consists of two parts where one is excited by the same signal (b) but shifted by a quarter of the main period.
Figure 11. Photography of a vessel equipped with a circumferential actuator (left); and wave-field evolution for the like-T(0,1) mode, at different propagation time-steps (right). The signs (m) and (p) indicate negative and positive propagation directions, respectively.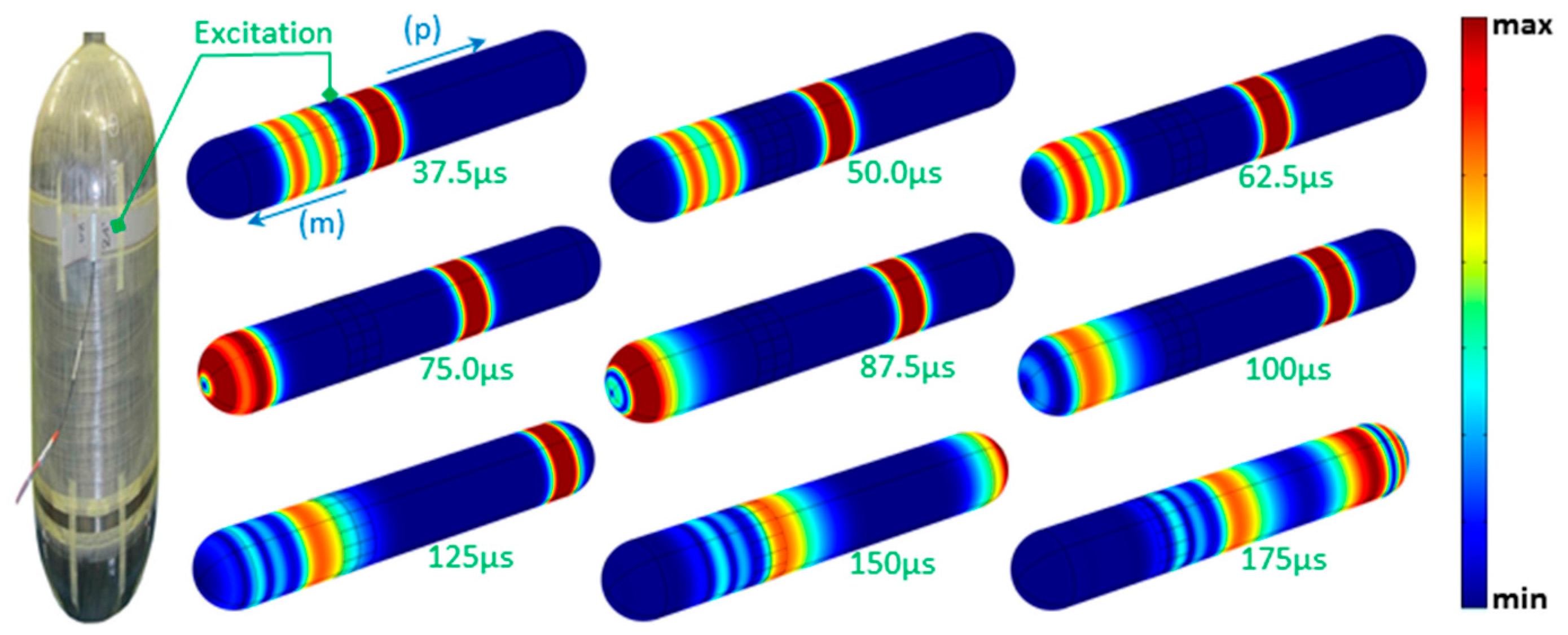 Figure 12.
an experimental result corresponding to
Figure 10
, for a 64 kHz excitation on a real size vessel with the cylindrical part 43 cm long, with the transducer placed either on the cylinder, close to the cap (top of the figure); or on the cap itself (bottom of the figure).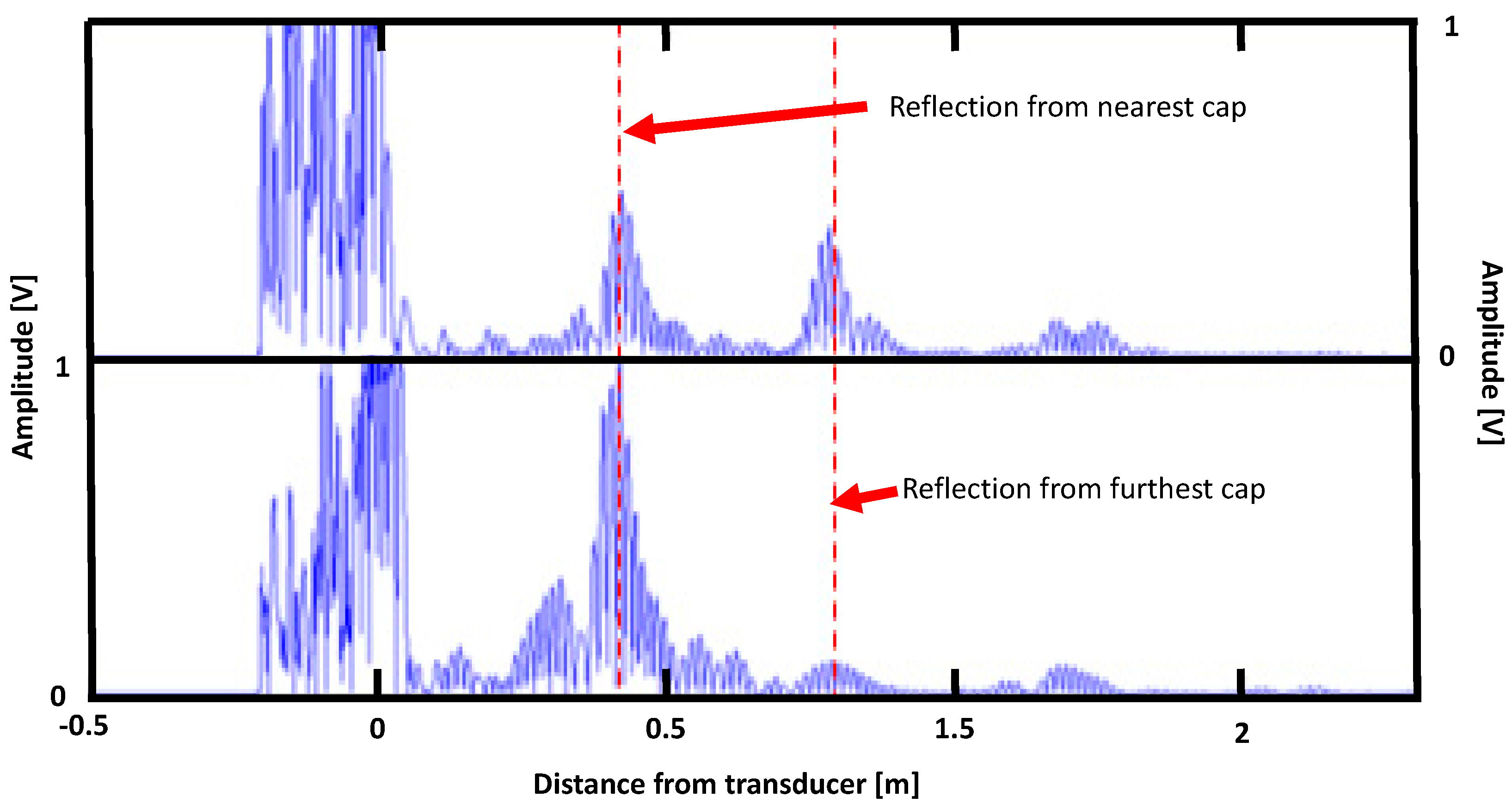 Figure 14. Tri-dimensional representation of signals amplitude versus angle of revolution and time of propagation (A); 3 waveforms collected at 0°, 90° and 180° (B) for two cases: with two end-caps; and with only one geodesic end-cap (C).
© 2017 by the authors. Licensee MDPI, Basel, Switzerland. This article is an open access article distributed under the terms and conditions of the Creative Commons Attribution (CC BY) license (http://creativecommons.org/licenses/by/4.0/).