Investigation of the Quasi-Brittle Failure of Alashan Granite Viewed from Laboratory Experiments and Grain-Based Discrete Element Modeling
1
Key Laboratory of Shale Gas and Geoengineering, Institute of Geology and Geophysics, Chinese Academy of Science, Beijing 100029, China
2
China Earthquake Administration, Institute of Crustal Dynamics, Beijing 100085, China
3
College of Earth Science, University of Chinese Academy of Sciences, Beijing 100049, China
*
Author to whom correspondence should be addressed.
Received: 26 June 2017 / Revised: 14 July 2017 / Accepted: 17 July 2017 / Published: 21 July 2017
Abstract
Granite is a typical crystalline material, often used as a building material, but also a candidate host rock for the repository of high-level radioactive waste. The petrographic texture—including mineral constituents, grain shape, size, and distribution—controls the fracture initiation, propagation, and coalescence within granitic rocks. In this paper, experimental laboratory tests and numerical simulations of a grain-based approach in two-dimensional Particle Flow Code (PFC2D) were conducted on the mechanical strength and failure behavior of Alashan granite, in which the grain-like structure of granitic rock was considered. The microparameters for simulating Alashan granite were calibrated based on real laboratory strength values and strain-stress curves. The unconfined uniaxial compressive test and Brazilian indirect tensile test were performed using a grain-based approach to examine and discuss the influence of mineral grain size and distribution on the strength and patterns of microcracks in granitic rocks. The results show it is possible to reproduce the uniaxial compressive strength (UCS) and uniaxial tensile strength (UTS) of Alashan granite using the grain-based approach in PFC2D, and the average mineral size has a positive relationship with the UCS and UTS. During the modeling, most of the generated microcracks were tensile cracks. Moreover, the ratio of the different types of generated microcracks is related to the average grain size. When the average grain size in numerical models is increased, the ratio of the number of intragrain tensile cracks to the number of intergrain tensile cracks increases, and the UCS of rock samples also increases with this ratio. However, the variation in grain size distribution does not have a significant influence on the likelihood of generated microcracks.
View Full-Text
►

▼

Figures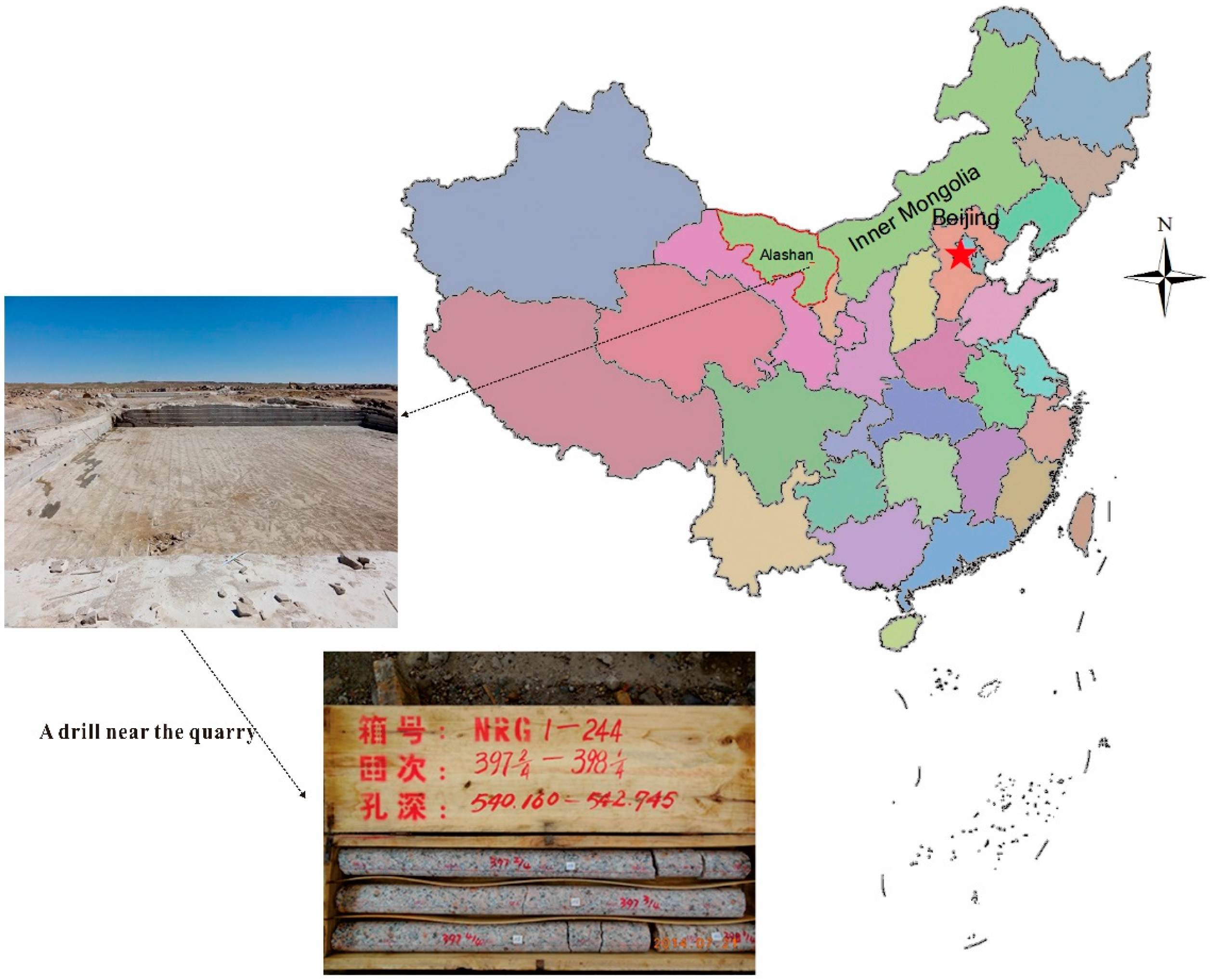 Figure 1
This is an open access article distributed under the
Creative Commons Attribution License
which permits unrestricted use, distribution, and reproduction in any medium, provided the original work is properly cited. (CC BY 4.0).
Share & Cite This Article
MDPI and ACS Style
Zhou, J.; Zhang, L.; Yang, D.; Braun, A.; Han, Z. Investigation of the Quasi-Brittle Failure of Alashan Granite Viewed from Laboratory Experiments and Grain-Based Discrete Element Modeling. Materials 2017, 10, 835.
Note that from the first issue of 2016, MDPI journals use article numbers instead of page numbers. See further details here.
Related Articles
Comments
[Return to top]