Study of Superbase-Based Deep Eutectic Solvents as the Catalyst in the Chemical Fixation of CO2 into Cyclic Carbonates under Mild Conditions
1
Materials Science Factory, Instituto de Ciencia de Materiales de Madrid (ICMM), Consejo Superior de Investigaciones Científicas (CSIC), Campus de Cantoblanco, C/Sor Juana Inés de la Cruz 3, 28049 Madrid, Spain
2
Departamento de Tecnología Química y Energética, Tecnologia Química y Ambiental y Tecnología Mecánica y Química Analítica, Universidad Rey Juan Carlos, 28933 Madrid, Spain
*
Authors to whom correspondence should be addressed.
Received: 8 June 2017 / Revised: 28 June 2017 / Accepted: 29 June 2017 / Published: 7 July 2017
Abstract
Superbases have shown high performance as catalysts in the chemical fixation of CO
2
to epoxides. The proposed reaction mechanism typically assumes the formation of a superbase, the CO
2
adduct as the intermediate, most likely because of the well-known affinity between superbases and CO
2
, i.e., superbases have actually proven quite effective for CO
2
absorption. In this latter use, concerns about the chemical stability upon successive absorption-desorption cycles also merits attention when using superbases as catalysts. In this work,
1
H NMR spectroscopy was used to get further insights about (1) whether a superbase, the CO
2
adduct, is formed as an intermediate and (2) the chemical stability of the catalyst after reaction. For this purpose, we proposed as a model system the chemical fixation of CO
2
to epichlorohydrin (EP) using a deep eutectic solvent (DES) composed of a superbase, e.g., 2,3,4,6,7,8-hexahydro-1
H
-pyrimido[1,2-
a
]pyrimidine (TBD) or 2,3,4,6,7,8,9,10-octahydropyrimido[1,2-
a
]azepine (DBU), as a hydrogen acceptor and an alcohol as a hydrogen bond donor, e.g., benzyl alcohol (BA), ethylene glycol (EG), and methyldiethanolamine (MDEA), as the catalyst. The resulting carbonate was obtained with yields above 90% and selectivities approaching 100% after only two hours of reaction in pseudo-mild reaction conditions, e.g., 1.2 bars and 100 °C, and after 20 h if the reaction conditions of choice were even milder, e.g., 1.2 bars and 50 °C. These results were in agreement with previous works using bifunctional catalytic systems composed of a superbase and a hydrogen bond donor (HBD) also reporting good yields and selectivities, thus confirming the suitability of our choice to perform this study.
View Full-Text
►

▼

Figures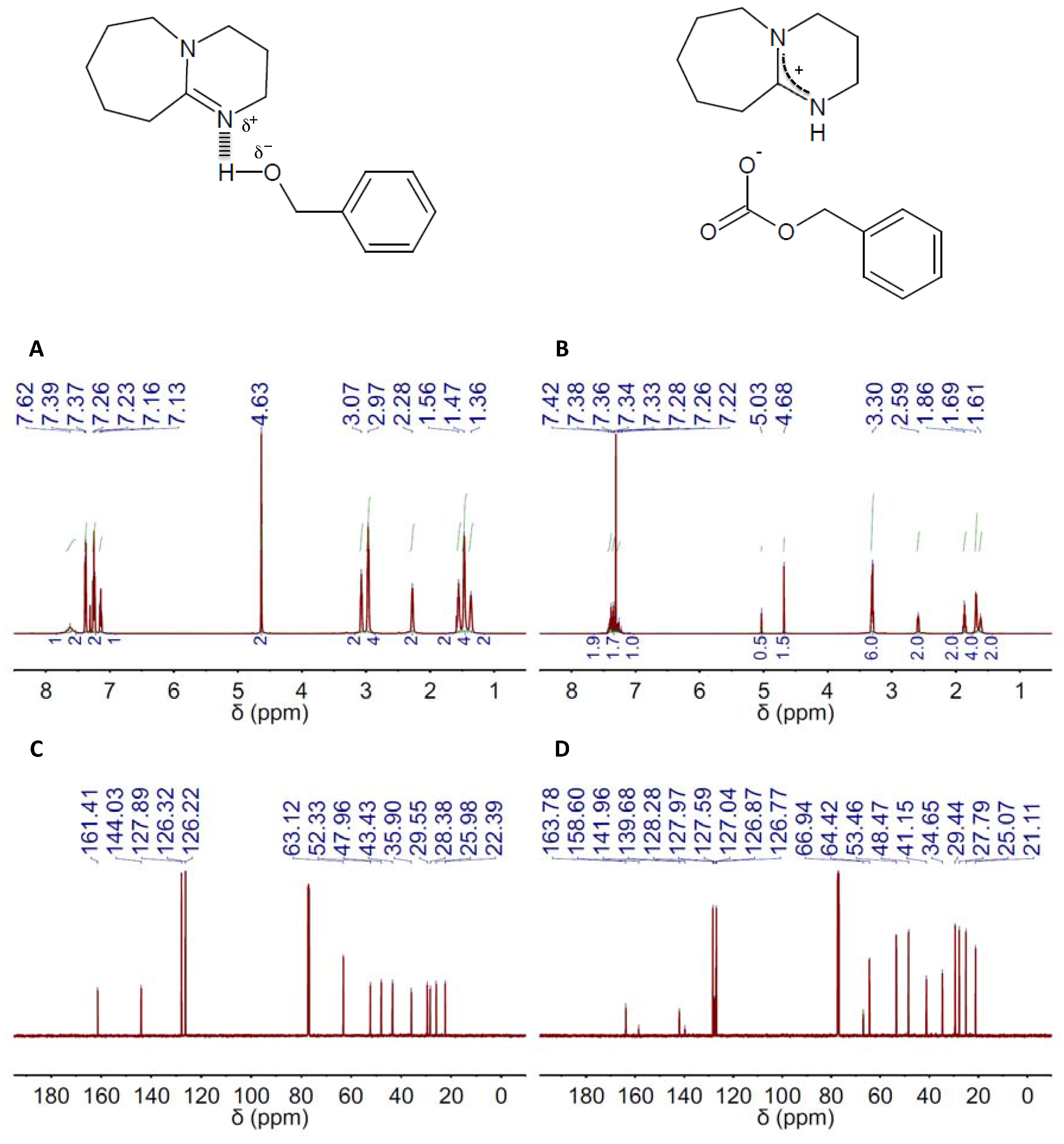 Figure 1
This is an open access article distributed under the
Creative Commons Attribution License
which permits unrestricted use, distribution, and reproduction in any medium, provided the original work is properly cited. (CC BY 4.0).
Share & Cite This Article
MDPI and ACS Style
García-Argüelles, S.; Ferrer, M.L.; Iglesias, M.; Del Monte, F.; Gutiérrez, M.C. Study of Superbase-Based Deep Eutectic Solvents as the Catalyst in the Chemical Fixation of CO2 into Cyclic Carbonates under Mild Conditions. Materials 2017, 10, 759.
Note that from the first issue of 2016, MDPI journals use article numbers instead of page numbers. See further details here.
Related Articles
Comments
[Return to top]