Wear Behavior and Microstructure of Mg-Sn Alloy Processed by Equal Channel Angular Extrusion
1
Department of Industrial Education, National Taiwan Normal University, Taipei 106, Taiwan
2
Department of Materials Science and Engineering, National Chiao Tung University, Hsinchu 300, Taiwan
*
Author to whom correspondence should be addressed.
Received: 17 October 2017 / Revised: 9 November 2017 / Accepted: 9 November 2017 / Published: 16 November 2017
Abstract
Mg-5wt.% Sn alloy is often used in portable electronic devices and automobiles. In this study, mechanical properties of Mg-5wt.% Sn alloy processed by Equal Channel Angular Extrusion (ECAE) were characterized. More precisely, its hardness and wear behavior were measured using Vickers hardness test and a pin-on-disc wear test. The microstructures of ECAE-processed Mg-Sn alloys were investigated by scanning electron microscope and X-ray diffraction. ECAE process refined the grain sizes of the Mg-Sn alloy from 117.6 μm (as-cast) to 88.0 μm (one pass), 49.5 μm (two passes) and 24.4 μm (four passes), respectively. Meanwhile, the hardness of the alloy improved significantly. The maximum wear resistance achieved in the present work was around 73.77 m/mm
3
, which was obtained from the Mg-Sn alloy treated with a one-pass ECAE process with a grain size of 88.0 μm. The wear resistance improvement was caused by the grain size refinement and the precipitate of the second phase, Mg
2
Sn against the oxidation of the processed alloy. The as-cast Mg-Sn alloy with the larger grain size, i.e., 117.6 μm, underwent wear mechanisms, mainly adhesive wear and abrasive wear. In ECAE-processed Mg-Sn alloy, high internal energy occurred due to the high dislocation density and the stress field produced by the plastic deformation, which led to an increased oxidation rate of the processed alloy during sliding. Therefore, the oxidative wear and a three-body abrasive wear in which the oxide debris acted as the three-body abrasive components became the dominant factors in the wear behavior, and as a result, reduced the wear resistance in the multi-pass ECAE-processed alloy.
View Full-Text
►

▼

Figures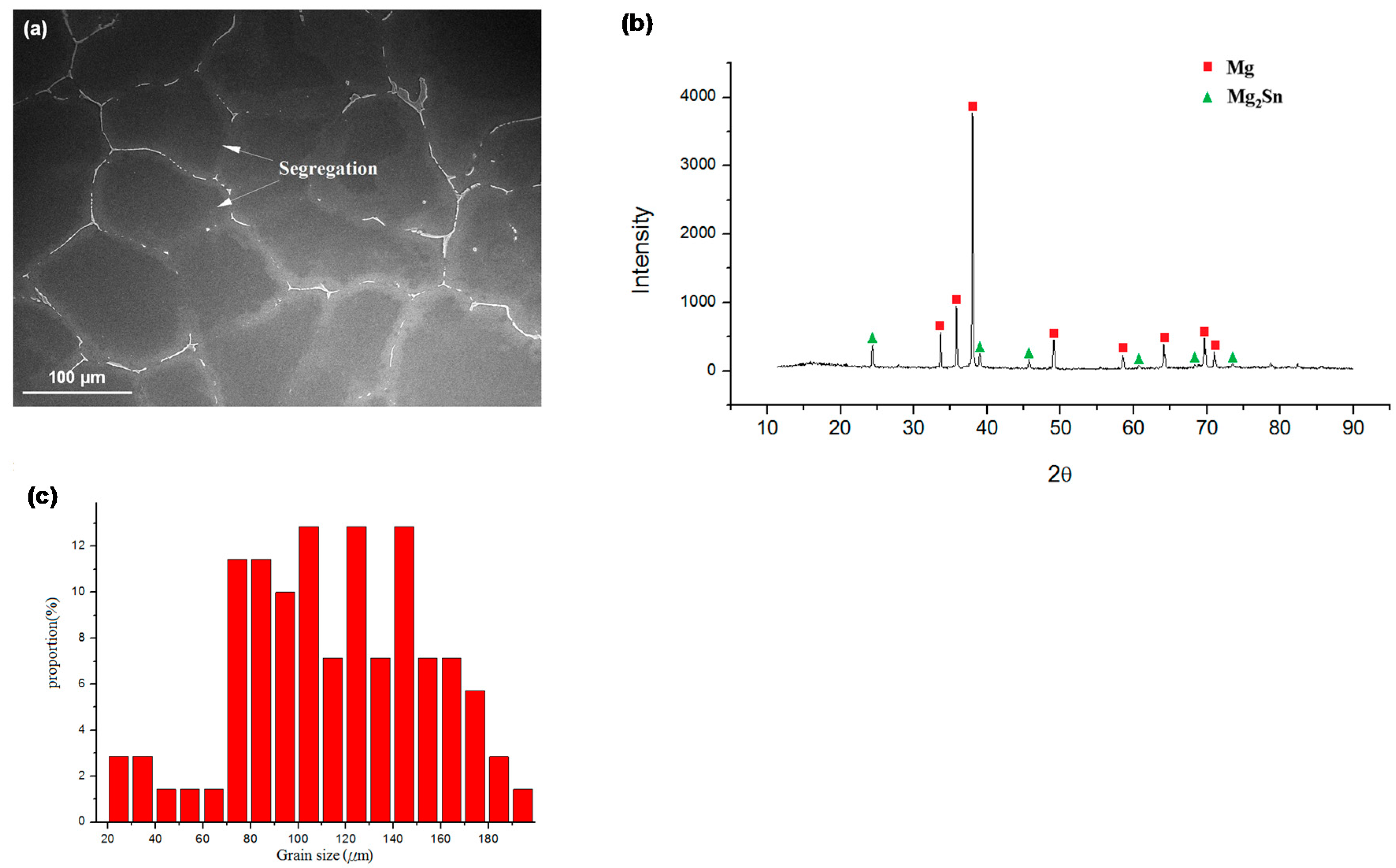 Figure 1
This is an open access article distributed under the
Creative Commons Attribution License
which permits unrestricted use, distribution, and reproduction in any medium, provided the original work is properly cited. (CC BY 4.0).
Share & Cite This Article
MDPI and ACS Style
Chen, J.-H.; Shen, Y.-C.; Chao, C.-G.; Liu, T.-F. Wear Behavior and Microstructure of Mg-Sn Alloy Processed by Equal Channel Angular Extrusion. Materials 2017, 10, 1315.
Note that from the first issue of 2016, MDPI journals use article numbers instead of page numbers. See further details here.
Related Articles
Comments
[Return to top]