Radioactive Iodide (131I−) Excretion Profiles in Response to Potassium Iodide (KI) and Ammonium Perchlorate (NH4ClO4) Prophylaxis
1
Institute for Health Management and Mass Destruction Defense, College of Public Health, University of Georgia, Athens, GA 30603, USA
2
National Center for Environmental Health, Division of Laboratory Sciences, Centers for Disease Control and Prevention, Atlanta, GA 30341, USA
3
National Center for Toxicological Research, U.S. Food and Drug Administration, Jefferson, AR 72079, USA
*
Author to whom correspondence should be addressed.
Received: 21 June 2012 / Revised: 12 July 2012 / Accepted: 9 August 2012 / Published: 16 August 2012
Abstract
Radioactive iodide (
131
I
−
) protection studies have focused primarily on the thyroid gland and disturbances in the hypothalamic-pituitary-thyroid axis. The objective of the current study was to establish
131
I
−
urinary excretion profiles for saline, and the thyroid protectants, potassium iodide (KI) and ammonium perchlorate over a 75 hour time-course. Rats were administered
131
I
−
and 3 hours later dosed with either saline, 30 mg/kg of NH
4
ClO
4
or 30 mg/kg of KI. Urinalysis of the first 36 hours of the time-course revealed that NH
4
ClO
4
treated animals excreted significantly more
131
I
−
compared with KI and saline treatments. A second study followed the same protocol, but thyroxine (T
4
) was administered daily over a 3 day period. During the first 6–12 hour after
131
I
−
dosing, rats administered NH
4
ClO
4
excreted significantly more
131
I
−
than the other treatment groups. T
4
treatment resulted in increased retention of radioiodide in the thyroid gland 75 hour after
131
I
−
administration. We speculate that the T
4
treatment related reduction in serum TSH caused a decrease synthesis and secretion of thyroid hormones resulting in greater residual radioiodide in the thyroid gland. Our findings suggest that ammonium perchlorate treatment accelerates the elimination rate of radioiodide within the first 24 to 36 hours and thus may be more effective at reducing harmful exposure to
131
I
−
compared to KI treatment for repeated dosing situations. Repeated dosing studies are needed to compare the effectiveness of these treatments to reduce the radioactive iodide burden of the thyroid gland.
View Full-Text
►

▼

Figures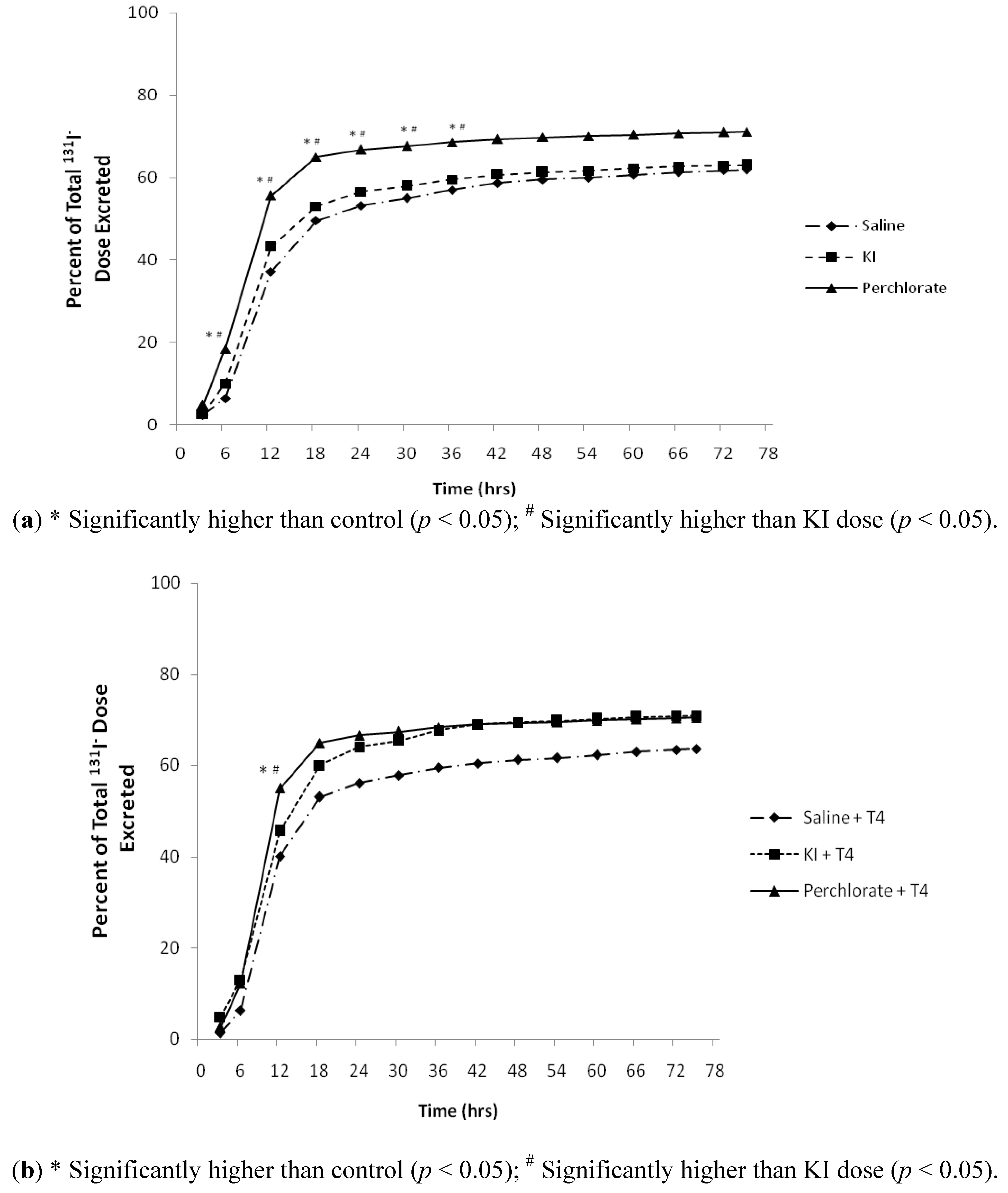 Figure 1
Share & Cite This Article
MDPI and ACS Style
Harris, C.; Dallas, C.; Rollor III, E.; White, C.; Blount, B.; Valentin-Blasini, L.; Fisher, J. Radioactive Iodide (131I−) Excretion Profiles in Response to Potassium Iodide (KI) and Ammonium Perchlorate (NH4ClO4) Prophylaxis. Int. J. Environ. Res. Public Health 2012, 9, 2936-2948.
Related Articles
Comments
[Return to top]