Novel Functional Association of Serine Palmitoyltransferase Subunit 1-A Peptide in Sphingolipid Metabolism with Cytochrome P4501A1 Transactivation and Proliferative Capacity of the Human Glioma LN18 Brain Tumor Cell Line
1
Department of Biological Sciences, Clark Atlanta University, Atlanta, GA 30314, USA
2
Office of the Dean, School of Computer, Mathematical and Natural Sciences, Morgan, State University, Baltimore, MD 21251, USA
*
Author to whom correspondence should be addressed.
Received: 5 January 2006 / Accepted: 6 July 2006 / Published: 30 September 2006
Abstract
Some chemical modulators of cytochrome P4501A1, Cyp1A1, expression also perturb the activity of serine palmitoyltransferase, SPT, a heterodimeric protein responsible for catalyzing the first reaction in sphingolipid biosynthesis. The effect of altered SPT activity on Cyp1A1 expression has generally been attributed to changes in the composition of bioactive sphingolipids, generated downstream in the SPT metabolic pathway, but the precise mechanism remains poorly defined. A generally accepted model for chemical-induced transactivation of the Cyp1A1 gene involves intracellular signaling mediated by proteins including the arylhydrocarbon receptor, AhR, whose interaction with the 90 kilo Dalton heat shock protein, Hsp90, is essential for maintaining a high affinity ligandbinding receptor conformation. Because ligand-induced Cyp1A1 expression is important in the bioactivation of environmentally relevant compounds to genotoxic derivatives capable of perturbing cellular processes, binding to Hsp90 represents an important regulatory point in the cytotoxicity process. In the present study, based on evidence that indicates subunit 1 of serine palmitoyltransferase, SPT1, interacts with Hsp90, both ligand-induced Cyp1A1 transactivation and capacity for proliferation were evaluated using the wild type Glioma LN18 human brain cancer cell line and its recombinant counterparts expressing green fluorescent SPT1 fusion proteins. Exposure to the prototypical Cyp1A1 inducer, 3-methylcholanthrene, 3-MC, resulted in the translocation of SPT1 from a primarily cytoplasmic domain to sites of focal adhesion complexes. Immunolabel for Hsp90, which was dispersed throughout the cell, became primarily cytoplasmic, while the distribution of AhR remained unaffected. When compared to the wild type, cells transfected with recombinant SPT1-GFP vectors had significantly attenuated levels of 3-MC-induced Cyp1A1 mRNA, as determined by quantitative reverse transcription PCR. Although all the Glioma cell lines exhibited mitogenic proliferative response in dose response assay with the potent Cyp1A1 inducers 3-MC, 2,3,7,8-tetrachlorodibenzo-p-dioxin (TCDD) and benzo [k] fluoranthene, BKF, only the recombinant cell line designated - 75SPT1-GFP, which was transfected with a mutant deletion of SPT1, retained its proliferative capacity at the highest PAH doses used in this study. The results suggest that overexpressing SPT1 as a green fluorescent fusion protein has a modulating effect on the transactivation of Cyp1A1. This is possibly due to SPT1 interacting with Hsp90 to modulate AhR-Hsp90 interaction, and altering downstream events such as in downregulating the transactivation and metabolic activity of Cyp1A1. This is supported by the fact that the -75SPT1-GFP recombinant cell line, with much lower capacity for Cyp1A1 induction, exhibited sustained mitogenic response to high doses of AhR ligands, but not the Cyp1A1 inducible wild type. Conceivably, the effect mediated by SPT1 on the AhR signaling pathway is an important underlying factor contributing to variability in Cyp1A1 gene expression and consequently, cytotoxic response to environmentally relevant compounds that pose risk to human health.
View Full-Text
►

▼

Figures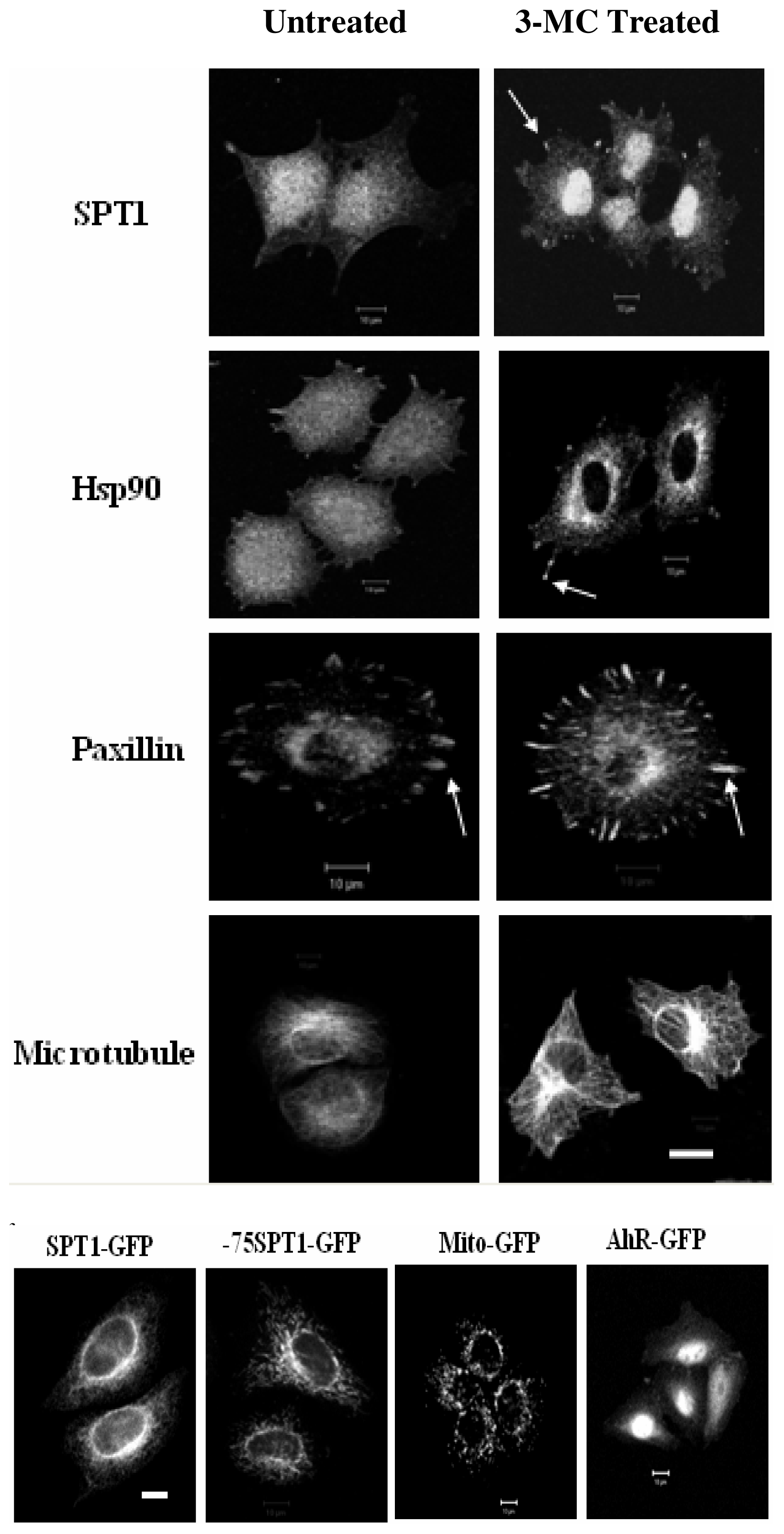 Scifeed alert for new publications
Never miss any articles
matching your research
from any publisher
Get alerts for new papers matching your research
Find out the new papers from selected authors
Updated daily for 49'000+ journals and 6000+ publishers
Share & Cite This Article
MDPI and ACS Style
Yerokun, T.; Stewart, J. Novel Functional Association of Serine Palmitoyltransferase Subunit 1-A Peptide in Sphingolipid Metabolism with Cytochrome P4501A1 Transactivation and Proliferative Capacity of the Human Glioma LN18 Brain Tumor Cell Line. Int. J. Environ. Res. Public Health 2006, 3, 252-261.
Related Articles
Comments
[Return to top]