Comparative Study of Domoic Acid and Okadaic Acid Induced - Chromosomal Abnormalities in the CACO-2 Cell Line
1
Department of Environmental Engineering - Toxicological Laboratory of the Federal University of Santa Catarina, Brazil Campus Universitário, Trindade, 88040-900, Brazil
2
Unit of Mycology and Food Safety, National Institute of the Agronomic Research - INRA - Villenave d'Ornon, France
3
Department of Pharmaceutical Sciences - Toxicological Laboratory of the University of Bordeaux 2, France
*
Author to whom correspondence should be addressed.
Received: 12 December 2005 / Accepted: 24 March 2006 / Published: 31 March 2006
Abstract
Okadaic Acid (OA) the major diarrheic shellfish poisoning (DSP) toxin is known as a tumor promoter and seems likely implicated in the genesis of digestive cancer. Little is known regarding genotoxicity and carcinogenicity of Domoic Acid (DA), the major Amnesic Shellfish Poisoning (ASP) toxin. Both OA and DA occur in seafood and are of human health concerns. Micronuclei (MN) arise from abnormalities in nuclear division during mitosis due to a failure of the mitotic spindle or by complex chromosomal configurations that pose problems during anaphase. In order to evaluate the ability of okadaic acid (OA) and domoic acid (DA) to induce DNA damage we performed the micronucleus assay using the Caco-2 cell line. To discriminate between a clastogenic or aneugenic effect of OA and DA, the micronucleus assay was conducted by cytokinesis-block micronucleus assay using cytochalasin B with Giemsa staining and/or acridine orange staining, in parallel to fluorescence
in situ
hybridization (FISH) using a concentrated human pan-centromeric chromosome paint probe. Our results showed that OA and DA significantly increased the frequency of MN in Caco-2 cells. The MN caused by OA are found in mononucleated cells and binucleated cells, whereas those caused by DA are mainly in binucleated cells. The results of FISH analysis showed that OA induced centromere-positive micronuclei and DA increased the percentage of MN without a centromeric signal. In conclusion, both OA and DA bear mutagenic potential as revealed in Caco-2 cells by induction of MN formation. Moreover, OA induced whole chromosome loss suggesting a specific aneugenic potential, whereas DA seems simply clastogenic. At present, one cannot rule out possible DNA damage of intestinal cells if concentrations studied are reached
in vivo
, since this may happen with concentrations of toxins just below regulatory limits in case of frequent consumption of contaminated shell fishes.
View Full-Text
►

▼

Figures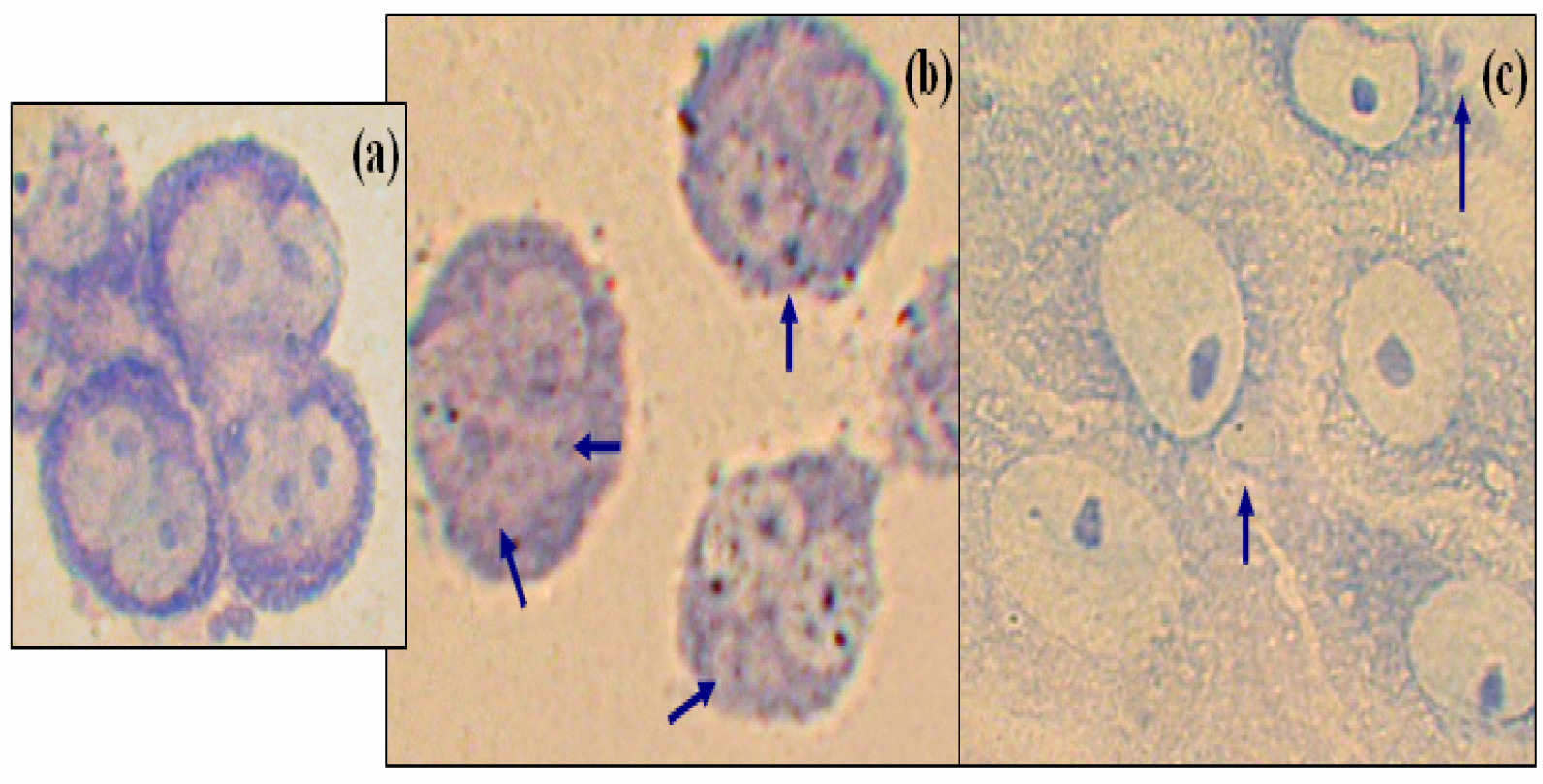 Share & Cite This Article
MDPI and ACS Style
Carvalho, P.-S.; Catia, R.; Moukha, S.; Matias, W.G.; Creppy, E.E. Comparative Study of Domoic Acid and Okadaic Acid Induced - Chromosomal Abnormalities in the CACO-2 Cell Line. Int. J. Environ. Res. Public Health 2006, 3, 4-10.
Related Articles
Comments
[Return to top]