Assessing Interactions of Multiple Agrichemicals by Using Bacterial Assemblages in a Wetland Mesocosm System
1
Department of Biology, Jackson State University, Jackson, MS 39217, USA
2
Department of Biology, University of Mississippi, University, MS 38677, USA
3
Department of Biology, Wesleyan University, Middletown, CT 06459, USA
*
Author to whom correspondence should be addressed.
Received: 10 January 2005 / Accepted: 10 April 2005 / Published: 14 August 2005
Abstract
Agrichemicals may enter wetlands located adjacent to or downstream from agricultural fields. We investigated the individual and interactive effects of three agrichemicals [atrazine, chlorpyrifos, and monosodium acid methanearsonate (MSMA)] and methyl mercury on abundance and heterotrophic potential of wetland heterotrophic bacteria assemblages. We used a factorial experimental design, in which chemicals were introduced in all possible combinations to 66 500-liter mesocosms at the Biological Field Station of the University of Mississippi. Methyl mercury was added to bring the total mercury (HG) concentration to 0.4 mg/Kg wet weight at the sediment surface. Atrazine, chlorpyrifos, and MSMA were added at concentrations of 192, 51, and 219μg/L, respectively. Over 32 days of exposure, microbial heterotrophic activity was sensitive to only the interactive effect of HG*ATR*CPF in the sediments and only CPF in the water. Total bacterial numbers did not exhibit any significant treatment effects. Therefore, the effects of agrichemicals were reflected on cell-specific bacterial heterotrophic activity rather than bacterial population size.
View Full-Text
►

▼

Figures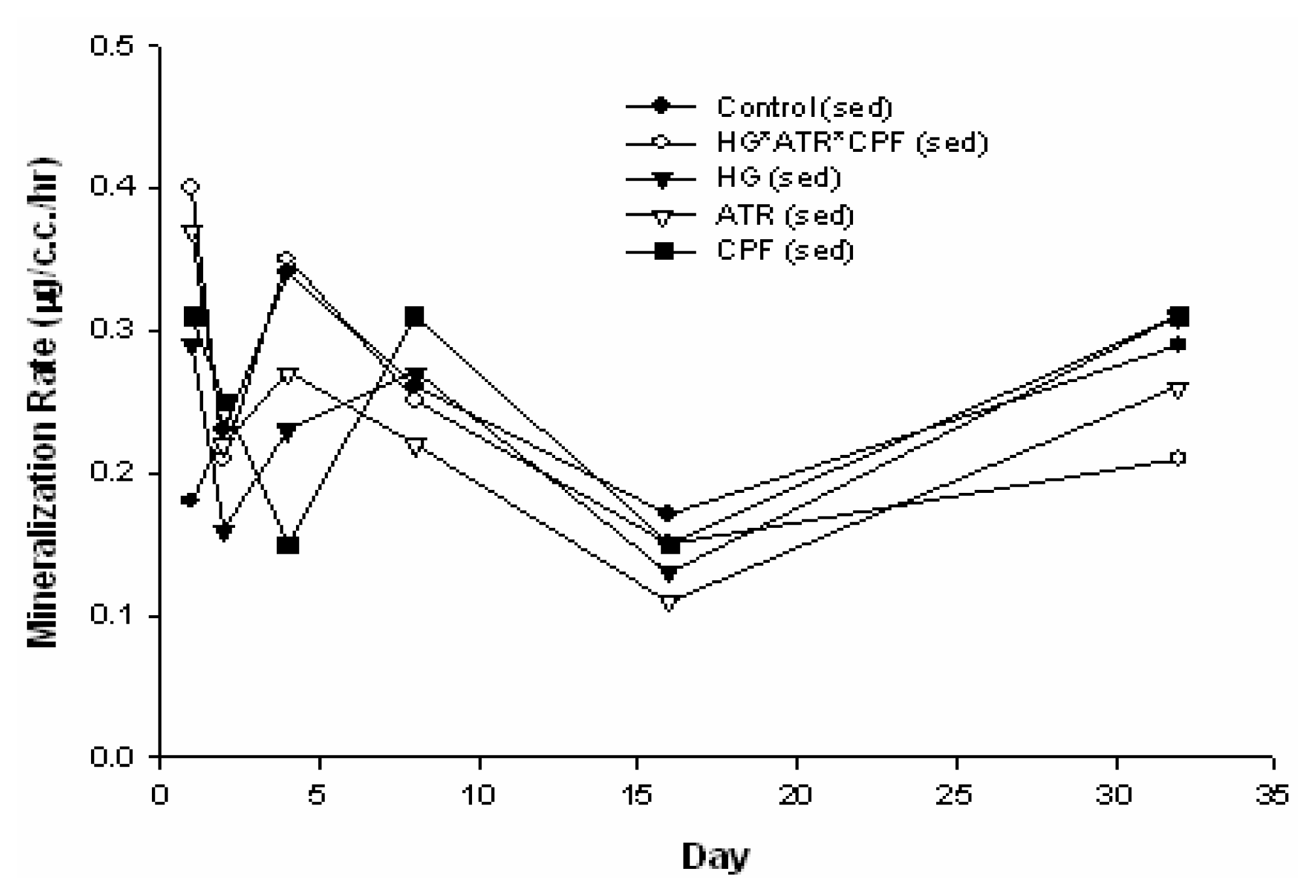 Share & Cite This Article
MDPI and ACS Style
Hwang, H.-M.; McArthur, N.; Ochs, C.; Libman, B. Assessing Interactions of Multiple Agrichemicals by Using Bacterial Assemblages in a Wetland Mesocosm System. Int. J. Environ. Res. Public Health 2005, 2, 328-334.
Related Articles
Comments
[Return to top]