Socio-Demographic and Mental Health Profile of Admitted Cases of Self-Inflicted Harm in the US Population
1
Department of Psychiatry, Charles R. Drew University of Medicine and Science, Los Angeles, CA 90059, USA
2
Department of Family Medicine, Charles R. Drew University of Medicine and Science, Los Angeles, CA 90059, USA
3
David Geffen School of Medicine, University of California, Los Angeles, CA 90059, USA
*
Author to whom correspondence should be addressed.
Received: 22 September 2017 / Revised: 24 December 2017 / Accepted: 31 December 2017 / Published: 5 January 2018
Abstract
Self-inflicted harm (SIH) has a substantial lifetime prevalence, it is associated with tremendous costs, and its rate is increasing on a national scale. To examine the characteristics of those admitted for SIH in the US and to investigate the factors that potentially modify the methods used for SIH. This was a retrospective analysis of admitted cases of SIH including suicide attempts between 2007 and 2012 using the National Trauma Data Bank. We included a total of 204,633 cases admitted for SIH. Our participants were 75.1% males. Those aged 15–24 (21%), 25–34 (22%), 35–44 (19%), 45–54 (19%), and 55–64 (10%) years comprised the largest age groups among our cases—70.8%, 11.5%, 11.1%, and 6.6% were, respectively, Caucasians, Hispanics, Blacks, and Asian/Others. Analyses of the SIH methods revealed that Blacks were less likely to self-poison [Odds Ratio (OR): 0.78] compared to Whites, whereas individuals with psychiatric disorders or substance abuse carried 2.5 and 2.0-fold higher risk, respectively. Blacks were also less likely to use anoxic methods (OR: 0.69), whereas patients with psychiatric disorders or substance abuse carried 1.5-fold higher risk. Being Black, Hispanic, and Asian (OR: 0.58, 0.55, and 0.55, respectively) as well as having psychiatric disorders (OR: 0.80) were associated with lower risks of using firearms, whereas its risk was increased with increasing age. Blacks (OR: 0.77) were less likely to cut or pierce in contrast to Hispanics (OR: 1.4), Asians/Others (OR: 1.29), and those with psychiatric disorders (2.5-fold higher risk) or drug abuse (2-fold higher risk). Blacks (OR: 1.11), Hispanics (OR: 1.13), and Asians/Others (OR: 1.57) were more likely to jump from high places, whereas those with substance abuse were less likely (OR: 0.77). Among patients admitted for SIH, males, those aged 15–64 years, and Whites comprised the largest sex, age, and racial/ethnic groups, respectively. We also found that several factors including race/ethnicity, gender, age, and having concurrent psychiatric or drug abuse disorders can potentially influence the methods used for SIH.
View Full-Text
►

▼

Figures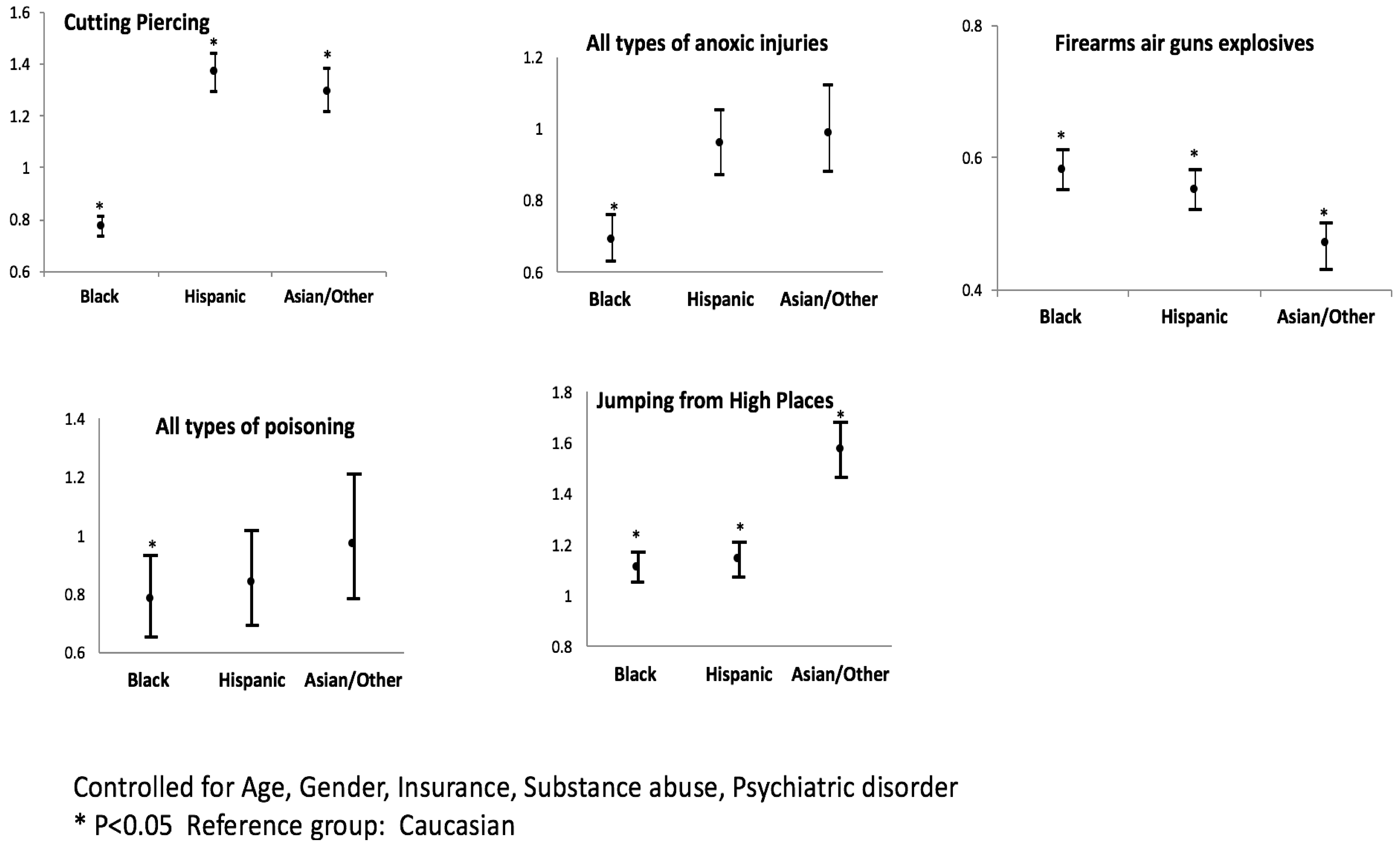 Figure 1
This is an open access article distributed under the
Creative Commons Attribution License
which permits unrestricted use, distribution, and reproduction in any medium, provided the original work is properly cited. (CC BY 4.0).
Share & Cite This Article
MDPI and ACS Style
Hanuscin, C.; Zahmatkesh, G.; Shirazi, A.; Pan, D.; Teklehaimanot, S.; Bazargan-Hejazi, S. Socio-Demographic and Mental Health Profile of Admitted Cases of Self-Inflicted Harm in the US Population. Int. J. Environ. Res. Public Health 2018, 15, 77.
Note that from the first issue of 2016, MDPI journals use article numbers instead of page numbers. See further details here.
Related Articles
Comments
[Return to top]