Community Engaged Cumulative Risk Assessment of Exposure to Inorganic Well Water Contaminants, Crow Reservation, Montana
1
Center for Biofilm Engineering, Montana State University, P.O. Box 173980, Bozeman, MT 59717, USA
2
Crow Environmental Health Steering Committee, Little Big Horn College, Crow Agency, MT 59022, USA
3
Crow Water Quality Project, P.O. Box 370, Little Big Horn College, Crow Agency, MT 59022, USA
4
Department of Earth Sciences, Montana State University, P.O. Box 173480, Bozeman, MT 59717, USA
5
Environmental Health Department, Crow/Northern Cheyenne Indian Health Service Hospital, Crow Agency, MT 59022, USA
6
School of Public Health and Health Sciences, University of Massachusetts Amherst, 715 N. Pleasant Street, Amherst, MA 01003, USA
7
Department of Mathematical Sciences, Montana State University, P.O. Box 173980, Bozeman, MT 59717, USA
8
Health Sciences Center, MSC09 5360, 1 University of New Mexico, Albuquerque, NM 87131, USA
9
College of Engineering, Montana State University, P.O. Box 173980, Bozeman, MT 59717, USA
*
Author to whom correspondence should be addressed.
Received: 8 November 2017 / Revised: 28 December 2017 / Accepted: 30 December 2017 / Published: 5 January 2018
Abstract
An estimated 11 million people in the US have home wells with unsafe levels of hazardous metals and nitrate. The national scope of the health risk from consuming this water has not been assessed as home wells are largely unregulated and data on well water treatment and consumption are lacking. Here, we assessed health risks from consumption of contaminated well water on the Crow Reservation by conducting a community-engaged, cumulative risk assessment. Well water testing, surveys and interviews were used to collect data on contaminant concentrations, water treatment methods, well water consumption, and well and septic system protection and maintenance practices. Additive Hazard Index calculations show that the water in more than 39% of wells is unsafe due to uranium, manganese, nitrate, zinc and/or arsenic. Most families' financial resources are limited, and 95% of participants do not employ water treatment technologies. Despite widespread high total dissolved solids, poor taste and odor, 80% of families consume their well water. Lack of environmental health literacy about well water safety, pre-existing health conditions and limited environmental enforcement also contribute to vulnerability. Ensuring access to safe drinking water and providing accompanying education are urgent public health priorities for Crow and other rural US families with low environmental health literacy and limited financial resources.
View Full-Text
►

▼

Figures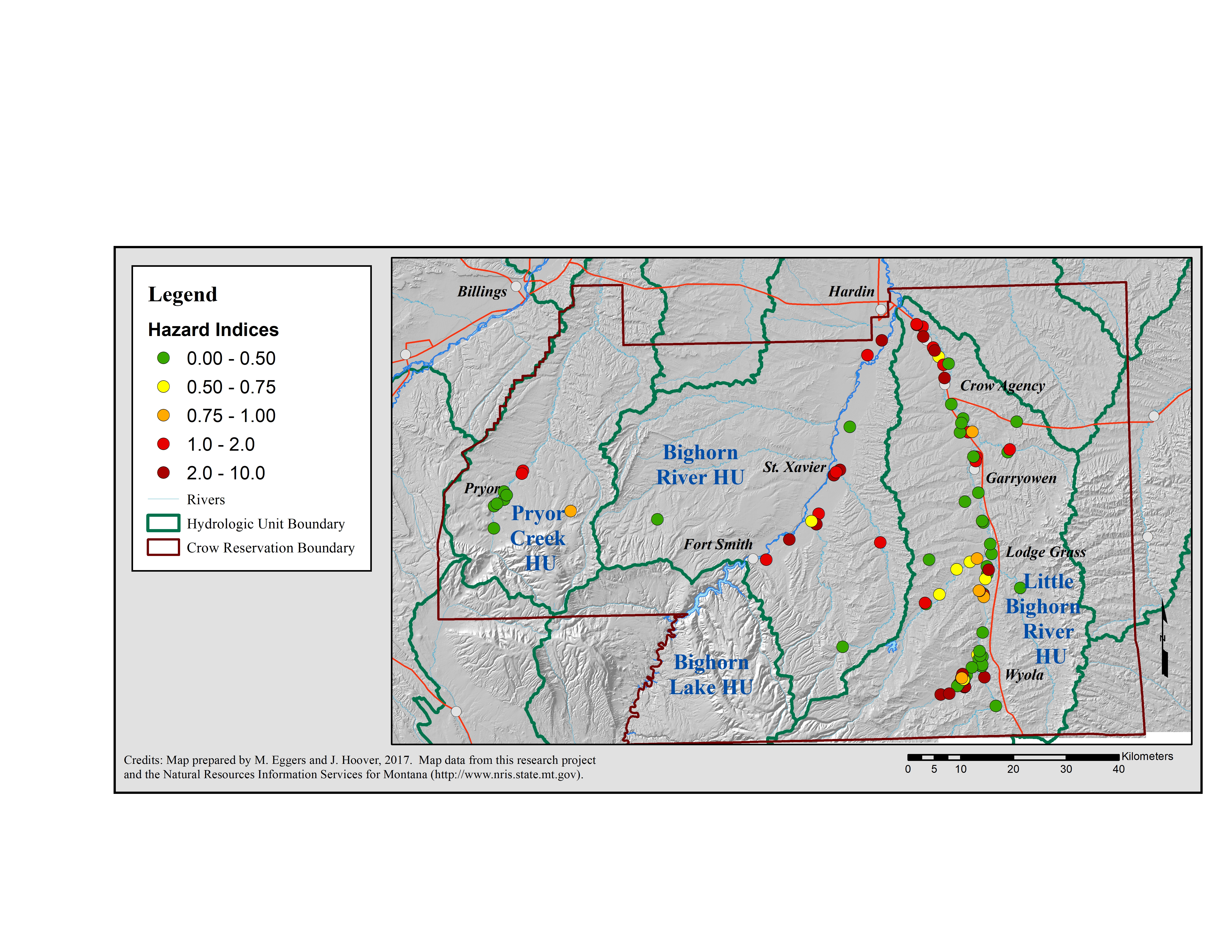 This is an open access article distributed under the
Creative Commons Attribution License
which permits unrestricted use, distribution, and reproduction in any medium, provided the original work is properly cited. (CC BY 4.0).
Share & Cite This Article
MDPI and ACS Style
Eggers, M.J.; Doyle, J.T.; Lefthand, M.J.; Young, S.L.; Moore-Nall, A.L.; Kindness, L.; Other Medicine, R.; Ford, T.E.; Dietrich, E.; Parker, A.E.; Hoover, J.H.; Camper, A.K. Community Engaged Cumulative Risk Assessment of Exposure to Inorganic Well Water Contaminants, Crow Reservation, Montana. Int. J. Environ. Res. Public Health 2018, 15, 76.
Note that from the first issue of 2016, MDPI journals use article numbers instead of page numbers. See further details here.
Related Articles
Comments
[Return to top]