Effects of Hyporheic Water Fluxes and Sediment Grain Size on the Concentration and Diffusive Flux of Heavy Metals in the Streambed
1
Shaanxi Key Laboratory of Earth Surface System and Environmental Carrying Capacity, College of Urban and Environmental Sciences, Northwest University, Xi'an 710127, China
2
State Key Laboratory of Soil Erosion and Dryland Farming on the Loess Plateau, Institute of Soil and Water Conservation, Chinese Academy of Sciences and Ministry of Water Resources, Yangling 712100, China
3
Key Laboratory of Mountain Hazards and Earth Surface Process, Institute of Mountain Hazards and Environment, Chinese Academy of Sciences, Chengdu 61004, China
4
University of Chinese Academy of Sciences, Beijing 100049, China
5
School of Environmental Science and Engineering, Chang'an University, Xi'an 710054, China
*
Author to whom correspondence should be addressed.
Received: 11 August 2017 / Revised: 1 September 2017 / Accepted: 2 September 2017 / Published: 6 September 2017
Abstract
The hyporheic zone regulates physicochemical processes in surface-groundwater systems and can be an important source of heavy metals in fluvial systems. This study assesses the pore water concentrations and diffusive fluxes of heavy metals with respect to the vertical water exchange flux (VWEF) and sediment grain size. Water and sediment samples were collected on August 2016 from upstream Site 1 and downstream Site 2 along the Juehe River in Shaanxi Province, China. Streambed vertical hydraulic conductivity (Kv) and the VWEF were estimated via the standpipe permeameter test method and Darcy's law. The heavy metal concentrations in the pore water were measured and the diffusive fluxes were calculated using Fick's first law. The VWEF patterns were dominated by upward flow, and Site 1 featured higher values of Kv and VWEF. Higher Cu and Zn concentrations occurred near the channel centre with coarse sand and gravel and greater upward VWEFs because coarser sediment and greater upward VWEFs cause stronger metal desorption capacity. Additionally, Cu and Zn at the two sites generally diffused from pore water to surface water, potentially due to the upward VWEF. The VWEF and sediment grain size are likely crucial factors influencing the heavy metal concentrations and diffusive fluxes.
View Full-Text
►

▼

Figures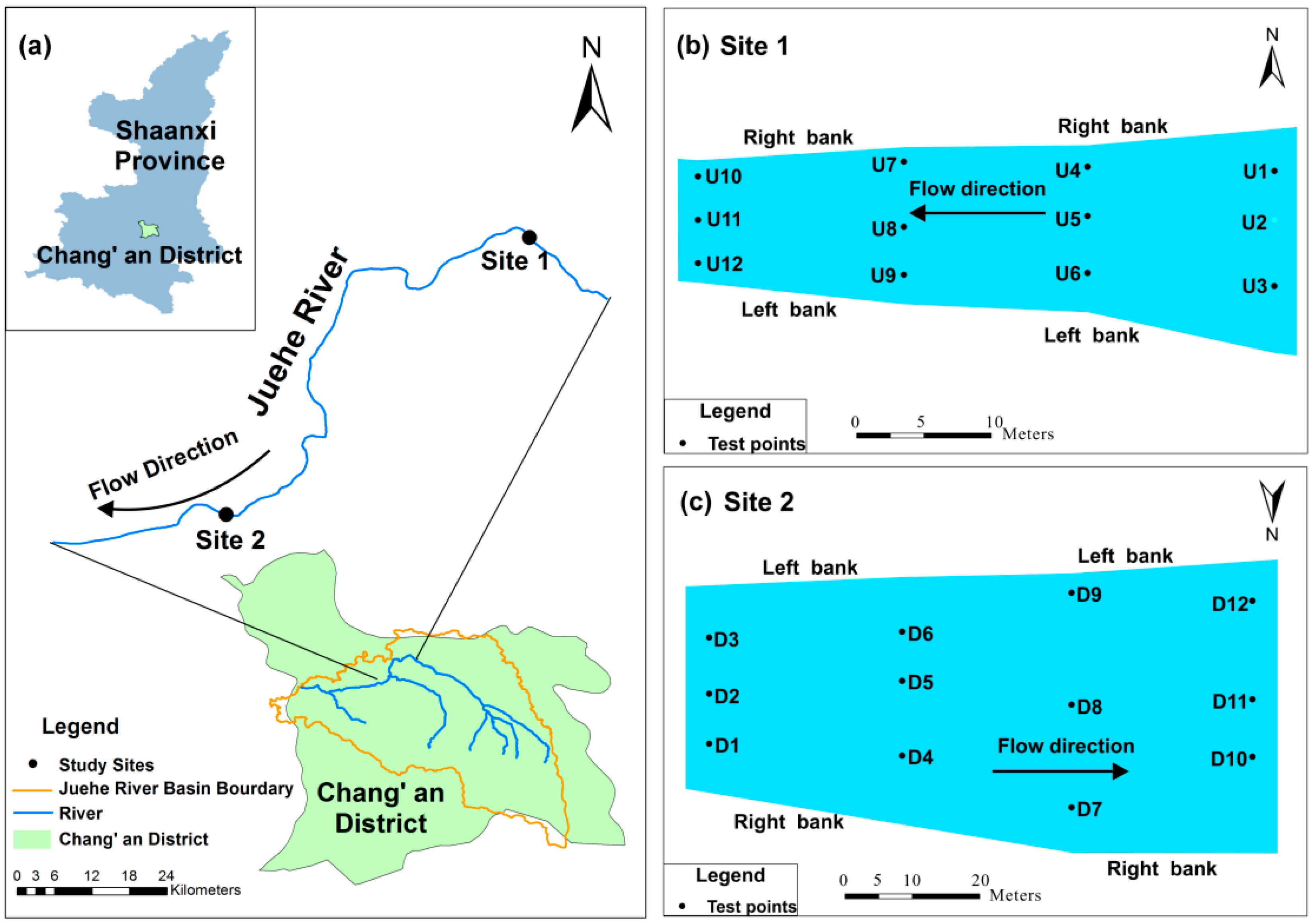 Figure 1
This is an open access article distributed under the
Creative Commons Attribution License
which permits unrestricted use, distribution, and reproduction in any medium, provided the original work is properly cited. (CC BY 4.0).
Share & Cite This Article
MDPI and ACS Style
Liu, Q.; Song, J.; Zhang, G.; Wang, W.; Guo, W.; Tang, B.; Kong, F.; Huo, A. Effects of Hyporheic Water Fluxes and Sediment Grain Size on the Concentration and Diffusive Flux of Heavy Metals in the Streambed. Int. J. Environ. Res. Public Health 2017, 14, 1020.
Note that from the first issue of 2016, MDPI journals use article numbers instead of page numbers. See further details here.
Related Articles
Comments
[Return to top]