Removal of Arsenic (V) from Aqueous Solutions Using Chitosan–Red Scoria and Chitosan–Pumice Blends
1
Laboratory of Analytical Chemistry and Applied Ecochemistry, Ghent University, Coupure Links 653, 9000 Ghent, Belgium
2
Department of Sustainable Organic Chemistry and Technology, Ghent University, Coupure Links 653, 9000 Ghent, Belgium
3
Department of Chemical Engineering and Technical Chemistry, Ghent University, Valentin Vaerwyckweg 1, 9000 Ghent, Belgium
4
Department of Materials, Textiles and Chemical Engineering, Ghent University, Technologiepark 903, 9052 Zwijnaarde, Belgium
5
Department of Chemistry, Welkite University, Southern Nations, Nationalities and Peoples' Region, P.O. Box 07, Welkite, Ethiopia
6
Department of Water Resources and Environmental Engineering, Jimma University, P.O. Box 378, Jimma Ethiopia
*
Author to whom correspondence should be addressed.
Academic Editors: Ravi Naidu, Mohammad Mahmudur Rahman and Ayanka Wijayawardena
Received: 30 June 2017 / Revised: 27 July 2017 / Accepted: 1 August 2017 / Published: 9 August 2017
Abstract
In different regions across the globe, elevated arsenic contents in the groundwater constitute a major health problem. In this work, a biopolymer chitosan has been blended with volcanic rocks (red scoria and pumice) for arsenic (V) removal. The effect of three blending ratios of chitosan and volcanic rocks (1:2, 1:5 and 1:10) on arsenic removal has been studied. The optimal blending ratio was 1:5 (chitosan: volcanic rocks) with maximum adsorption capacity of 0.72 mg/g and 0.71 mg/g for chitosan: red scoria (Ch–Rs) and chitosan: pumice (Ch–Pu), respectively. The experimental adsorption data fitted well a Langmuir isotherm (
R
2
> 0.99) and followed pseudo-second-order kinetics. The high stability of the materials and their high arsenic (V) removal efficiency (~93%) in a wide pH range (4 to 10) are useful for real field applications. Moreover, the blends could be regenerated using 0.05 M NaOH and used for several cycles without losing their original arsenic removal efficiency. The results of the study demonstrate that chitosan-volcanic rock blends should be further explored as a potential sustainable solution for removal of arsenic (V) from water.
View Full-Text
►

▼

Figures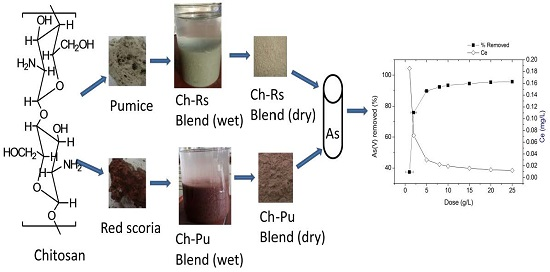 This is an open access article distributed under the
Creative Commons Attribution License
which permits unrestricted use, distribution, and reproduction in any medium, provided the original work is properly cited. (CC BY 4.0).
Share & Cite This Article
MDPI and ACS Style
Asere, T.G.; Mincke, S.; De Clercq, J.; Verbeken, K.; Tessema, D.A.; Fufa, F.; Stevens, C.V.; Du Laing, G. Removal of Arsenic (V) from Aqueous Solutions Using Chitosan–Red Scoria and Chitosan–Pumice Blends. Int. J. Environ. Res. Public Health 2017, 14, 895.
Note that from the first issue of 2016, MDPI journals use article numbers instead of page numbers. See further details here.
Related Articles
Comments
[Return to top]