Treatment of Human Placental Choriocarcinoma Cells with Formaldehyde and Benzene Induced Growth and Epithelial Mesenchymal Transition via Induction of an Antioxidant Effect
Laboratory of Biochemistry and Immunology, College of Veterinary Medicine, Chungbuk National University, Cheongju, Chungbuk 28644, Korea
*
Author to whom correspondence should be addressed.
Received: 20 June 2017 / Revised: 20 July 2017 / Accepted: 26 July 2017 / Published: 29 July 2017
Abstract
Cigarette smoke (CS) causes about 480,000 deaths each year worldwide, and it is well-known to have harmful effects on the human body, leading to heart disease, stroke, lung cancer, and cardiovascular problems. In this study, the effects of formaldehyde (FA) and benzene (Bz), the main components of CS, on cell proliferation and epithelial mesenchymal transition (EMT) of JEG-3 human choriocarcinoma cells were examined to confirm the relationship between CS components and placenta carcinoma. Upon MTT assay, FA (10
−8
M to 10
−5
M) and Bz (10
−11
M to 10
−8
M) increased JEG-3 cell proliferation. Western blot assay revealed that the protein expression of cyclin D1 and E1 increased, while the levels of p21 and p27 were reduced following treatment. In Scratch assay, FA (10
−8
M and 10
−5
M) and Bz (10
−11
M and 10
−8
M) increased migration of JEG-3 cells at 24 h and 48 h compared with that at 0 h. In addition, the expression of the epithelial marker, E-cadherin, was significantly decreased, while the expression of the mesenchymal marker, N-cadherin, was significantly increased by FA (10
−8
M and 10
−5
M) and Bz (10
−11
M and 10
−8
M). snail and slug transcriptional factors were associated with EMT, which were also up-regulated by FA and Bz, indicating that FA and Bz lead to an increase in the EMT process in JEG-3 choriocarcinoma cells. We further evaluated reactive oxygen species (ROS) and activation of antioxidant effect using dichlorofluorescin diacetate (DCFH-DA) and Western blot assay. FA and Bz increased the ROS production and an antioxidant related marker, Nrf2, in JEG-3 cells. However, eIF2α levels were reduced by FA and Bz via activation of the antioxidant reaction. Taken together, these results indicated that FA and Bz induce the growth and migration of human choriocarcinoma cells via regulation of the cell cycle and EMT and activation of ROS and antioxidant related markers.
View Full-Text
►

▼

Figures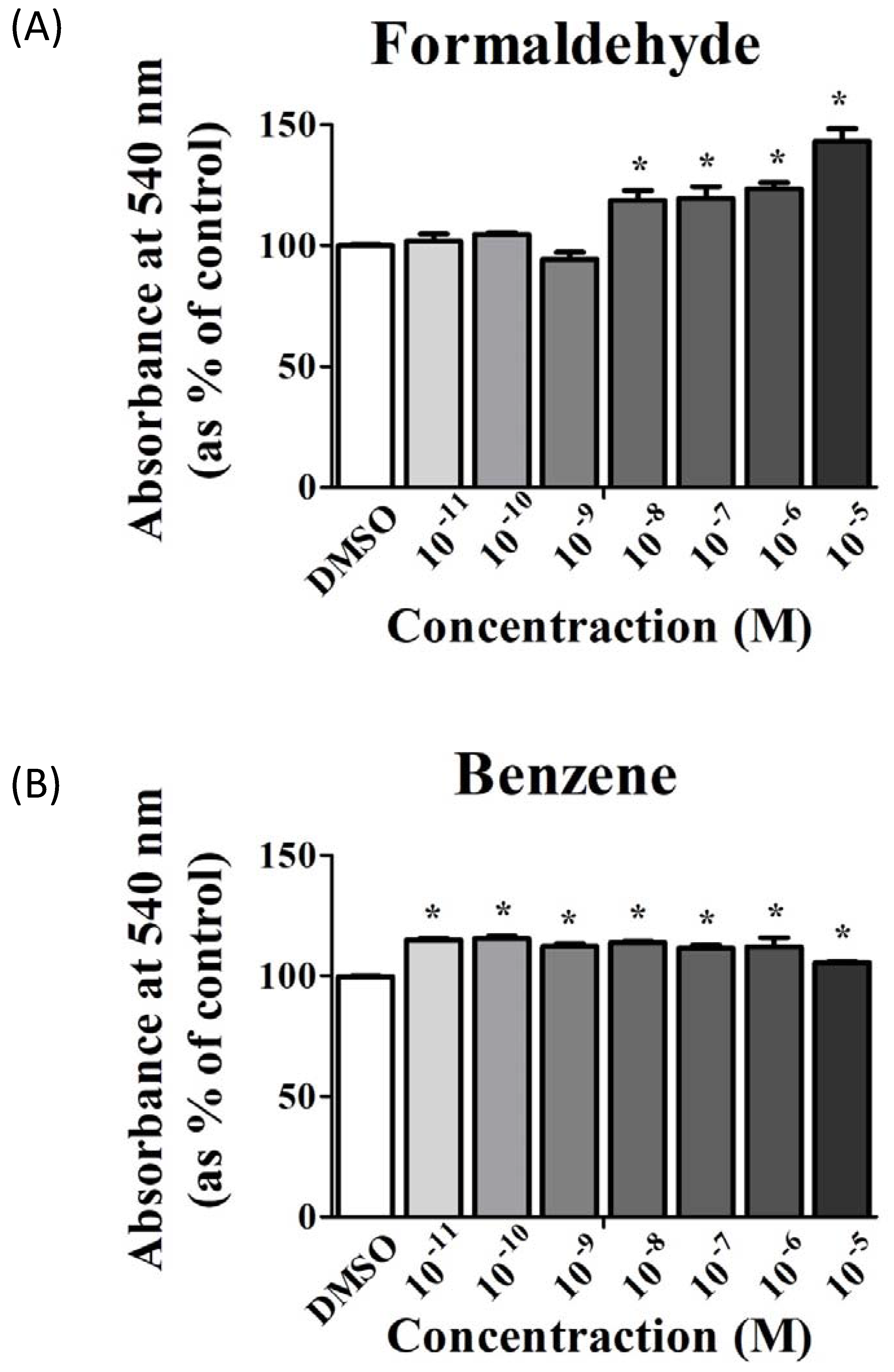 Figure 1
This is an open access article distributed under the
Creative Commons Attribution License
which permits unrestricted use, distribution, and reproduction in any medium, provided the original work is properly cited. (CC BY 4.0).
Share & Cite This Article
MDPI and ACS Style
Lee, H.-M.; Kim, S.-M.; Choi, K.-C. Treatment of Human Placental Choriocarcinoma Cells with Formaldehyde and Benzene Induced Growth and Epithelial Mesenchymal Transition via Induction of an Antioxidant Effect. Int. J. Environ. Res. Public Health 2017, 14, 854.
Note that from the first issue of 2016, MDPI journals use article numbers instead of page numbers. See further details here.
Related Articles
Comments
[Return to top]