Mortality in Miners with Coal-Workers' Pneumoconiosis in the Czech Republic in the Period 1992–2013
1
Institute of Public Health, Ostrava 70200, Czech Republic
2
Department of Epidemiology and Public Health, Faculty of Medicine, University of Ostrava, Ostrava 70103, Czech Republic
3
The National Institute of Public Health, Prague 10042, Czech Republic
4
Department of Occupational Medicine, 1st Faculty of Medicine, Charles University in Prague, Prague 12108, Czech Republic
5
Clinic of Occupational Health and Preventive Medicine, University Hospital in Ostrava, Ostrava 70852, Czech Republic
6
Centre of Occupational Medicine, Miners' Hospital in Karvina, Karvina 73506, Czech Republic
7
Department of Occupational Medicine, Miners' Clinic, Ostrava 70200, Czech Republic
8
Department of Occupational Medicine, St. Anne's University Hospital and Faculty of Medicine, Masaryk University in Brno, Brno 62500, Czech Republic
9
Department of Physiology and Pathophysiology, Faculty of Medicine, University of Ostrava, Ostrava 70103, Czech Republic
*
Author to whom correspondence should be addressed.
Academic Editor: Alesia Ferguson
Received: 27 October 2016 / Revised: 2 March 2017 / Accepted: 2 March 2017 / Published: 7 March 2017
Abstract
While working underground, miners are exposed to a number of risk factors that have a negative impact on their health and may be a cause of an increased mortality in miners. The aim of the study was to compare total and specific mortality in black coal miners with acknowledged coal-workers' pneumoconiosis (CWP) and without CWP, and the mortality of the general male population in the Czech Republic in the period 1992–2013. The sample consisted of 3476 coal miners with CWP and 6687 ex-coal miners without CWP, who were removed after achieving the maximum permissible exposure (MPE). The mortality risk differences were analyzed with the use of the standardized mortality ratio (SMR) and 95% confidence interval. Significantly higher total mortality (SMR = 1.10; 95% CI: 1.02–1.17), and mortality from malignant neoplasm (SMR = 1.16; 95% CI: 1.03–1.30), lung cancers (SMR = 1.70; 95% CI: 1.41–2.04), and non-malignant respiratory diseases (SMR = 2.78; 95% CI: 2.32–3.31) were found in the sample of coal miners with CWP. In this sample, the severity of CWP was assessed, and the SMR increased with the severity of CWP. The total (SMR = 0.86; 95% CI: 0.82–0.91) and specific mortality of miners without CWP were not higher compared with the general population. In the case where the miners were removed from underground work after achieving the MPE (without CWP), their mortality was not higher than that of the general population, but the mortality of miners with CWP was higher compared to the general population. This mortality was affected by malignant and non-malignant respiratory diseases.
View Full-Text
►

▼

Figures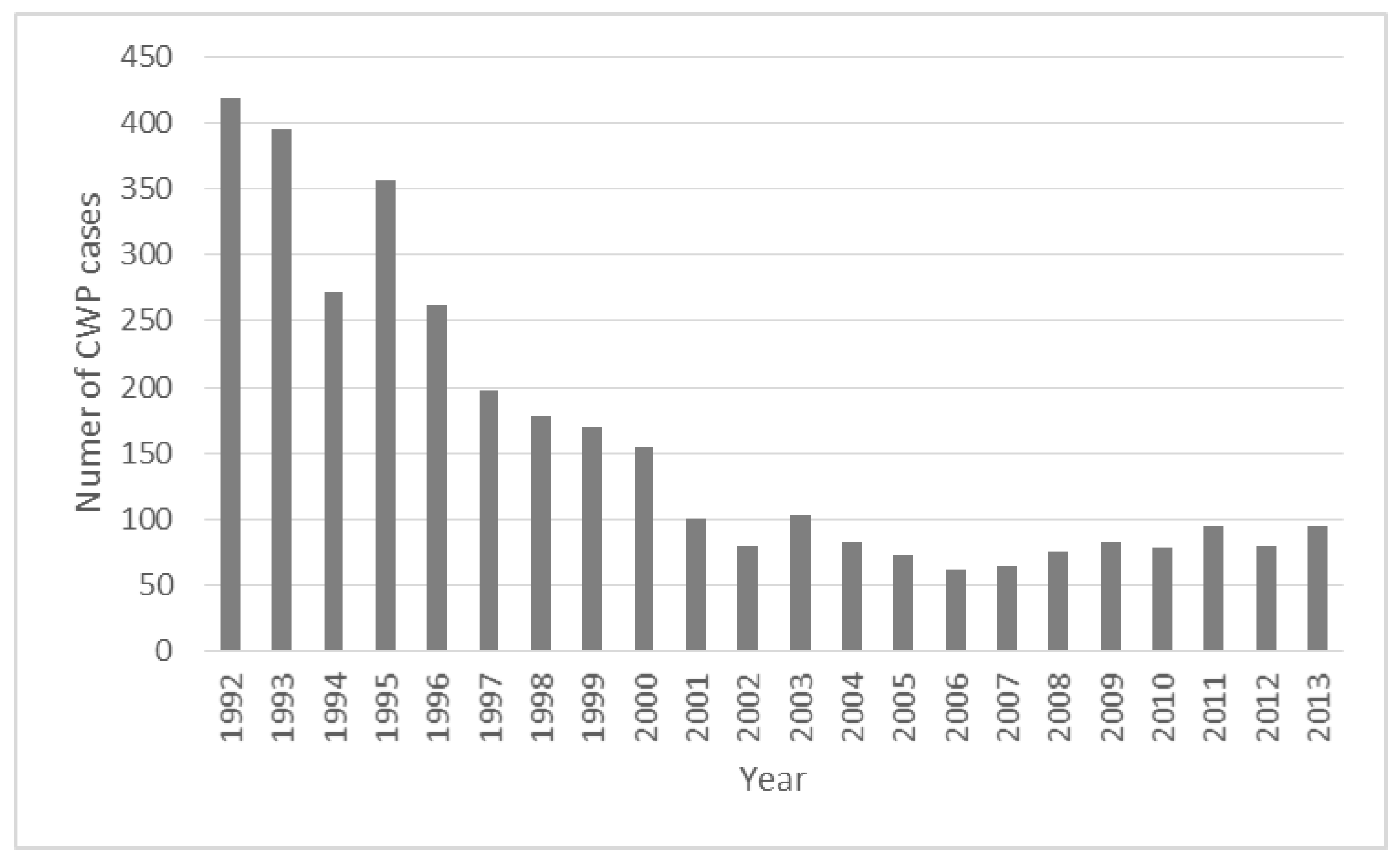 Figure 1
This is an open access article distributed under the
Creative Commons Attribution License
which permits unrestricted use, distribution, and reproduction in any medium, provided the original work is properly cited. (CC BY 4.0).
Share & Cite This Article
MDPI and ACS Style
Tomášková, H.; Šplíchalová, A.; Šlachtová, H.; Urban, P.; Hajduková, Z.; Landecká, I.; Gromnica, R.; Brhel, P.; Pelclová, D.; Jirák, Z. Mortality in Miners with Coal-Workers' Pneumoconiosis in the Czech Republic in the Period 1992–2013. Int. J. Environ. Res. Public Health 2017, 14, 269.
Note that from the first issue of 2016, MDPI journals use article numbers instead of page numbers. See further details here.
Related Articles
Comments
[Return to top]