A Cross-Sectional Study of the Prevalence of Metabolic Syndrome and Associated Factors in Colombian Collegiate Students: The FUPRECOL-Adults Study
1
Grupo GICAEDS, Facultad de Cultura Física, Deporte y Recreación, Universidad Santo Tomás, Bogotá DC 110311, Colombia
2
Centro de Estudios para la Medición de la Actividad Física «CEMA», Escuela de Medicina y Ciencias de la Salud, Universidad del Rosario, Bogotá DC 111221, Colombia
3
Grupo de Ejercicio Físico y Deportes, Vicerrectoría de Investigaciones, Universidad Manuela Beltrán, Bogotá DC 110231, Colombia
4
Grupo GRINDER, Programa de Educación Física y Deportes, Universidad del Valle, Santiago de Cali DC 760010, Colombia
5
Facultad de Educación a Distancia y Virtual, Institución Universitaria Antonio José Camacho, Santiago de Cali DC 760010, Colombia
6
Department of Education Sciences, University of Almería, Almería DC 04120, Spain
7
PROFITH "PROmoting FITness and Health through Physical Activity" Research Group, Department of Physical Education and Sport, School of Sport Sciences, University of Granada, Granada DC 18010, Spain
8
Laboratorio de Ciencias de la Actividad Física, el Deporte y la Salud, Facultad de Ciencias Médicas, Universidad de Santiago de Chile, USACH, Santiago DC 9160030, Chile
*
Author to whom correspondence should be addressed.
Academic Editor: Peter Clifton
Received: 17 December 2016 / Revised: 16 February 2017 / Accepted: 21 February 2017 / Published: 27 February 2017
Abstract
Metabolic syndrome (MetS) is one of the major public health problems worldwide. The objective of the present study is to investigate the prevalence and the associated variables of MetS in Colombian collegiate students. This cross-sectional study included a total of 890 (52% women) healthy collegiate students (21.3 ± 3.2 years old). The prevalence of MetS was determined by the definition provided by the International Diabetes Federation (IDF). We further examined associations between the prevalence of MetS and related factors, such as age, gender, anthropometric and body composition, weight status, and nutrition profile. The overall prevalence of MetS was 6.0% (95% CI = 4.5% to 7.6%), and it was higher in men than women. The most prevalent components were low high-density lipoprotein cholesterol, high triglyceride levels, waist circumference, and blood pressure levels. The predisposing factors for having a MetS included: being male, over 23 years old, overweight or obese, and having an unhealthy waist-to-height ratio. In conclusion, the occurrence of MetS in young adults is substantial. These findings may be relevant to health promotion efforts for collegiate students in order to develop prospective studies and screening for young adults, which will aid in targeted intervention development to decrease cardiometabolic risk factors.
View Full-Text
►

▼

Figures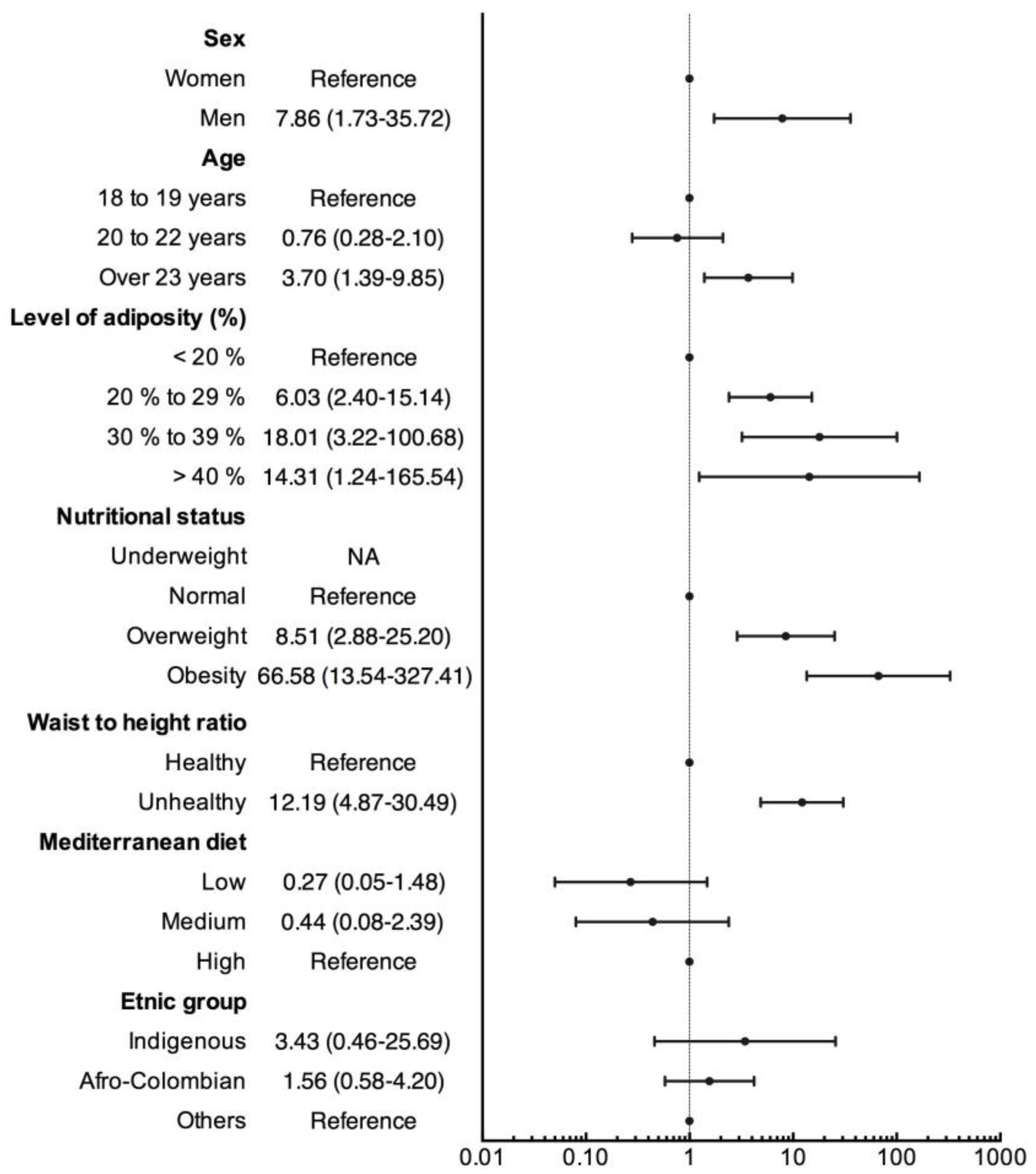 Figure 1
This is an open access article distributed under the
Creative Commons Attribution License
which permits unrestricted use, distribution, and reproduction in any medium, provided the original work is properly cited. (CC BY 4.0).
Share & Cite This Article
MDPI and ACS Style
Martínez-Torres, J.; Correa-Bautista, J.E.; González-Ruíz, K.; Vivas, A.; Triana-Reina, H.R.; Prieto-Benavidez, D.H.; Carrillo, H.A.; Ramos-Sepúlveda, J.A.; Villa-González, E.; García-Hermoso, A.; Ramírez-Vélez, R. A Cross-Sectional Study of the Prevalence of Metabolic Syndrome and Associated Factors in Colombian Collegiate Students: The FUPRECOL-Adults Study. Int. J. Environ. Res. Public Health 2017, 14, 233.
Note that from the first issue of 2016, MDPI journals use article numbers instead of page numbers. See further details here.
Related Articles
Comments
[Return to top]