Heterofucan from Sargassum filipendula Induces Apoptosis in HeLa Cells
1
Laboratory of Biotechnology of Natural Polymers (BIOPOL), Departament of Biochemistry, Federal University of Rio Grande do Norte (UFRN), Natal-RN, Brazil
2
Federal Institute of Education, Science and Technology of Rio Grande do Norte (IFRN), Santa Cruz-RN, Brazil
*
Author to whom correspondence should be addressed.
Received: 22 February 2011 / Revised: 29 March 2011 / Accepted: 8 April 2011 / Published: 14 April 2011
Abstract
Fucan is a term used to denominate a family of sulfated polysaccharides rich in sulfated L-fucose. Heterofucan SF-1.5v was extracted from the brown seaweed
Sargassum filipendula
by proteolytic digestion followed by sequential acetone precipitation. This fucan showed antiproliferative activity on Hela cells and induced apoptosis. However, SF-1.5v was not able to activate caspases. Moreover, SF-1.5v induced glycogen synthase kinase (GSK) activation, but this protein is not involved in the heterofucan SF-1.5v induced apoptosis mechanism. In addition, ERK, p38, p53, pAKT and NFκB were not affected by the presence of SF-1.5v. We determined that SF-1.5v induces apoptosis in HeLa mainly by mitochondrial release of apoptosis-inducing factor (AIF) into cytosol. In addition, SF-1.5v decreases the expression of anti-apoptotic protein Bcl-2 and increased expression of apoptogenic protein Bax. These results are significant in that they provide a mechanistic framework for further exploring the use of SF-1.5v as a novel chemotherapeutics against human cervical cancer.
View Full-Text
►

▼

Figures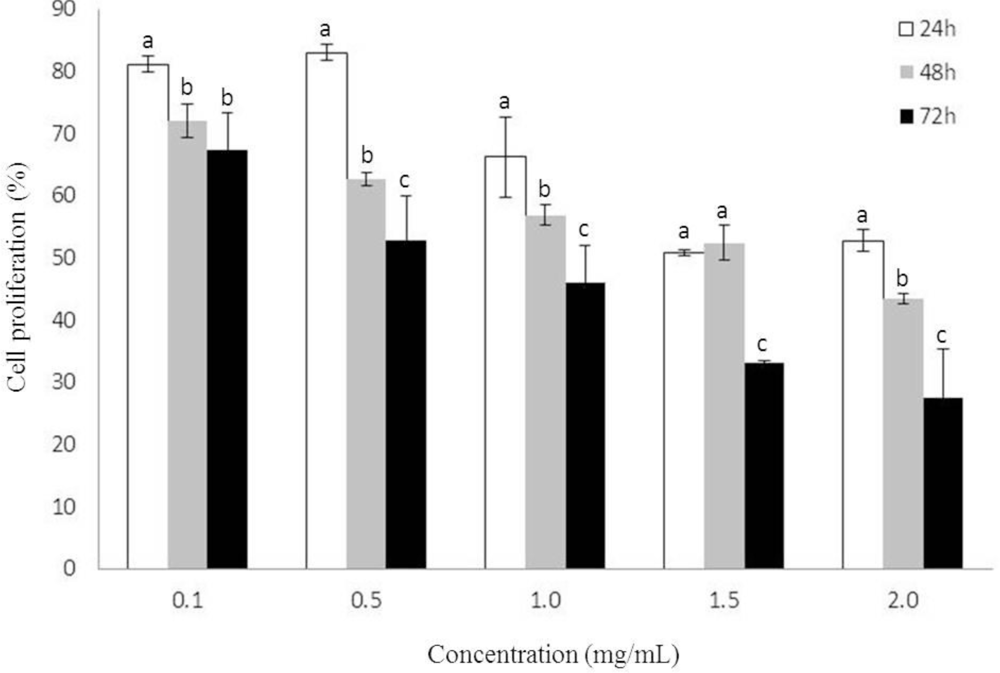 Share & Cite This Article
MDPI and ACS Style
Silva Costa, L.; Silva Telles, C.B.; Medeiros Oliveira, R.; Duarte Barreto Nobre, L.T.; Dantas-Santos, N.; Barros Gomes Camara, R.; Santana Santos Pereira Costa, M.; Almeida-Lima, J.; Melo-Silveira, R.F.; Lopes Albuquerque, I.R.; Leite, E.L.; Oliveira Rocha, H.A. Heterofucan from Sargassum filipendula Induces Apoptosis in HeLa Cells. Mar. Drugs 2011, 9, 603-614.
Related Articles
Comments
[Return to top]