Dynamics of Dissolved and Particulate Polyunsaturated Aldehydes in Mesocosms Inoculated with Different Densities of the Diatom Skeletonema marinoi
1
Friedrich Schiller University, Institute of Inorganic and Analytical Chemistry, Lessingstr. 8, D-07743 Jena, Germany
2
Uni Environment, P.O.Box 7810, N-5020 Bergen, Norway
3
National Environmental Research Institute, Aarhus University, Box. 358, Frederiksborgvej 399, 12 DK-4000, Roskilde, Denmark
†
Present address: Skidaway Institute of Oceanography, 10 Ocean Science Circle, Savannah, GA 31411, USA.
*
Author to whom correspondence should be addressed.
Received: 4 February 2011 / Revised: 2 March 2011 / Accepted: 2 March 2011 / Published: 11 March 2011
Abstract
A survey of the production of polyunsaturated aldehydes (PUA) of manipulated plankton communities is presented here. PUA are phytoplankton-derived metabolites that are proposed to play an important role in chemically mediated plankton interactions. Blooms of different intensities of the diatom
Skeletonema marinoi
were generated in eight mesocosms filled with water from the surrounding fjord by adding different amounts of a starting culture and nutrients. This set-up allowed us to follow PUA production of the plankton community over the entire induced bloom development, and to compare it with the natural levels of PUA. We found that
S. marinoi
is a major source for the particulate PUA 2,4-heptadienal and 2,4-octadienal (defined as PUA released upon wounding of the diatom cells) during the entire bloom development. Just before, and during, the decline of the induced diatom blooms, these PUA were also detected in up to 1 nM concentrations dissolved in the water. In addition, we detected high levels of the PUA 2,4-decadienal that was not produced by the diatom
S. marinoi
. Particulate decadienal correlated well with the cell counts of the prymnesiophyte
Phaeocystis
sp. that also developed in the fertilized mesocosms. Particulate decadienal levels were often even higher than those of diatom-derived PUA, indicating that PUA sources other than diatoms should be considered when it comes to the evaluation of the impact of these metabolites.
View Full-Text
►

▼

Figures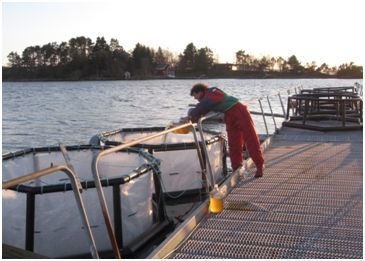 Share & Cite This Article
MDPI and ACS Style
Vidoudez, C.; Nejstgaard, J.C.; Jakobsen, H.H.; Pohnert, G. Dynamics of Dissolved and Particulate Polyunsaturated Aldehydes in Mesocosms Inoculated with Different Densities of the Diatom Skeletonema marinoi. Mar. Drugs 2011, 9, 345-358.
Related Articles
Comments
[Return to top]