Qualitative and Quantitative Saponin Contents in Five Sea Cucumbers from the Indian Ocean
1
Marine Biology Laboratory, University of Mons, 20 Place du Parc, B-7000 Mons, Belgium
2
Organic Chemistry Laboratory, Mass Spectrometry Center, University of Mons, 20 Place du Parc, B-7000 Mons, Belgium
*
Authors to whom correspondence should be addressed.
Received: 8 January 2010 / Accepted: 19 January 2010 / Published: 21 January 2010
Abstract
To avoid predation, holothuroids produce feeding-deterrent molecules in their body wall and viscera, the so-called saponins. Five tropical sea cucumber species of the family Holothuriidae were investigated in order to study their saponin content in two different organs, the body wall and the Cuvierian tubules. Mass spectrometry techniques (MALDI- and ESI-MS) were used to detect and analyze saponins. The smallest number of saponins was observed in
Holothuria atra
, which contained a total of four congeners, followed by
Holothuria leucospilota
,
Pearsonothuria graeffei
and
Actinopyga echinites
with six, eight and ten congeners, respectively.
Bohadschia subrubra
revealed the highest saponin diversity (19 congeners). Saponin mixtures also varied between the two body compartments within a given animal. A semi-quantitative approach completed these results and showed that a high diversity of saponins is not particularly correlated to a high saponin concentration. Although the complexity of the saponin mixtures described makes the elucidation of their respective biological roles difficult, the comparisons between species and between body compartments give some clues about how these molecules may act as predator repellents.
View Full-Text
►

▼

Figures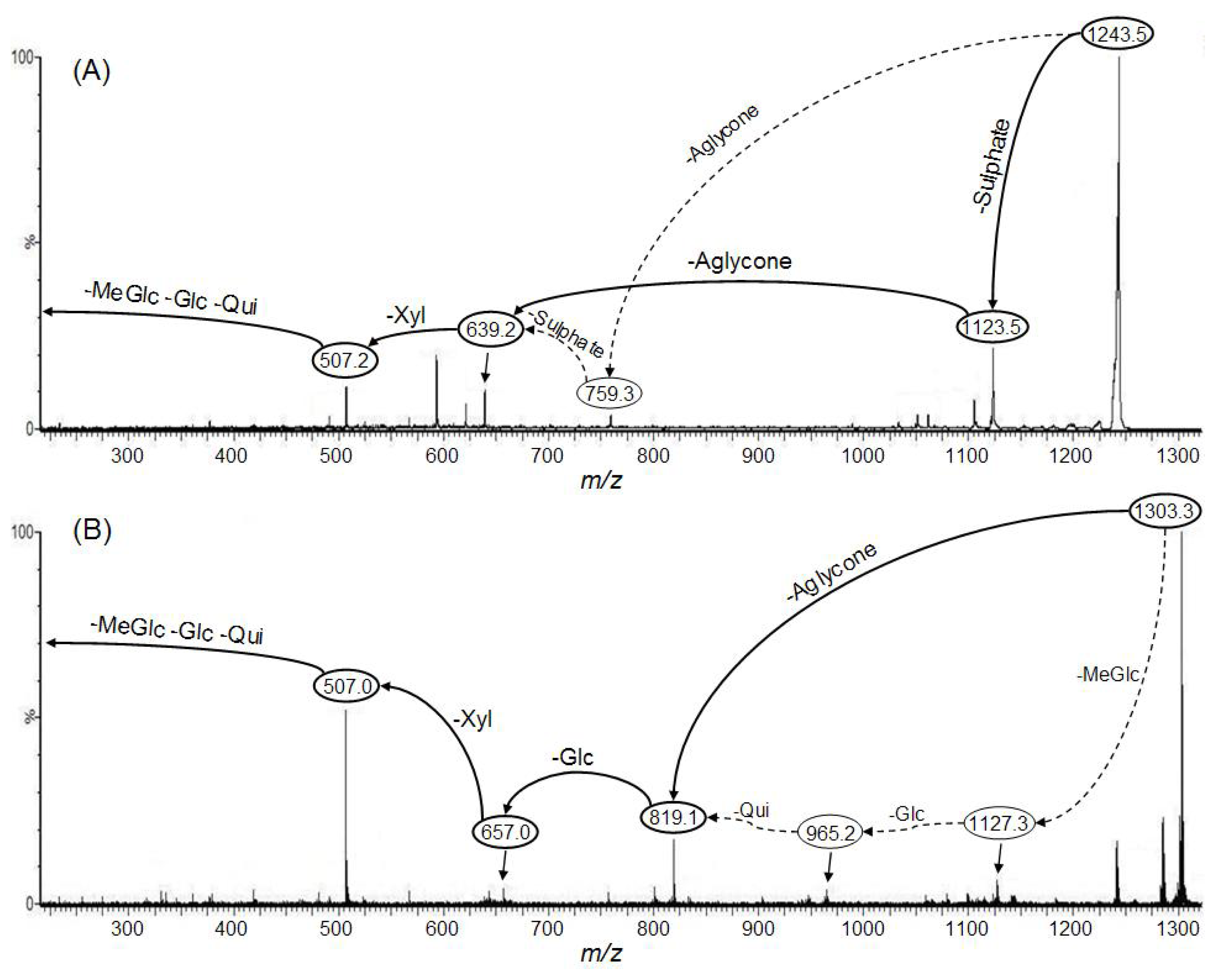 Share & Cite This Article
MDPI and ACS Style
Van Dyck, S.; Gerbaux, P.; Flammang, P. Qualitative and Quantitative Saponin Contents in Five Sea Cucumbers from the Indian Ocean. Mar. Drugs 2010, 8, 173-189.
Related Articles
Comments
[Return to top]