3-O-Methylfunicone, a Selective Inhibitor of Mammalian Y-Family DNA Polymerases from an Australian Sea Salt Fungal Strain
1
Laboratory of Food & Nutritional Sciences, Department of Nutritional Science, Kobe-Gakuin University, Nishi-ku, Kobe, Hyogo 651-2180, Japan
2
Cooperative Research Center of Life Sciences, Kobe-Gakuin University, Chuo-ku, Kobe, Hyogo 650-8586, Japan
3
Department of Applied Biological Science, Tokyo University of Science, 2641 Yamazaki, Noda, Chiba 278-8510, Japan
4
Nano-bioanalysis Team, Health Technology Research Center, Takamatsu, Kagawa 761-0395 Japan
*
Author to whom correspondence should be addressed.
Received: 12 October 2009 / Revised: 18 November 2009 / Accepted: 19 November 2009 / Published: 23 November 2009
Abstract
We isolated a pol inhibitor from the cultured mycelia extract of a fungal strain isolated from natural salt from a sea salt pan in Australia, which was identified as 3-O-methylfunicone by spectroscopic analyses. This compound selectively inhibited the activities of mammalian Y-family DNA polymerases (pols) (
i.e.
, pols η, ι and κ). Among these pols, human pol κ activity was most strongly inhibited, with an IC
50
value of 12.5 μM. On the other hand, the compound barely influenced the activities of the other families of mammalian pols, such as A-family (
i.e.
, pol γ), B-family (
i.e.
, pols α, δ and ε) or X-family (
i.e.
, pols β, λ and terminal deoxynucleotidyl transferase), and showed no effect on the activities of fish pol δ, plant pols, prokaryotic pols and other DNA metabolic enzymes, such as calf primase of pol α, human immunodeficiency virus type-1 (HIV-1) reverse transcriptase, human telomerase, T7 RNA polymerase, mouse IMP dehydrogenase (type II), human topoisomerases I and II, T4 polynucleotide kinase or bovine deoxyribonuclease I. This compound also suppressed the growth of two cultured human cancer cell lines, HCT116 (colon carcinoma cells) and HeLa (cervix carcinoma cells), and UV-treated HeLa cells exhibited lower clonogenic survival in the presence of inhibitor.
View Full-Text
►

▼

Figures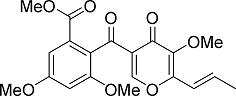 Share & Cite This Article
MDPI and ACS Style
Mizushina, Y.; Motoshima, H.; Yamaguchi, Y.; Takeuchi, T.; Hirano, K.; Sugawara, F.; Yoshida, H. 3-O-Methylfunicone, a Selective Inhibitor of Mammalian Y-Family DNA Polymerases from an Australian Sea Salt Fungal Strain. Mar. Drugs 2009, 7, 624-639.
Related Articles
Comments
[Return to top]