The Carotenogenesis Pathway via the Isoprenoid-β-carotene Interference Approach in a New Strain of Dunaliella salina Isolated from Baja California Mexico
1
Department of Marine Biotechnology, Centro de Investigación Científica y de Educación Superior de Ensenada, Ensenada 22860, México
2
Present address: Facultad de Ciencias, Universidad Nacional del Santa. Av. Universitaria S/N, Bellamar, Chimbote, Peru
*
Author to whom correspondence should be addressed.
Received: 5 August 2008 / Revised: 5 January 2009 / Accepted: 19 January 2009 / Published: 10 February 2009
Abstract
D. salina
is one of the recognized natural sources to produce
β
-carotene, and an useful model for studying the role of inhibitors and enhancers of carotenogenesis. However there is little information in
D. salina
regarding whether the isoprenoid substrate can be influenced by stress factors (carotenogenic) or selective inhibitors which in turn may further contribute to elucidate the early steps of carotenogenesis and biosynthesis of β-carotene. In this study,
Dunaliella salina
(BC02) isolated from La Salina BC Mexico, was subjected to the method of isoprenoids-β-carotene interference in order to promote the interruption or accumulation of the programmed biosynthesis of carotenoids. When Carotenogenic and non-carotenogenic cells of
D. salina
BC02 were grown under photoautotrophicgrowth conditions in the presence of 200 µM fosmidomycin, carotenogenesis and the synthesis of β-carotene were interrupted after two days in cultured
D. salina
cells. This result is an indirect consequence of the inhibition of the synthesis of isoprenoids and activity of the recombinant DXR enzyme thereby preventing the conversionof 1-deoxy-D-xylulose 5-phosphate (DXP) to 2-C-methyl-D-erythritol (MEP) and consequently interrupts the early steps of carotenogenesis in
D. salina
. The effect at the level of proteins and RNA was not evident. Mevinolin treated
D. salina
cells exhibited carotenogenesis and β-carotene levels very similar to those of control cell cultures indicating that mevinolin not pursued any indirect action in the biosynthesis of isoprenoids and had no effect at the level of the HMG-CoA reductase, the key enzyme of the Ac/MVA pathway.
View Full-Text
►

▼

Figures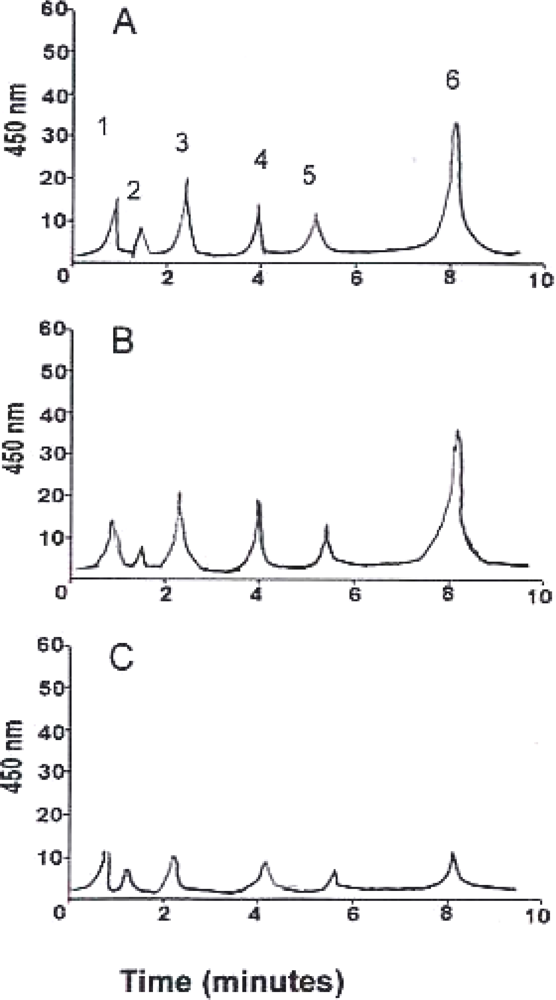 Share & Cite This Article
MDPI and ACS Style
Paniagua-Michel, J.; Capa-Robles, W.; Olmos-Soto, J.; Gutierrez-Millan, L.E. The Carotenogenesis Pathway via the Isoprenoid-β-carotene Interference Approach in a New Strain of Dunaliella salina Isolated from Baja California Mexico. Mar. Drugs 2009, 7, 45-56.
Related Articles
Comments
[Return to top]