Identification and Biological Characterization of Angiogenic and Tumor Growth Inhibitors derived from Sinica cetorhinus maximum Cartilage
Department of Biochemistry and Molecular Biology, Faculty of Basic Medical Sciences, Second Military Medical University, Shanghai 200433, P.R. China
*
Author to whom correspondence should be addressed.
Received: 25 March 2003 / Accepted: 31 January 2004 / Published: 25 February 2004
Abstract
Shark (Sinica cetorhinus maximum) cartilage was extracted in 1 mol/L Gu-HCl guanidine. Two purified active proteins with apparent molecular weights of 15.2x10
3
Da and 8.0×10
3
Da (designated as Sp15 and Sp8, respectively) were obtained through ultrafiltration and Superdex 75 chromatography. The activities of the samples were studied in terms of their potential inhibition of vascular endothelial cell growth
in vitro
, of angiogenesis both in rabbit cornea and chick embryo chorioallantoic membrane (CAM) assay models
in vivo
, and of growth of transplanted S180 sarcoma in mice
in vivo
. The results showed that Sp15 expressed a typical lysozymatic activity up to 223,000 U/mg and its N-terminus was highly homologous to lysozymes of various mammalian origins. Sp15 exhibited a strong anti-angiogenic activity only
in vitro
, whereas Sp8 shared this effect both
in vitro
and
in vivo
. Both Sp15 and Sp8 provided an effective anti-tumor activity in mice bearing transplanted S180 sarcoma. These results suggest that Sp15 is a shark cartilage-derived lysozyme that participates in the defense to bacterial invasion to the body, while Sp8 is an angiogenic inhibitor that mediates at least part of the anti-tumor activity associated with shark cartilage probably through the inhibition of tumor-induced angiogenesis.
View Full-Text
►

▼

Figures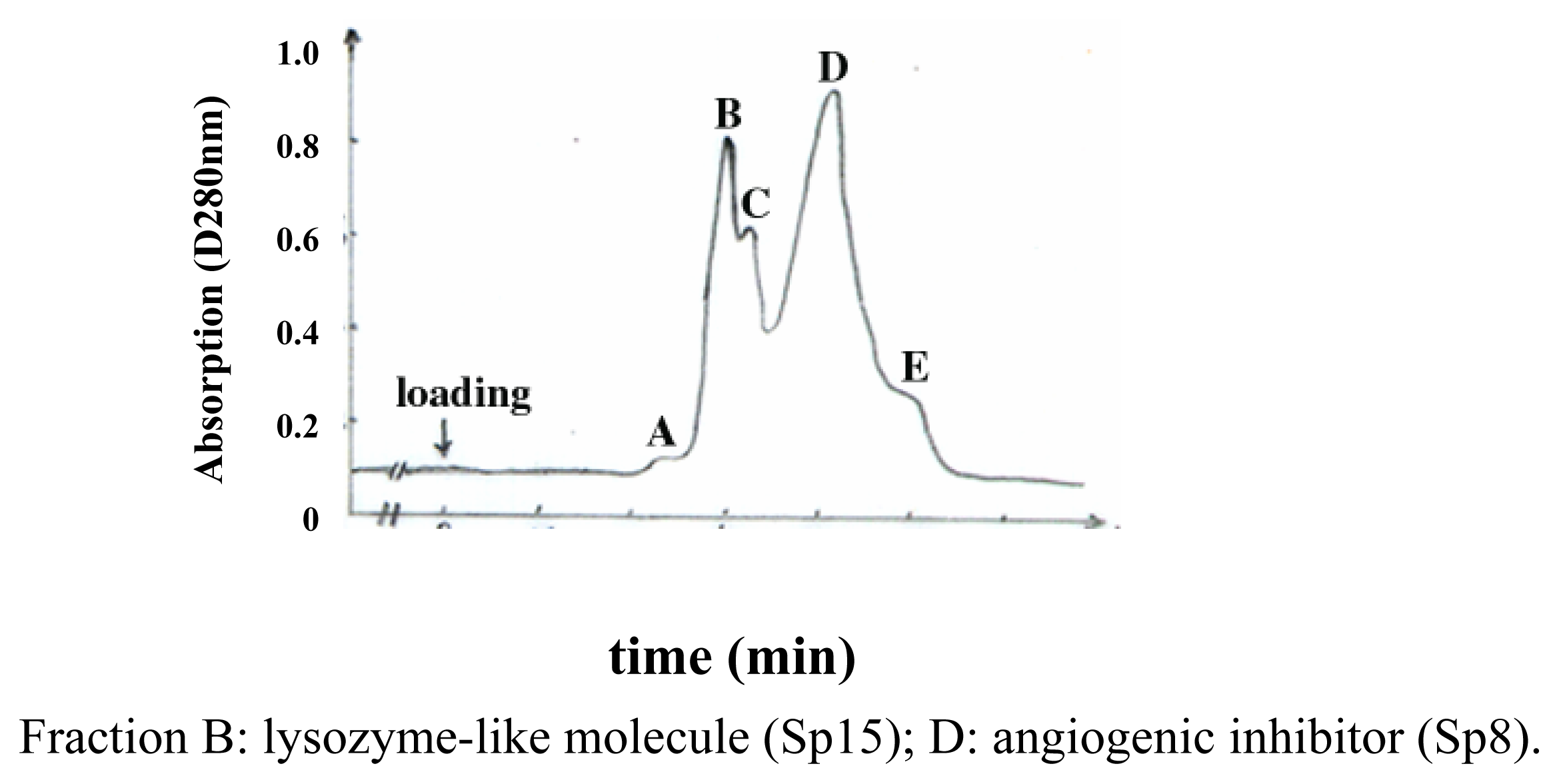 Share & Cite This Article
MDPI and ACS Style
Jiao, B.; Chen, J.; Miao, W.; Wang, L.; Zhu, Y.; Miao, H. Identification and Biological Characterization of Angiogenic and Tumor Growth Inhibitors derived from Sinica cetorhinus maximum Cartilage. Mar. Drugs 2004, 2, 30-38.
Related Articles
Comments
[Return to top]