The Novel Mechanisms Concerning the Inhibitions of Palmitate-Induced Proinflammatory Factor Releases and Endogenous Cellular Stress with Astaxanthin on MIN6 β-Cells
Third Department of Internal Medicine, Kyorin University School of Medicine, 6-20-2 Shinkawa, Mitaka, Tokyo 181-8611, Japan
*
Author to whom correspondence should be addressed.
Received: 15 May 2017 / Revised: 10 June 2017 / Accepted: 14 June 2017 / Published: 20 June 2017
Abstract
Astaxanthin, an antioxidant agent, can protect pancreatic β-cells of db/db mice from glucotoxicity and resolve chronic inflammation in adipose tissue. Nonetheless, the effects of astaxanthin on free-fatty-acid-induced inflammation and cellular stress in β-cells remain to be demonstrated. Meanwhile, palmitate enhances the secretion of pro-inflammatory adipokines monocyte chemoattractant protein-1 (MCP-1) and vascular endothelial growth factor (VEGF
120
). We therefore investigated the influence of astaxanthin on palmitate-stimulated MCP-1 and VEGF
120
secretion in mouse insulinoma (MIN6) pancreatic β-cells. Furthermore, whether astaxanthin prevents cellular stress in MIN6 cells was also assessed. Pre-treatment with astaxanthin or with
N
-acetyl-cysteine (NAC) which is an antioxidant drug, significantly attenuated the palmitate-induced MCP-1 release through downregulation of phosphorylated c-Jun NH
2
-terminal protein kinase (JNK) pathways, and suppressed VEGF
120
through the PI3K/Akt pathways relative to the cells stimulated with palmitate alone. In addition, palmitate significantly upregulated homologous protein (CHOP) and anti-glucose-regulated protein (GRP78), which are endoplasmic reticulum (ER) stress markers, in MIN6 cells. On the other hand, astaxanthin attenuated the increased CHOP content, but further up-regulated palmitate-stimulated GRP78 protein expression. By contrast, NAC had no effects on either CHOP or GRP78 enhancement induced by palmitate in MIN6 cells. In conclusion, astaxanthin diminishes the palmitate-stimulated increase in MCP-1 secretion via the downregulation of JNK pathways in MIN6 cells, and affects VEGF
120
secretion through PI3K/Akt pathways. Moreover, astaxanthin can prevent not only oxidative stress caused endogenously by palmitate but also ER stress, which NAC fails to attenuate, via upregulation of GRP78, an ER chaperon.
View Full-Text
►

▼

Figures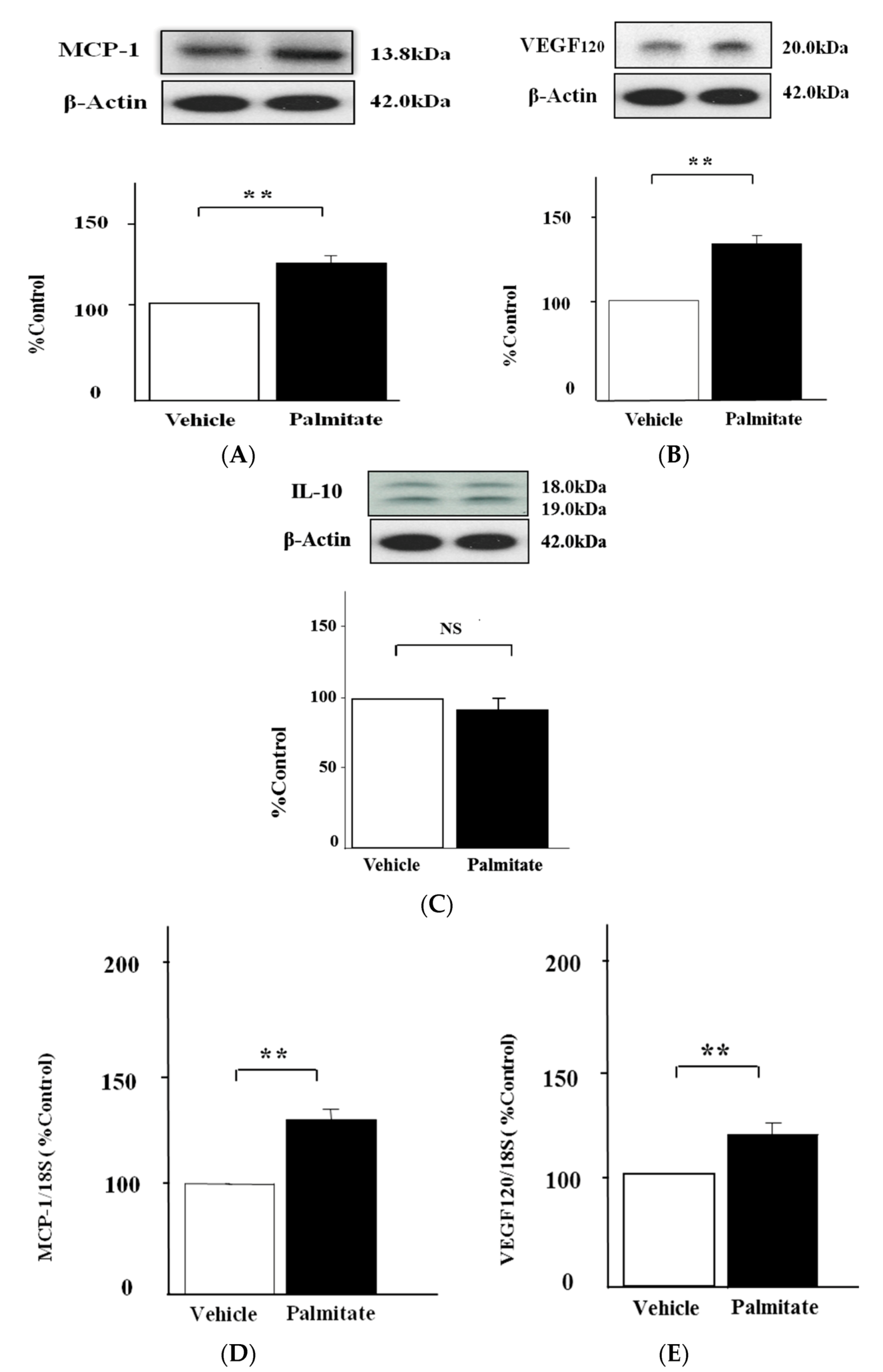 Figure 1
This is an open access article distributed under the
Creative Commons Attribution License
which permits unrestricted use, distribution, and reproduction in any medium, provided the original work is properly cited. (CC BY 4.0).
Share & Cite This Article
MDPI and ACS Style
Kitahara, A.; Takahashi, K.; Morita, N.; Murashima, T.; Onuma, H.; Sumitani, Y.; Tanaka, T.; Kondo, T.; Hosaka, T.; Ishida, H. The Novel Mechanisms Concerning the Inhibitions of Palmitate-Induced Proinflammatory Factor Releases and Endogenous Cellular Stress with Astaxanthin on MIN6 β-Cells. Mar. Drugs 2017, 15, 185.
Note that from the first issue of 2016, MDPI journals use article numbers instead of page numbers. See further details here.
Related Articles
Comments
[Return to top]