An Extract from Shrimp Processing By-Products Protects SH-SY5Y Cells from Neurotoxicity Induced by Aβ25–35
1
Research Institute for Marine Drugs and Nutrition, College of Food Science and Technology, Guangdong Ocean University, Zhanjiang 524088, China
2
Department of Psychology and Neuroscience, Dalhousie University, Halifax, NS B3H 4R2, Canada
3
Coastal Zones Research Institute Inc., 232B, avenue de l'Église, Shippagan, NB E8S 1J2, Canada
4
Aquatic and Crop Resource Development, National Research Council of Canada, 1411 Oxford Street, Halifax, NS B3H 3Z1, Canada
5
Graduate Institute of Neural and Cognitive Sciences, China Medical University Hospital, Taichung 40402, Taiwan
6
Aquatic and Crop Resource Development, National Research Council of Canada, 550 University Avenue, Charlottetown, PE C1A 4P3, Canada
*
Author to whom correspondence should be addressed.
Academic Editors: Rosário Domingues, Ricardo Calado and Pedro Domingues
Received: 8 December 2016 / Revised: 7 March 2017 / Accepted: 15 March 2017 / Published: 22 March 2017
Abstract
Increased evidence suggests that marine unsaturated fatty acids (FAs) can protect neurons from amyloid-β (Aβ)-induced neurodegeneration. Nuclear magnetic resonance (NMR), high performance liquid chromatography (HPLC) and gas chromatography (GC) assays showed that the acetone extract 4-2A obtained from shrimp
Pandalus borealis
industry processing wastes contained 67.19% monounsaturated FAs and 16.84% polyunsaturated FAs. The present study evaluated the anti-oxidative and anti-inflammatory effects of 4-2A in Aβ
25–35
-insulted differentiated SH-SY5Y cells. Cell viability and cytotoxicity were measured by using 3-(4,5-Dimethylthiazol-2-yl)-2,5-diphenyltetrazolium bromide (MTT) and lactate dehydrogenase (LDH) assays. Quantitative PCR and Western blotting were used to study the expression of neurotrophins, pro-inflammatory cytokines and apoptosis-related genes. Administration of 20 μM Aβ
25–35
significantly reduced SH-SY5Y cell viability, the expression of nerve growth factor (NGF) and its tyrosine kinase TrkA receptor, as well as the level of glutathione, while increased reactive oxygen species (ROS), nitric oxide, tumor necrosis factor (TNF)-α, brain derived neurotrophic factor (BDNF) and its TrkB receptor. Aβ
25–35
also increased the Bax/Bcl-2 ratio and Caspase-3 expression. Treatment with 4-2A significantly attenuated the Aβ
25–35
-induced changes in cell viability, ROS, GSH, NGF, TrkA, TNF-α, the Bax/Bcl-2 ratio and Caspase-3, except for nitric oxide, BDNF and TrKB. In conclusion, 4-2A effectively protected SH-SY5Y cells against Aβ-induced neuronal apoptosis/death by suppressing inflammation and oxidative stress and up-regulating NGF and TrKA expression.
View Full-Text
►

▼

Figures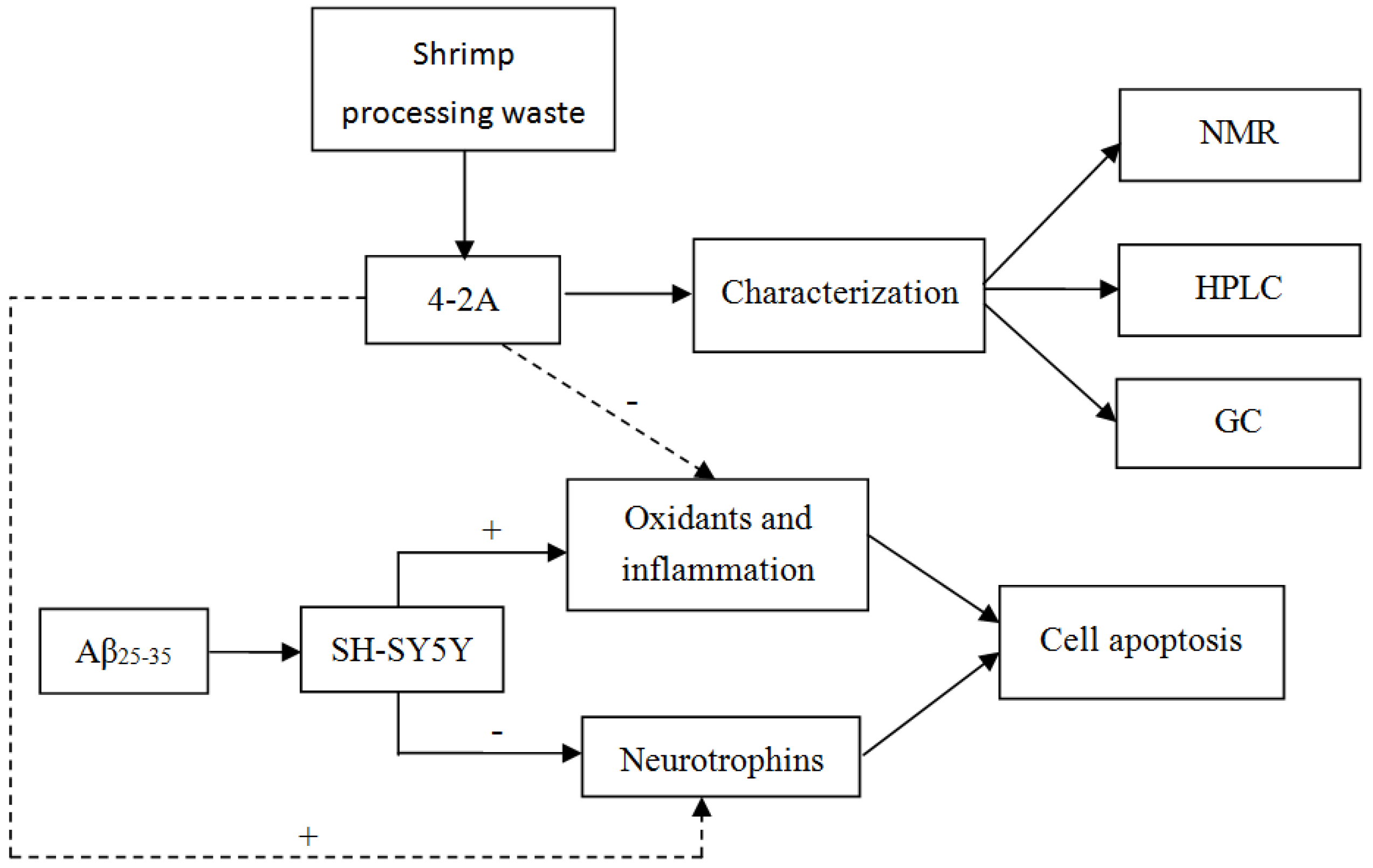 Figure 1
This is an open access article distributed under the
Creative Commons Attribution License
which permits unrestricted use, distribution, and reproduction in any medium, provided the original work is properly cited. (CC BY 4.0).
Share & Cite This Article
MDPI and ACS Style
Zhang, Y.; Jiao, G.; Song, C.; Gu, S.; Brown, R.E.; Zhang, J.; Zhang, P.; Gagnon, J.; Locke, S.; Stefanova, R.; Pelletier, C.; Zhang, Y.; Lu, H. An Extract from Shrimp Processing By-Products Protects SH-SY5Y Cells from Neurotoxicity Induced by Aβ25–35. Mar. Drugs 2017, 15, 83.
Note that from the first issue of 2016, MDPI journals use article numbers instead of page numbers. See further details here.
Related Articles
Comments
[Return to top]