Chytridiomycosis of Marine Diatoms—The Role of Stress Physiology and Resistance in Parasite-Host Recognition and Accumulation of Defense Molecules
1
BioPol ehf., Einbúastig 2, 545 Skagaströnd, Iceland
2
Faculty of Natural Resource Sciences, University of Akureyri, Borgir v. Nordurslod, IS 600 Akureyri, Iceland
3
Oceanlab, University of Aberdeen, Main Street, Newburgh AB41 6AA, Scotland, UK
4
Department of Biology, Section of Protistology and Aquatic Ecology, University of Ghent, Krijgslaan 281 S8, 9000 Ghent, Belgium
5
Institute of Biological Sciences, Applied Ecology & Phycology, University of Rostock, Albert-Einstein-Strasse 3, 18059 Rostock, Germany
*
Author to whom correspondence should be addressed.
Academic Editor: Georg Pohnert
Received: 30 October 2016 / Revised: 7 January 2017 / Accepted: 13 January 2017 / Published: 25 January 2017
Abstract
Little is known about the role of chemotaxis in the location and attachment of chytrid zoospores to potential diatom hosts. Hypothesizing that environmental stress parameters affect parasite-host recognition, four chytrid-diatom tandem cultures (
Chytridium
sp./
Navicula
sp.,
Rhizophydium
type I/
Nitzschia
sp.,
Rhizophydium
type IIa/
Rhizosolenia
sp.,
Rhizophydium
type IIb/
Chaetoceros
sp.) were used to test the chemotaxis of chytrid zoospores and the presence of potential defense molecules in a non-contact-co-culturing approach. As potential triggers in the chemotaxis experiments, standards of eight carbohydrates, six amino acids, five fatty acids, and three compounds known as compatible solutes were used in individual and mixed solutions, respectively. In all tested cases, the whole-cell extracts of the light-stressed (continuous light exposure combined with 6 h UV radiation) hosts attracted the highest numbers of zoospores (86%), followed by the combined carbohydrate standard solution (76%), while all other compounds acted as weak triggers only. The results of the phytochemical screening, using biomass and supernatant extracts of susceptible and resistant host-diatom cultures, indicated in most of the tested extracts the presence of polyunsaturated fatty acids, phenols, and aldehydes, whereas the bioactivity screenings showed that the zoospores of the chytrid parasites were only significantly affected by the ethanolic supernatant extract of the resistant hosts.
View Full-Text
►

▼

Figures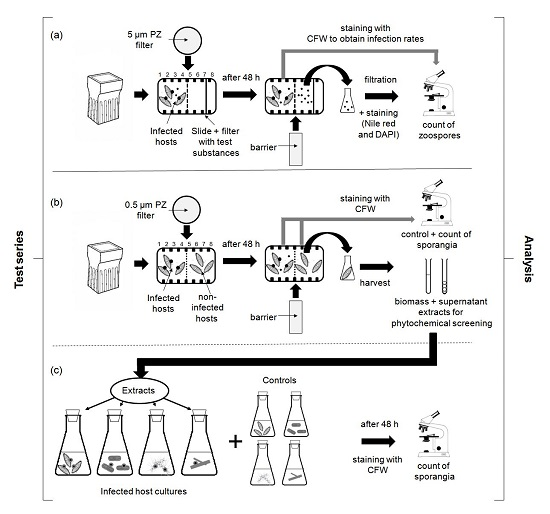 This is an open access article distributed under the
Creative Commons Attribution License
which permits unrestricted use, distribution, and reproduction in any medium, provided the original work is properly cited. (CC BY 4.0).
Share & Cite This Article
MDPI and ACS Style
Scholz, B.; Küpper, F.C.; Vyverman, W.; Ólafsson, H.G.; Karsten, U. Chytridiomycosis of Marine Diatoms—The Role of Stress Physiology and Resistance in Parasite-Host Recognition and Accumulation of Defense Molecules. Mar. Drugs 2017, 15, 26.
Note that from the first issue of 2016, MDPI journals use article numbers instead of page numbers. See further details here.
Related Articles
Comments
[Return to top]