Excavatolide B Modulates the Electrophysiological Characteristics and Calcium Homeostasis of Atrial Myocytes
1
Department of Marine Biotechnology and Resources, National Sun Yat-sen University, Kaohsiung 804, Taiwan
2
Division of Cardiology, Department of Medicine, E-Da Hospital, Kaohsiung 824, Taiwan
3
Division of Cardiology, Department of Internal Medicine, Kaohsiung Veterans General Hospital, Kaohsiung 813, Taiwan
4
Department of Traditional Medicine, Jianan Mental Hospital, Tainan 717, Taiwan
5
Department of Physiology and Biophysics and Graduate Institute of Physiology, National Defense Medical Center, Taipei 114, Taiwan
6
Department of Biomedical Engineering, National Defense Medical Center, Taipei 114, Taiwan
7
National Museum of Marine Biology and Aquarium, Pingtung 944, Taiwan
8
Chinese Medicine Research and Development Center, China Medical University Hospital, Taichung 404, Taiwan
9
Graduate Institute of Natural Products, Kaohsiung Medical University, Kaohsiung 807, Taiwan
10
Doctoral Degree Program in Marine Biotechnology, National Sun Yat-Sen University and Academia Sinica, Kaohsiung 804, Taiwan
11
Division of Cardiology, Tri-Service General Hospital, National Defense Medical Center, Taipei 114, Taiwan
*
Authors to whom correspondence should be addressed.
Academic Editor: Peer B. Jacobson
Received: 11 October 2016 / Revised: 10 January 2017 / Accepted: 18 January 2017 / Published: 24 January 2017
Abstract
Severe bacterial infections caused by sepsis always result in profound physiological changes, including fever, hypotension, arrhythmia, necrosis of tissue, systemic multi-organ dysfunction, and finally death. The lipopolysaccharide (LPS) provokes an inflammatory response under sepsis, which may increase propensity to arrhythmogenesis. Excavatolide B (EXCB) possesses potent anti-inflammatory effects. However, it is not clear whether EXCB could modulate the electrophysiological characteristics and calcium homeostasis of atrial myocytes. This study investigated the effects of EXCB on the atrial myocytes exposed to lipopolysaccharide. A whole-cell patch clamp and indo-1 fluorimetric ratio technique was employed to record the action potential (AP), ionic currents, and intracellular calcium ([Ca
2+
]
i
) in single, isolated rabbit left atrial (LA) cardiomyocytes, with and without LPS (1 μg/mL) and LPS + EXCB administration (10 μM) for 6 ± 1 h, in order to investigate the role of EXCB on atrial electrophysiology. In the presence of LPS, EXCB-treated LA myocytes (
n
= 13) had a longer AP duration at 20% (29 ± 2 vs. 20 ± 2 ms,
p
< 0.05), 50% (52 ± 4 vs. 40 ± 3 ms,
p
< 0.05), and 90% (85 ± 5 vs. 68 ± 3 ms,
p
< 0.05), compared to the LPS-treated cells (
n
= 12). LPS-treated LA myocytes showed a higher late sodium current, Na
+
/Ca
2+
exchanger current, transient outward current, and delayed rectifier potassium current, but a lower
l
-type Ca
2+
current, than the control LA myocytes. Treatment with EXCB reversed the LPS-induced alterations of the ionic currents. LPS-treated, EXCB-treated, and control LA myocytes exhibited similar Na
+
currents. In addition, the LPS-treated LA myocytes exhibited a lower [Ca
2+
]
i
content and higher sarcoplasmic reticulum calcium content, than the controls. EXCB reversed the LPS-induced calcium alterations. In conclusion, EXCB modulates LPS-induced LA electrophysiological characteristics and calcium homeostasis, which may contribute to attenuating LPS-induced arrhythmogenesis.
View Full-Text
►

▼

Figures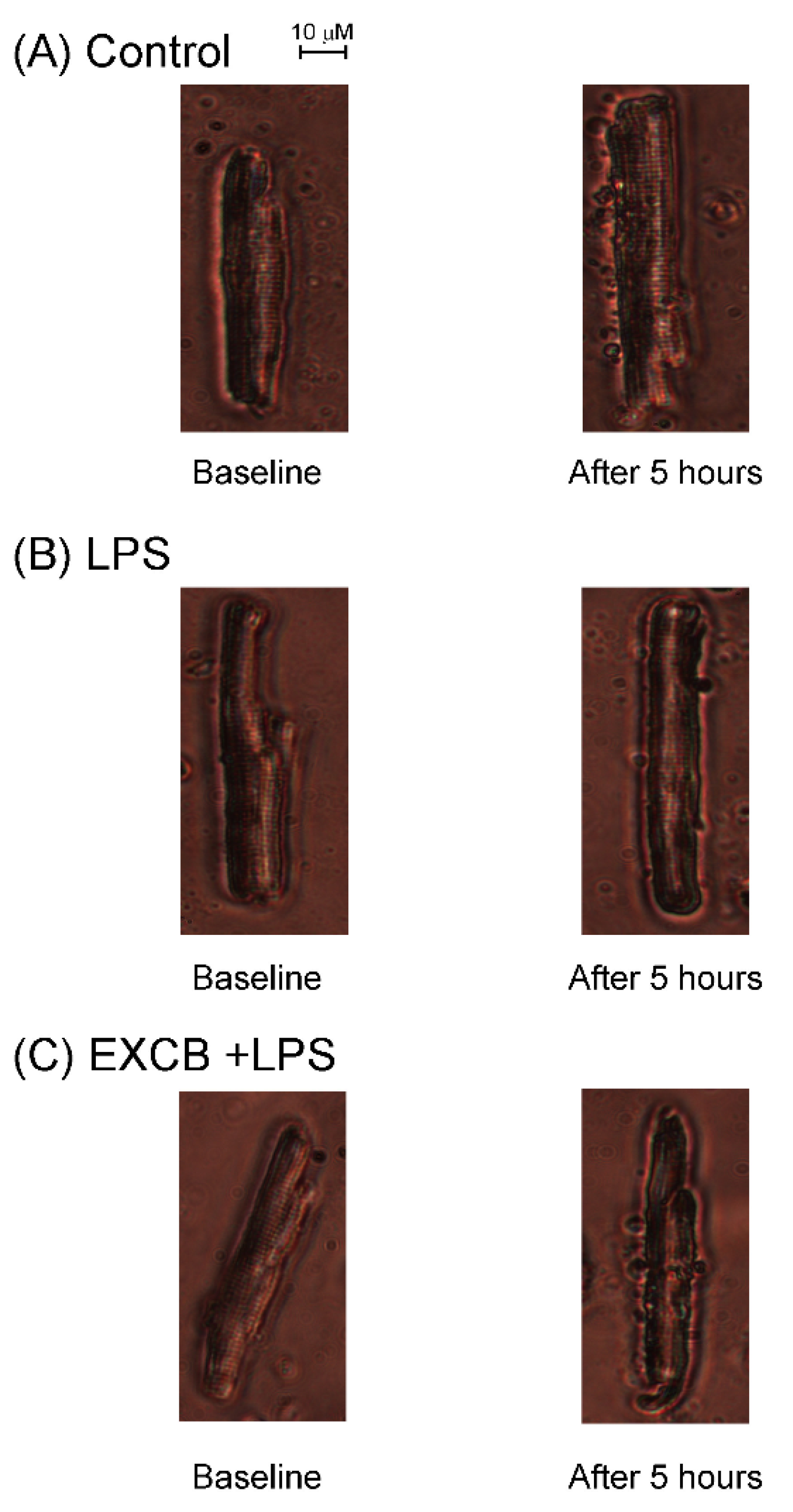 Figure 1
This is an open access article distributed under the
Creative Commons Attribution License
which permits unrestricted use, distribution, and reproduction in any medium, provided the original work is properly cited. (CC BY 4.0).
Share & Cite This Article
MDPI and ACS Style
Hwang, H.-R.; Tai, B.-Y.; Cheng, P.-Y.; Chen, P.-N.; Sung, P.-J.; Wen, Z.-H.; Hsu, C.-H. Excavatolide B Modulates the Electrophysiological Characteristics and Calcium Homeostasis of Atrial Myocytes. Mar. Drugs 2017, 15, 25.
Note that from the first issue of 2016, MDPI journals use article numbers instead of page numbers. See further details here.
Related Articles
Comments
[Return to top]