Immunomodulatory Effects of the Mycosporine-Like Amino Acids Shinorine and Porphyra-334
1
Division of Biological Chemistry, Biocenter, Medical University of Innsbruck, Innsbruck 6020, Austria
2
Institute of Pharmacy, Pharmacognosy, University of Innsbruck, Innsbruck 6020, Austria
3
Division of Medical Biochemistry, Biocenter, Medical University of Innsbruck, Innsbruck 6020, Austria
*
Author to whom correspondence should be addressed.
Academic Editor: Peer Jacobson
Received: 19 May 2016 / Revised: 6 June 2016 / Accepted: 14 June 2016 / Published: 21 June 2016
Abstract
Mycosporine-like amino acids (MAAs) are secondary metabolites, produced by a large variety of microorganisms including algae, cyanobacteria, lichen and fungi. MAAs act as UV-absorbers and photo-protectants. MAAs are suggested to exert pharmaceutical relevant bioactivities in the human system. We particularly focused on their effect on defence and regulatory pathways that are active in inflamed environments. The MAAs shinorine and porphyra-334 were isolated and purified from the red algae
Porphyra
sp. using chromatographic methods. The effect of MAAs on central signaling cascades, such as transcription factor nuclear factor kappa b (NF-κB) activation, as well as tryptophan metabolism, was investigated in human myelomonocytic THP-1 and THP-1-Blue cells. Cells were exposed to the MAAs in the presence or absence of lipopolysaccharide (LPS). NF-κB activity and the activity of tryptophan degrading enzyme indoleamine 2,3-dioxygenase (IDO-1) were used as readout. Compounds were tested in the concentration range from 12.5 to 200 µg/mL. Both MAAs were able to induce NF-κB activity in unstimulated THP-1-Blue cells, whereby the increase was dose-dependent and more pronounced with shinorine treatment. While shinorine also slightly superinduced NF-κB in LPS-stimulated cells, porphyra-334 reduced NF-κB activity in this inflammatory background. Modulation of tryptophan metabolism was moderate, suppressive in stimulated cells with the lower treatment concentration of both MAAs and with the unstimulated cells upon porphyra-334 treatment. Inflammatory pathways are affected by MAAs, but despite the structural similarity, diverse effects were observed.
View Full-Text
►

▼

Figures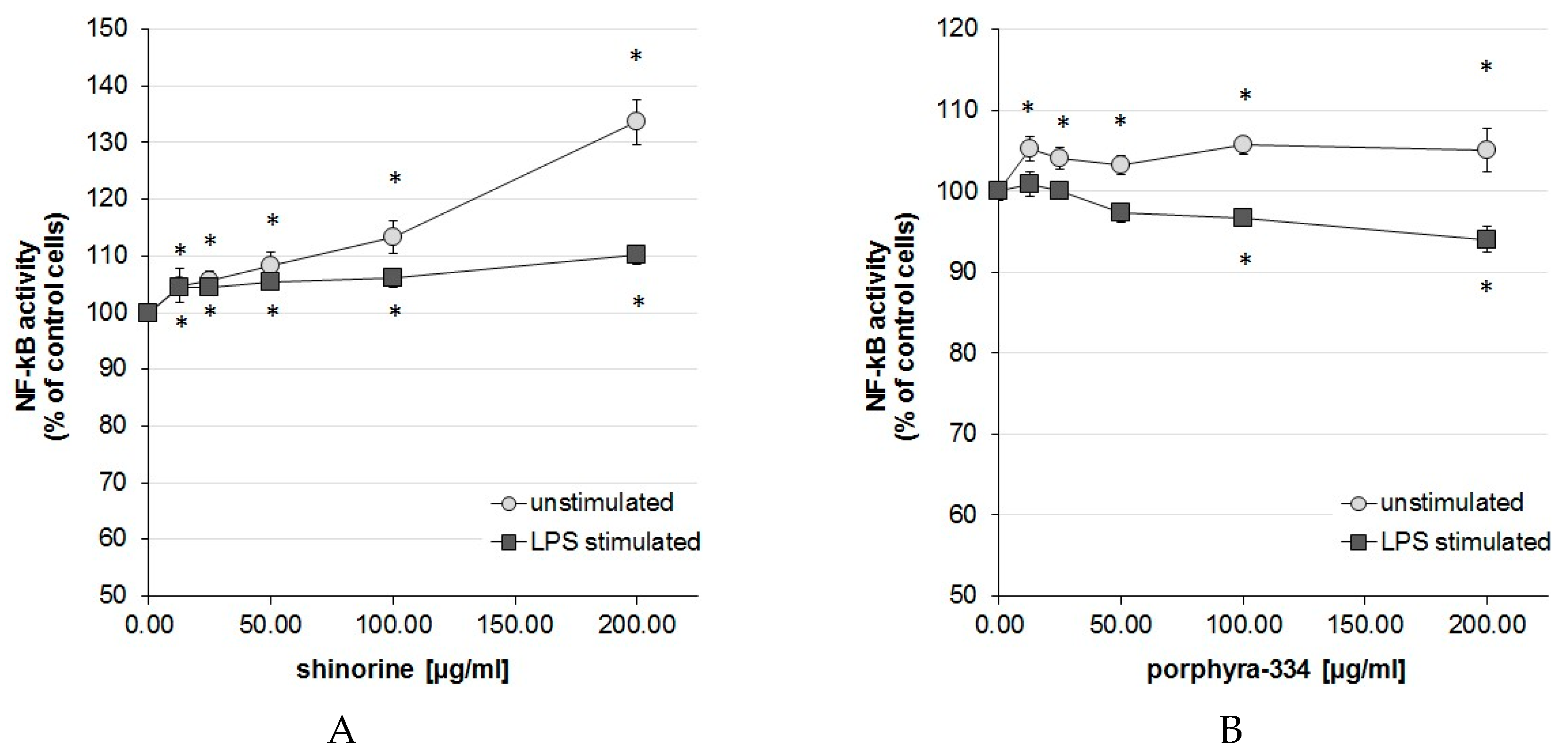 Figure 1
This is an open access article distributed under the
Creative Commons Attribution License
which permits unrestricted use, distribution, and reproduction in any medium, provided the original work is properly cited. (CC BY 4.0).
Share & Cite This Article
MDPI and ACS Style
Becker, K.; Hartmann, A.; Ganzera, M.; Fuchs, D.; Gostner, J.M. Immunomodulatory Effects of the Mycosporine-Like Amino Acids Shinorine and Porphyra-334. Mar. Drugs 2016, 14, 119.
Note that from the first issue of 2016, MDPI journals use article numbers instead of page numbers. See further details here.
Related Articles
Comments
[Return to top]