Conversion of Squid Pen to Homogentisic Acid via Paenibacillus sp. TKU036 and the Antioxidant and Anti-Inflammatory Activities of Homogentisic Acid
1
Life Science Development Center, Tamkang University, No. 151, Yingchuan Rd., Tamsui, New Taipei City 25137, Taiwan
2
Department of Chemistry, Tamkang University, New Taipei City 25137, Taiwan
3
Division of Chinese Materia Medica Development, National Research Institute of Chinese Medicine, Taipei 11221, Taiwan
4
Graduate Institute of Integrated Medicine, College of Chinese Medicine, China Medical University, Taichung 40402, Taiwan
*
Authors to whom correspondence should be addressed.
Academic Editors: Hitoshi Sashiwa and David Harding
Received: 14 September 2016 / Revised: 5 October 2016 / Accepted: 7 October 2016 / Published: 12 October 2016
Abstract
The culture supernatant of
Paenibacillus
sp. TKU036, a bacterium isolated from Taiwanese soils, showed high antioxidant activity (85%) when cultured in a squid pen powder (SPP)-containing medium at 37 °C for three days. Homogentisic acid (2,5-dihydroxyphenylacetic acid, HGA) was isolated and found to be the major antioxidant in the culture supernatant of the SPP-containing medium fermented by
Paenibacillus
sp. TKU036. Tryptophan was also present in the culture supernatant. The results of high-performance liquid chromatography (HPLC) fingerprinting showed that HGA and tryptophan were produced via fermentation but did not pre-exist in the unfermented SPP-containing medium. Neither HGA nor tryptophan was found in the culture supernatants obtained from the fermentation of nutrient broth or other chitinous material, i.e., medium containing shrimp head powder, by
Paenibacillus
sp. TKU036. The production of HGA via microorganisms has rarely been reported. In this study, we found that squid pen was a potential carbon and nitrogen source for
Paenibacillus
sp. Tryptophan (105 mg/L) and HGA (60 mg/L) were recovered from the culture supernatant. The isolated HGA was found to have higher antioxidant activity (IC
50
= 6.9 μg/mL) than α-tocopherol (IC
50
= 17.6 μg/mL). The anti-inflammatory activity of the isolated HGA (IC
50
= 10.14 μg/mL) was lower than that of quercetin (IC
50
= 1.14 μg/mL). As a result, squid pen, a fishery processing byproduct, is a valuable material for the production of tryptophan and the antioxidant and anti-inflammatory HGA via microbial conversion.
View Full-Text
►

▼

Figures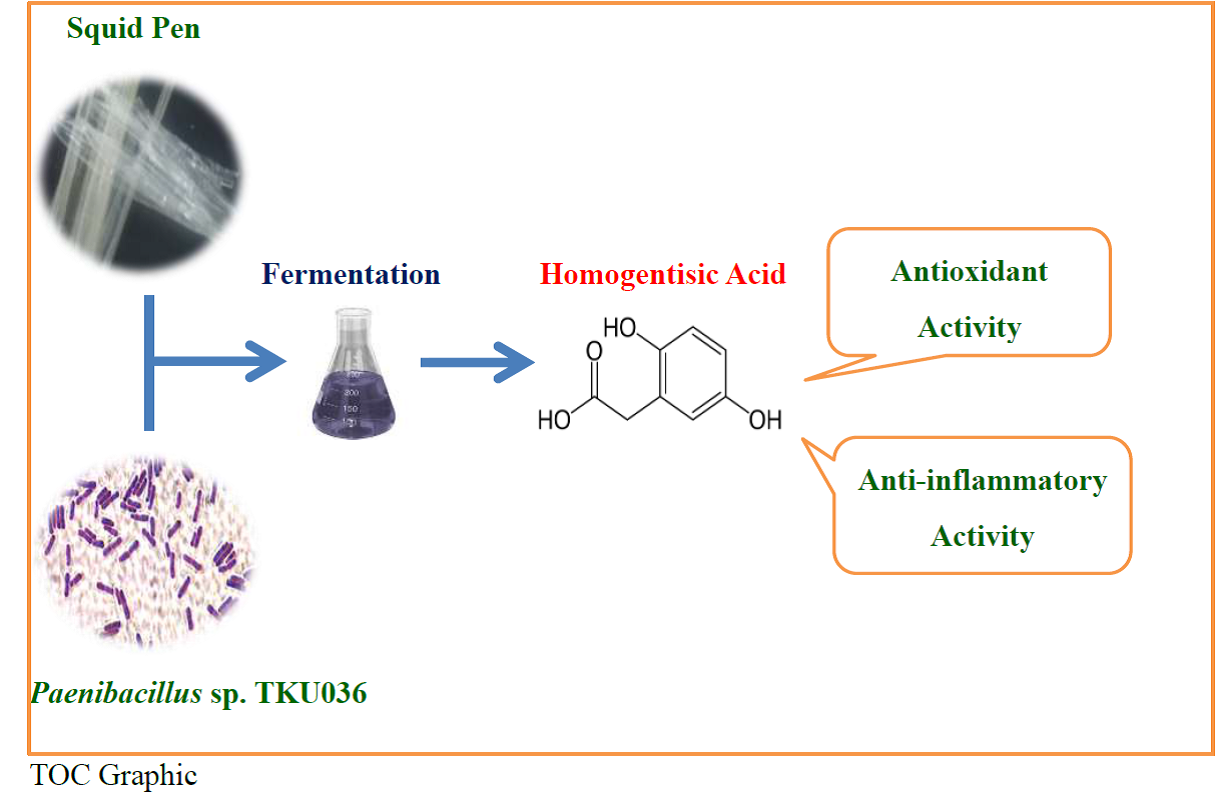 This is an open access article distributed under the
Creative Commons Attribution License
which permits unrestricted use, distribution, and reproduction in any medium, provided the original work is properly cited. (CC BY 4.0).
Share & Cite This Article
MDPI and ACS Style
Wang, S.-L.; Li, H.-T.; Zhang, L.-J.; Lin, Z.-H.; Kuo, Y.-H. Conversion of Squid Pen to Homogentisic Acid via Paenibacillus sp. TKU036 and the Antioxidant and Anti-Inflammatory Activities of Homogentisic Acid. Mar. Drugs 2016, 14, 183.
Note that from the first issue of 2016, MDPI journals use article numbers instead of page numbers. See further details here.
Related Articles
Comments
[Return to top]