The Anti-Inflammatory Effect of Algae-Derived Lipid Extracts on Lipopolysaccharide (LPS)-Stimulated Human THP-1 Macrophages
1
Biosciences Department, Teagasc Food Research Centre, Moorepark, Fermoy, Co. Cork, Ireland
2
School of Microbiology, University College Cork, Co. Cork, Ireland
3
Botany and Plant Science, School of Natural Sciences, Ryan Institute for Environmental, Marine and Energy Research, National University of Ireland Galway, Galway, Ireland
4
School of Agriculture and Food Science, Institute of Food & Health, University College Dublin, Belfield, Dublin 4, Ireland
5
APC Microbiome Institute, University College Cork, Co. Cork, Ireland
6
College of Science, Engineering and Food Science, University College Cork, Co. Cork, Ireland
*
Author to whom correspondence should be addressed.
Academic Editor: Gilles Barnathan
Received: 29 May 2015 / Revised: 24 July 2015 / Accepted: 6 August 2015 / Published: 20 August 2015
Abstract
Algae contain a number of anti-inflammatory bioactive compounds such as omega-3 polyunsaturated fatty acids (
n
-3 PUFA) and chlorophyll
a
, hence as dietary ingredients, their extracts may be effective in chronic inflammation-linked metabolic diseases such as cardiovascular disease. In this study, anti-inflammatory potential of lipid extracts from three red seaweeds (
Porphyra dioica
,
Palmaria palmata
and
Chondrus crispus
) and one microalga (
Pavlova lutheri
) were assessed in lipopolysaccharide (LPS)-stimulated human THP-1 macrophages. Extracts contained 34%–42% total fatty acids as
n
-3 PUFA and 5%–7% crude extract as pigments, including chlorophyll
a
, β-carotene and fucoxanthin. Pretreatment of the THP-1 cells with lipid extract from
P. palmata
inhibited production of the pro-inflammatory cytokines interleukin (IL)-6 (
p
< 0.05) and IL-8 (
p
< 0.05) while that of
P. lutheri
inhibited IL-6 (
p
< 0.01) production. Quantitative gene expression analysis of a panel of 92 genes linked to inflammatory signaling pathway revealed down-regulation of the expression of 14 pro-inflammatory genes (
TLR1
,
TLR2
,
TLR4
,
TLR8
,
TRAF5
,
TRAF6
,
TNFSF18
,
IL6R
,
IL23
,
CCR1
,
CCR4
,
CCL17
,
STAT3
,
MAP3K1
) by the lipid extracts. The lipid extracts effectively inhibited the LPS-induced pro-inflammatory signaling pathways mediated via toll-like receptors, chemokines and nuclear factor kappa-light-chain-enhancer of activated B cells (NF-κB) signaling molecules. These results suggest that lipid extracts from
P.
lutheri
,
P.
palmata
,
P.
dioica
and
C.
crispus
can inhibit LPS-induced inflammatory pathways in human macrophages. Therefore, algal lipid extracts should be further explored as anti-inflammatory ingredients for chronic inflammation-linked metabolic diseases.
View Full-Text
►

▼

Figures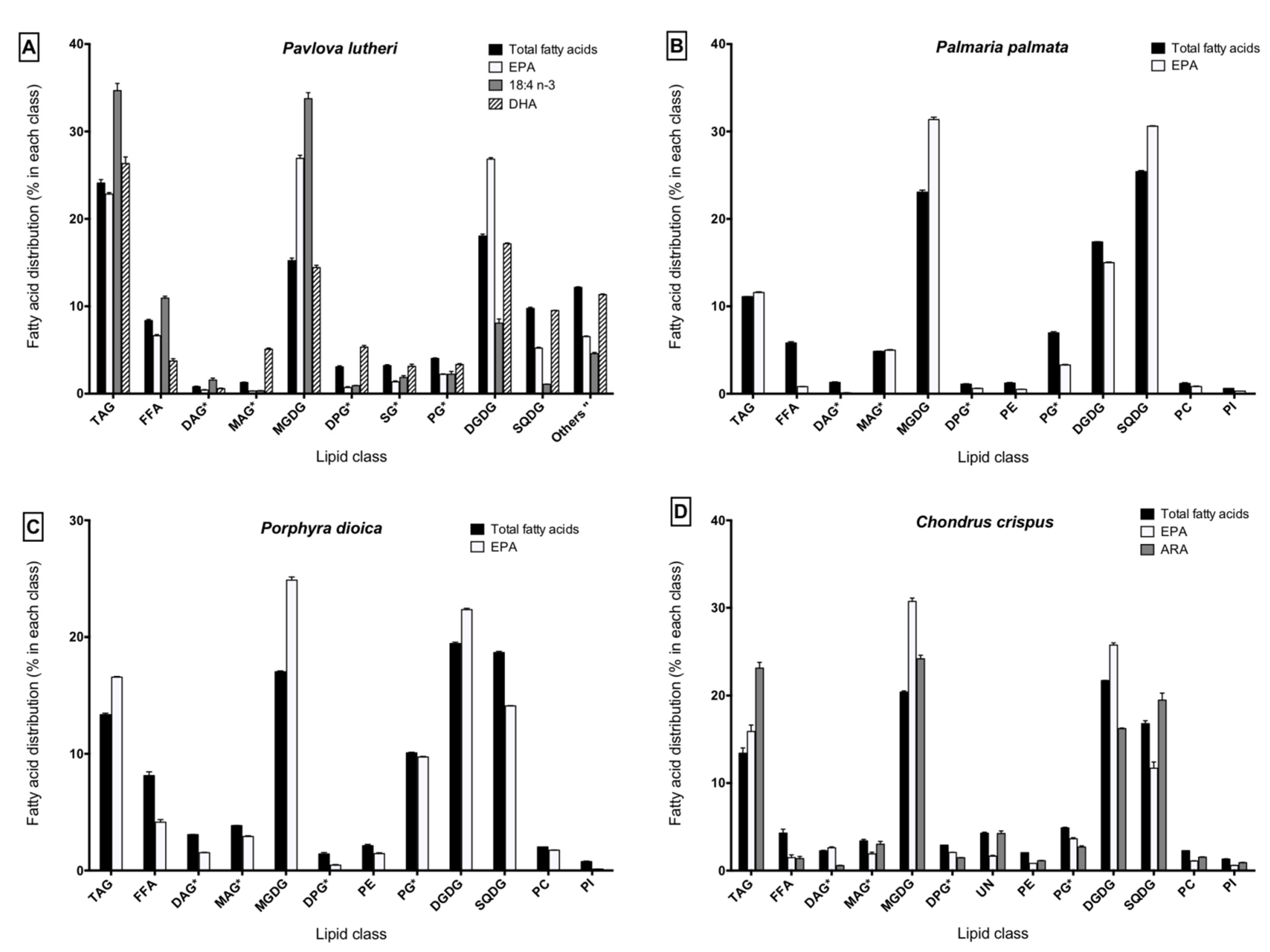 Figure 1
This is an open access article distributed under the
Creative Commons Attribution License
which permits unrestricted use, distribution, and reproduction in any medium, provided the original work is properly cited. (CC BY 4.0).
Share & Cite This Article
MDPI and ACS Style
Robertson, R.C.; Guihéneuf, F.; Bahar, B.; Schmid, M.; Stengel, D.B.; Fitzgerald, G.F.; Ross, R.P.; Stanton, C. The Anti-Inflammatory Effect of Algae-Derived Lipid Extracts on Lipopolysaccharide (LPS)-Stimulated Human THP-1 Macrophages. Mar. Drugs 2015, 13, 5402-5424.
Related Articles
Comments
[Return to top]