Construction of Escherichia coli Mutant with Decreased Endotoxic Activity by Modifying Lipid A Structure
1
Institute of Preventive Veterinary Medicine, College of Veterinary Medicine, Sichuan Agricultural University, Chengdu 611130, China
2
State Key Laboratory of Food Science and Technology, Jiangnan University, Wuxi 214122, China
3
Department of Bioengineering, College of Veterinary Medicine, Sichuan Agricultural University, Chengdu 611130, China
*
Authors to whom correspondence should be addressed.
Academic Editor: Antonio Molinaro
Received: 31 March 2015 / Revised: 18 May 2015 / Accepted: 19 May 2015 / Published: 27 May 2015
Abstract
Escherichia coli
BL21 (DE3) and its derivatives are widely used for the production of recombinant proteins, but these purified proteins are always contaminated with lipopolysaccharide (LPS). LPS is recognized by the toll-like receptor 4 and myeloid differentiation factor 2 complex of mammalian immune cells and leads to release of pro-inflammatory cytokines. It is a vital step to remove LPS from the proteins before use for therapeutic purpose. In this study, we constructed BL21 (DE3) ∆
msbB28
∆
pagP38
mutant, which produces a penta-acylated LPS with reduced endotoxicity. The plasmids harboring
pagL
and/or
lpxE
were then introduced into this mutant to further modify the LPS. The new strain (S004) carrying plasmid pQK004 (
pagL
and
lpxE
) produced mono-phosphoryated tetra-acylated lipid A, which induces markedly less production of tumor necrosis factor-α in the RAW264.7 and IL-12 in the THP1, but still retains ability to produce recombinant proteins. This study provides a strategy to decrease endotoxic activity of recombinant proteins purified from
E
.
coli
BL21 backgrounds and a feasible approach to modify lipid A structure for alternative purposes such as mono-phosphoryl lipid A (MPL) as vaccine adjuvants.
View Full-Text
►

▼

Figures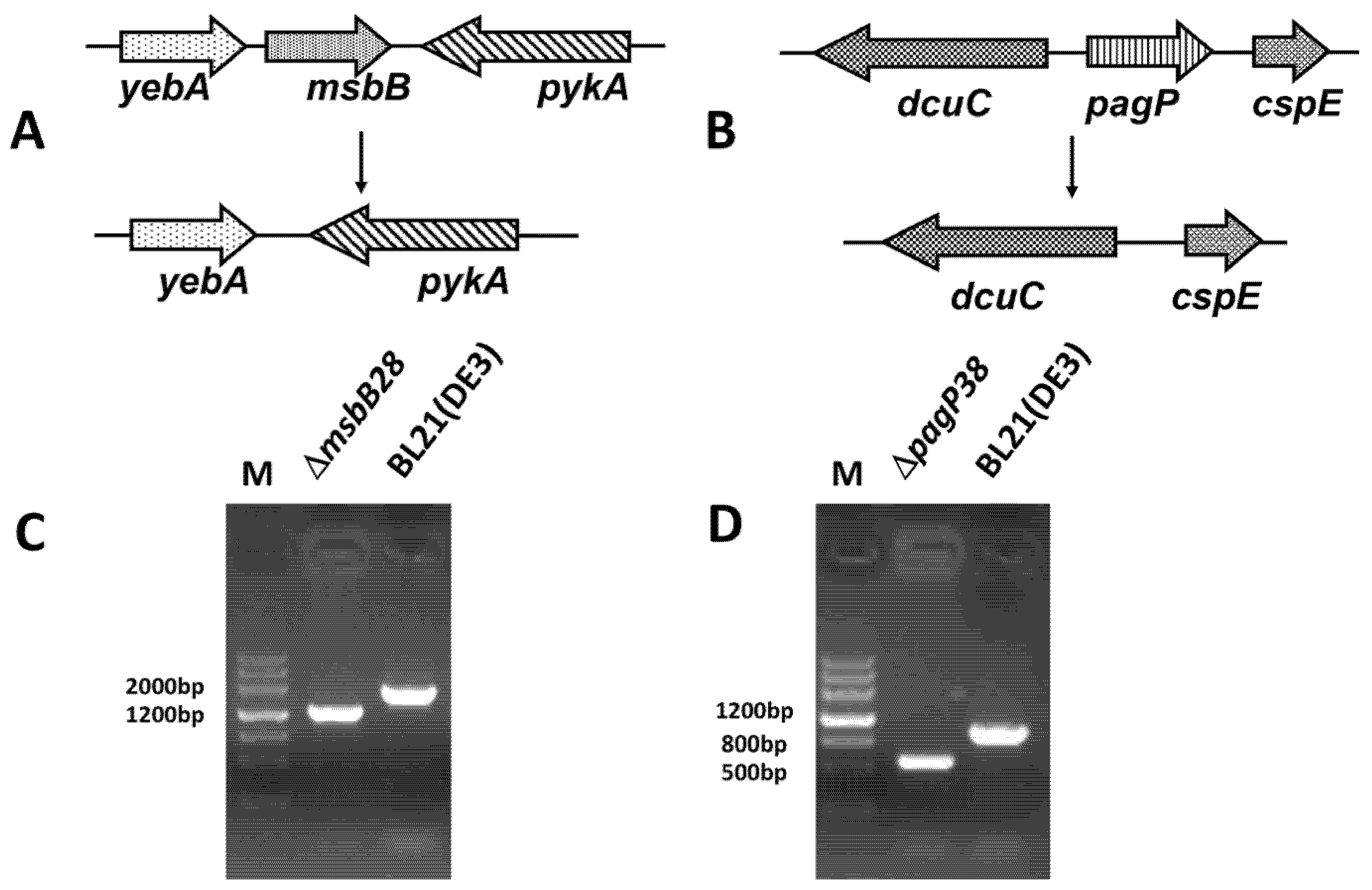 Figure 1
This is an open access article distributed under the
Creative Commons Attribution License
which permits unrestricted use, distribution, and reproduction in any medium, provided the original work is properly cited. (CC BY 4.0).
Share & Cite This Article
MDPI and ACS Style
Liu, Q.; Li, Y.; Zhao, X.; Yang, X.; Liu, Q.; Kong, Q. Construction of Escherichia coli Mutant with Decreased Endotoxic Activity by Modifying Lipid A Structure. Mar. Drugs 2015, 13, 3388-3406.
Related Articles
Comments
[Return to top]