Influence of Amino Acid Compositions and Peptide Profiles on Antioxidant Capacities of Two Protein Hydrolysates from Skipjack Tuna (Katsuwonus pelamis) Dark Muscle
1
National Engineering Research Center of Marine Facilities Aquaculture, School of Marine Science and Technology, Zhejiang Ocean University, 1st Haidanan Road, Changzhi Island, Lincheng, Zhoushan 316022, China
2
Zhejiang Provincial Engineering Technology Research Center of Marine Biomedical Products, School of Food and Pharmacy, Zhejiang Ocean University, 1st Haidanan Road, Changzhi Island, Lincheng, Zhoushan 316022, China
3
Division of Life Science, Hong Kong University of Science and Technology, Clear Water Bay, Kowloon, Hong Kong, China
*
Authors to whom correspondence should be addressed.
Academic Editor: Colin Barrow
Received: 7 March 2015 / Revised: 9 April 2015 / Accepted: 21 April 2015 / Published: 27 April 2015
Abstract
Influence of amino acid compositions and peptide profiles on antioxidant capacities of two protein hydrolysates from skipjack tuna (
Katsuwonus pelamis
) dark muscle was investigated. Dark muscles from skipjack tuna were hydrolyzed using five separate proteases, including pepsin, trypsin, Neutrase, papain and Alcalase. Two hydrolysates, ATH and NTH, prepared using Alcalase and Neutrase, respectively, showed the strongest antioxidant capacities and were further fractionated using ultrafiltration and gel filtration chromatography. Two fractions, Fr.A3 and Fr.B2, isolated from ATH and NTH, respectively, showed strong radical scavenging activities toward 2,2-diphenyl-1-picrylhydrazyl radicals (EC
50
1.08% ± 0.08% and 0.98% ± 0.07%), hydroxyl radicals (EC
50
0.22% ± 0.03% and 0.48% ± 0.05%), and superoxide anion radicals (EC
50
1.31% ± 0.11% and 1.56% ± 1.03%) and effectively inhibited lipid peroxidation. Eighteen peptides from Fr.A3 and 13 peptides from Fr.B2 were isolated by reversed-phase high performance liquid chromatography, and their amino acid sequences were determined. The elevated antioxidant activity of Fr.A3 might be due to its high content of hydrophobic and aromatic amino acid residues (181.1 and 469.9 residues/1000 residues, respectively), small molecular sizes (3–6 peptides), low molecular weights (524.78 kDa), and amino acid sequences (antioxidant score 6.11). This study confirmed that a smaller molecular size, the presence of hydrophobic and aromatic amino acid residues, and the amino acid sequences were the key factors that determined the antioxidant activities of the proteins, hydrolysates and peptides. The results also demonstrated that the derived hydrolysates and fractions from skipjack tuna (
K. pelamis
) dark muscles could prevent oxidative reactions and might be useful for food preservation and medicinal purposes.
View Full-Text
►

▼

Figures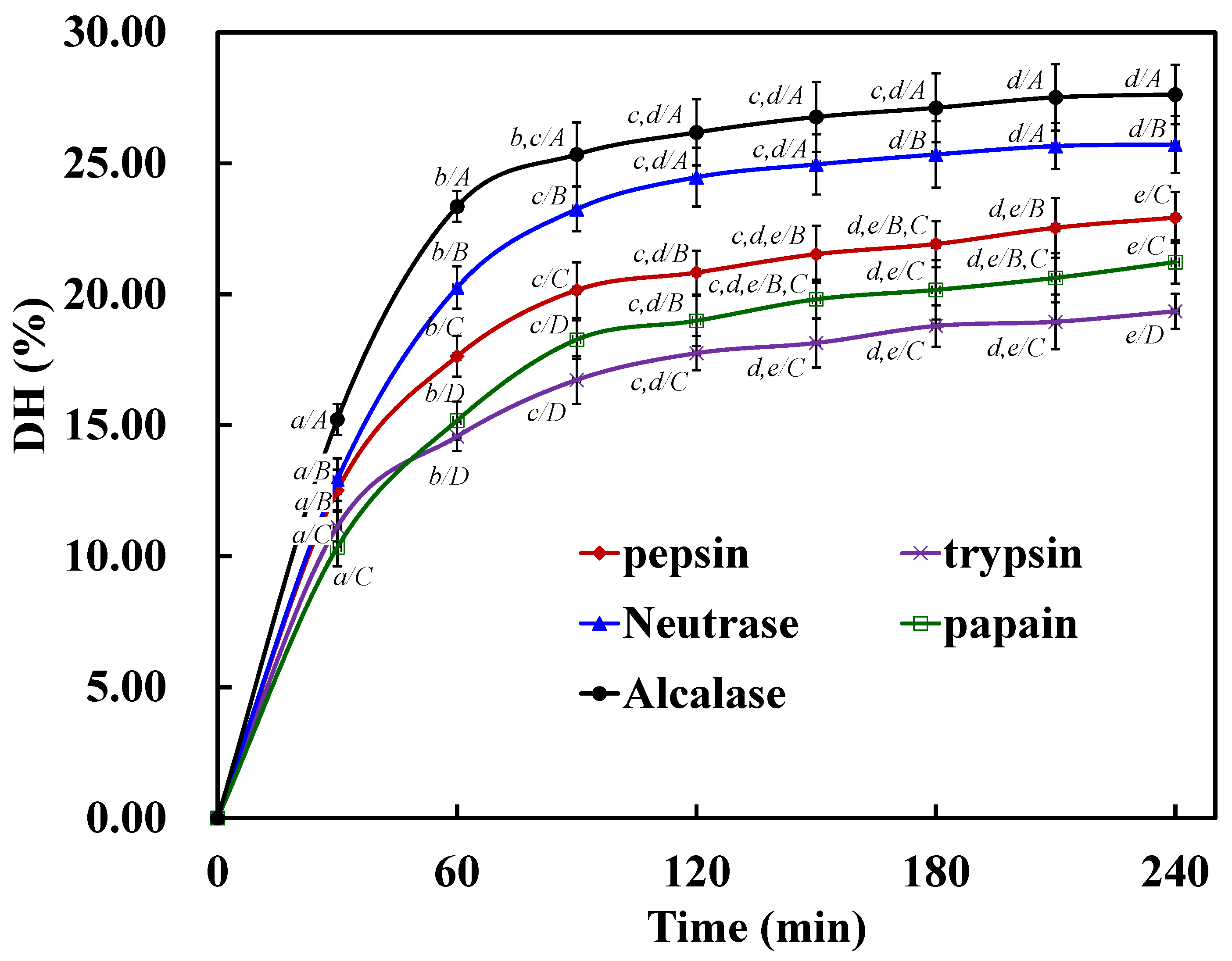 Figure 1
This is an open access article distributed under the
Creative Commons Attribution License
which permits unrestricted use, distribution, and reproduction in any medium, provided the original work is properly cited. (CC BY 4.0).
Share & Cite This Article
MDPI and ACS Style
Chi, C.-F.; Hu, F.-Y.; Wang, B.; Li, Z.-R.; Luo, H.-Y. Influence of Amino Acid Compositions and Peptide Profiles on Antioxidant Capacities of Two Protein Hydrolysates from Skipjack Tuna (Katsuwonus pelamis) Dark Muscle. Mar. Drugs 2015, 13, 2580-2601.
Related Articles
Comments
[Return to top]