Sinularones A–I, New Cyclopentenone and Butenolide Derivatives from a Marine Soft Coral Sinularia sp. and Their Antifouling Activity
1
State Key Laboratory of Natural and Biomimetic Drugs, Peking University, Beijing 100191, China
2
China National Center for Biotechnology Development, Beijing 100036, China
3
National Museum of Natural History Naturalis, 2300 RA, Leiden 9515, The Netherlands
4
Institute of Pharmaceutical Biology and Biotechnology, Heinrich-Heine University, Duesseldorf 40225, Germany
*
Author to whom correspondence should be addressed.
Received: 12 March 2012 / Revised: 16 April 2012 / Accepted: 4 June 2012 / Published: 11 June 2012
Abstract
Nine new compounds, namely sinularones A–I (
1
–
9
), characterized as cyclopentenone and butenolide-type analogues, were isolated from a soft coral
Sinularia
sp., together with a known butenolide (
10
). Their structures were elucidated by means of spectroscopic (IR, MS, 1D and 2D NMR, CD) analysis. The absolute configurations were determined on the basis of CD and specific rotation data in association with the computed electronic circular dichroism (ECD) by time dependent density functional theory (TD DFT) at 6-31+G(
d
,
p
)//DFT B3LYP/6-31+G(
d
,
p
) level. Compounds
1
–
2
and
7
–
10
showed potent antifouling activities against the barnacle
Balanus amphitrite
.
View Full-Text
►

▼

Figures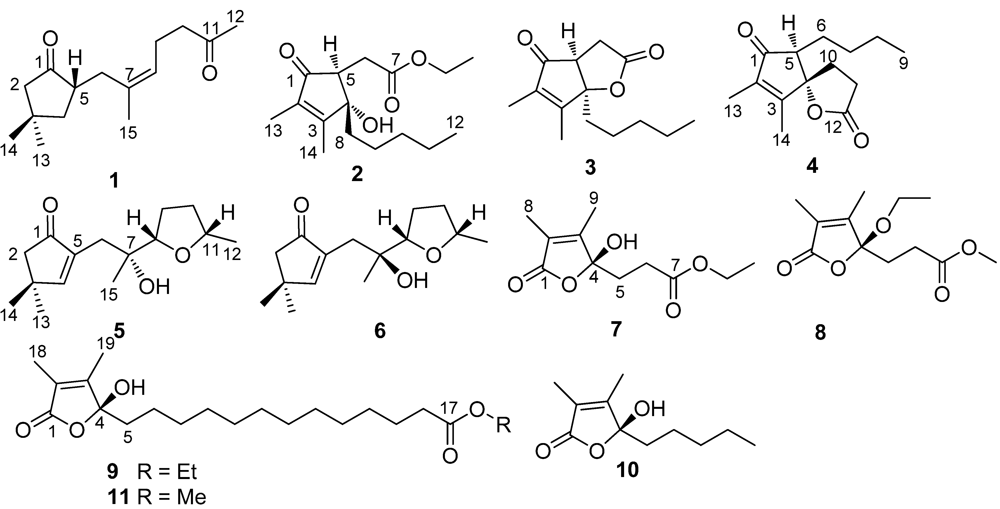 Figure 1
Share & Cite This Article
MDPI and ACS Style
Shi, H.; Yu, S.; Liu, D.; van Ofwegen, L.; Proksch, P.; Lin, W. Sinularones A–I, New Cyclopentenone and Butenolide Derivatives from a Marine Soft Coral Sinularia sp. and Their Antifouling Activity. Mar. Drugs 2012, 10, 1331-1344.
Related Articles
Comments
[Return to top]