Open Access This article is
freely available
re-usable
Full Research Paper
Extraction of Glycyrrhizic Acid and Glabridin from Licorice
Center for Advanced Bioseperation Technology, Department of Chemical Engineering, Inha University, Incheon 402-751, Korea
*
Author to whom correspondence should be addressed: Tel. +82-32-860-7470; Fax: +82-32-872-0959
Received: 25 January 2008; in revised form: 18 February 2008 / Accepted: 12 March 2008 / Published: 16 April 2008
Abstract
:
The extraction and separation conditions of glycyrrhizic acid and glabridin from licorice were investigated. By changing the different extraction solvents, procedures, times and temperature, the optimum extraction condition was established: the used of ethanol/water (30:70, v/v) as an extraction solvent, and 60 min dipping time under 50°C. The extracts of licorice were separated and determined by reversed-phase high performance liquid chromatography with a methanol/water (70:30, v/v, containing 1% acetic acid) as the mobile phase. Under the optimum extraction condition, 2.39 mg/g of glycyrrhizic acid and 0.92 mg/g of glabridin were extracted from Chinese licorice and the recoveries were 89.7% and 72.5% respectively.
Keywords:
glycyrrhizic acid; glabridin; licorice; extraction; high-performance liquid chromatography
2. Results and Discussion
3. Experimental Section
3.1. Materials
Licorice was purchased from China. Glycyrrhizic acid (mono-ammonium salt hydrate) was obtained from Sigma Chemical Co. (St. Louis, MO). Glabridin was purchased from Wako Pure Chemical Industries, Ltd. (Japan). Methanol, ethanol, acetonitrile and chloroform (HPLC Grade) were from Duksan Pure Chemical. Co., Ltd. (Korea). Water was twice distilled and filtered (FH-0.45 μm, Advantec MFS, Inc., Japan) by using a decompressing pump (Division of Millipore, Waters, USA).
3.2. HPLC analysis
The HPLC system in this study is comprised of a M930 solvent delivery pump (Young Lin Co. Korea), a UV detector (M 720 Absorbance Detector, Young-In Scientific Co., Korea) and an integrated data system (Autochrowin. Ver. 1.42, Young Lin Co., Korea). The Reodyne injection valve with 25 μL sample loop was used. The flow rate was 1.0 mL/min and UV wavelength was set at 252 nm. All the solvents were filtered by Disposable Syringe Filter Unit (0.2 μm) for further HPLC analysis. GA and glabridin were analyzed by a column (C18, 5μm, 150×4.6 mm, RStech Corporation, Korea) with a mobile phase consisting of methanol-water (70:30, v/v, containing 1% acetic acid).
3.3. Samples preparation
The licorice roots were oven-dried, sliced and crushed into powder for the extraction experiments. Extraction procedures of GA and glabridin are shown in
Figure 5
. The stocked standards of GA and glabridin were dissolved in methanol and further diluted to different working standard solution.
4. Conclusion
In this study, a simple and convenient method for the extraction of glycyrrhizic acid and glabridin from licorice is developed and validated. Mixture of ethanol/water (30:70, v/v) and extraction time 60 min under 50°C is the optimum condition to extract GA and glabridin from licorice. The extracted amounts are 2.39 and 0.92 mg/g and recoveries are 89.7% and 72.5% respectively.
Acknowledgments
The authors gratefully appreciate the financial support by the Center for Advanced Bioseparation Technology and Inha University, Korea.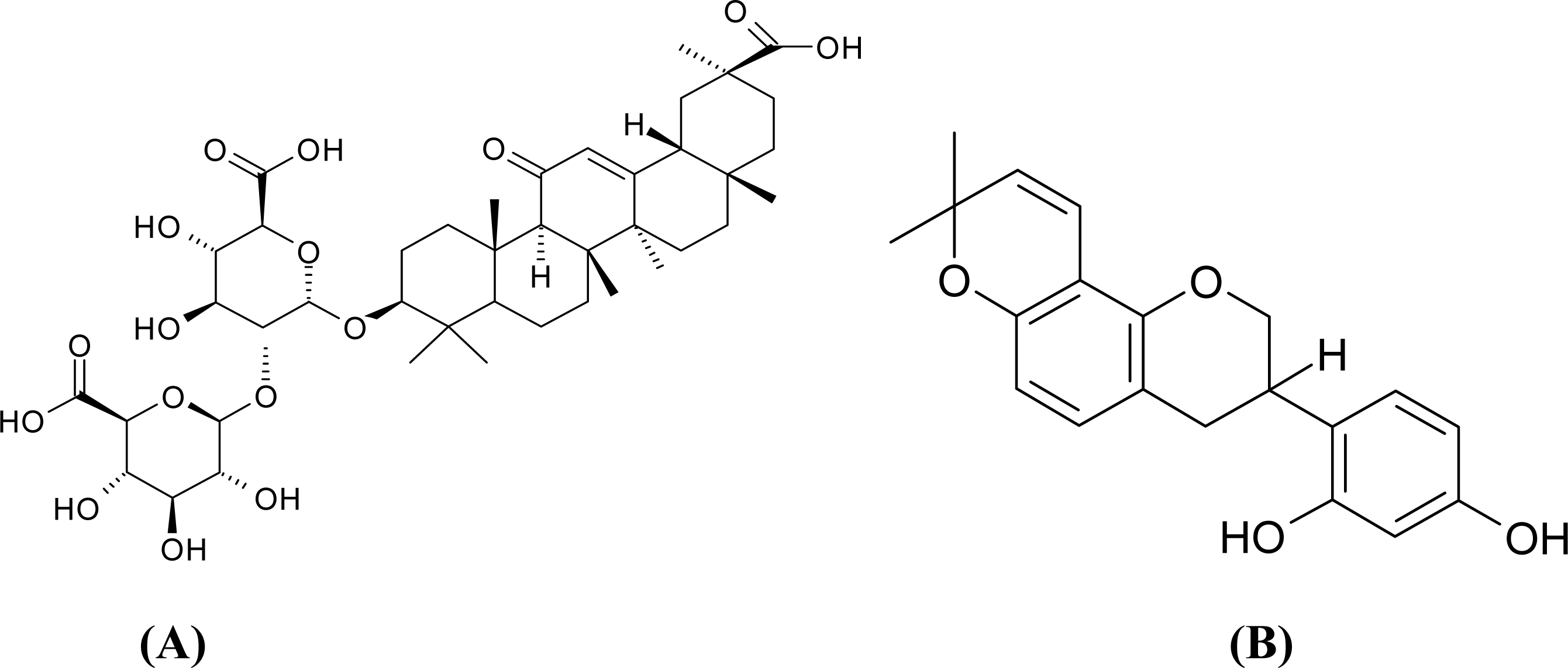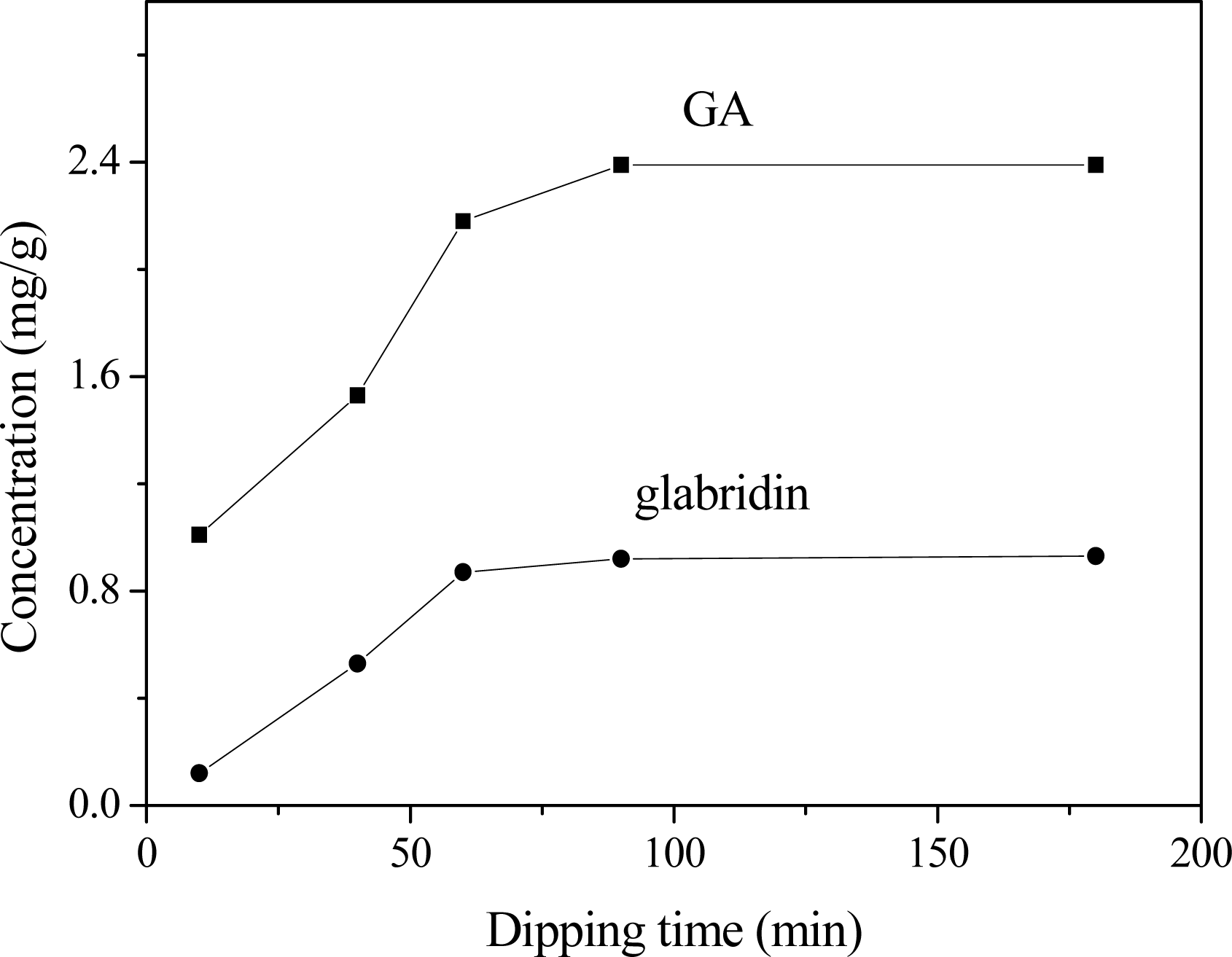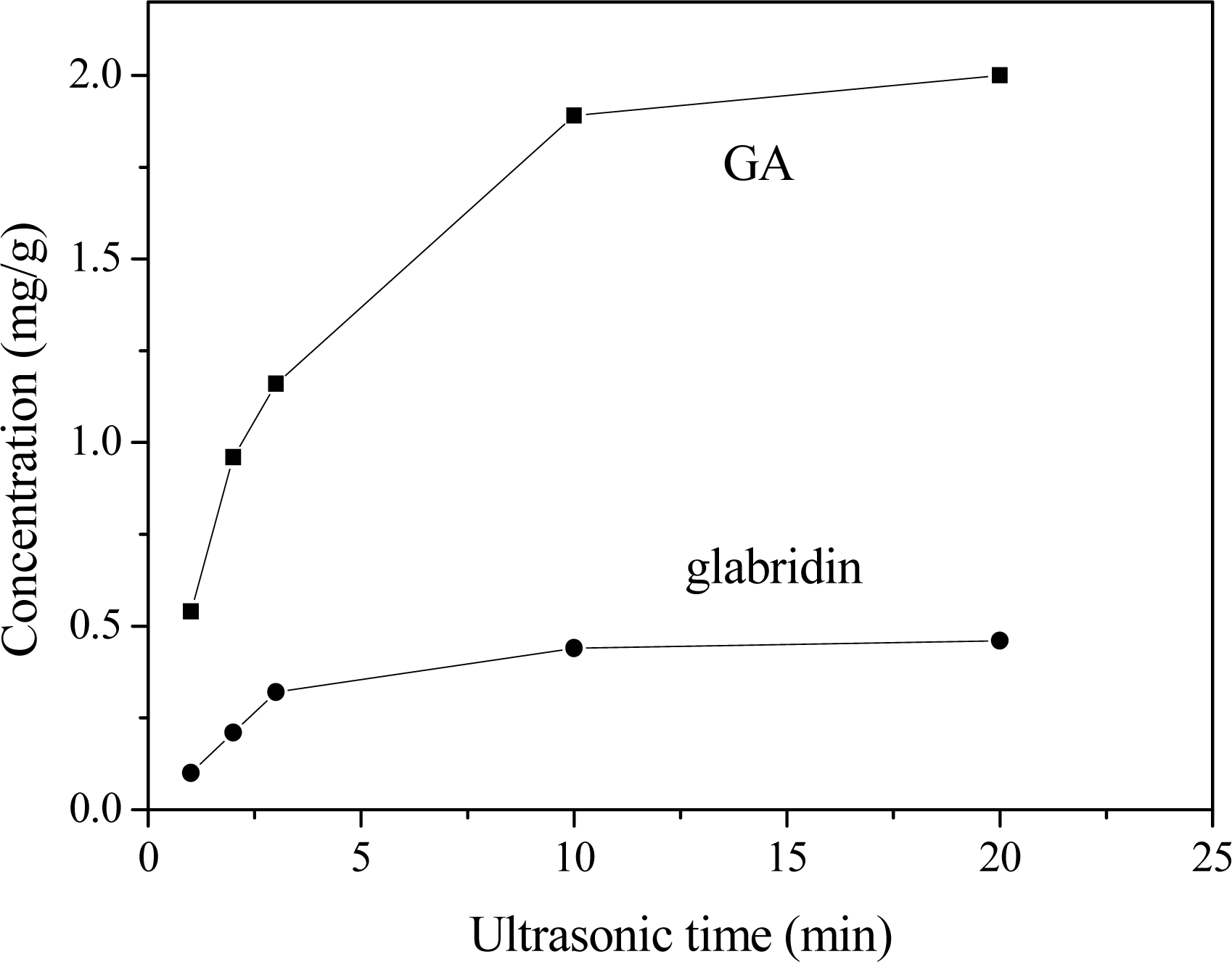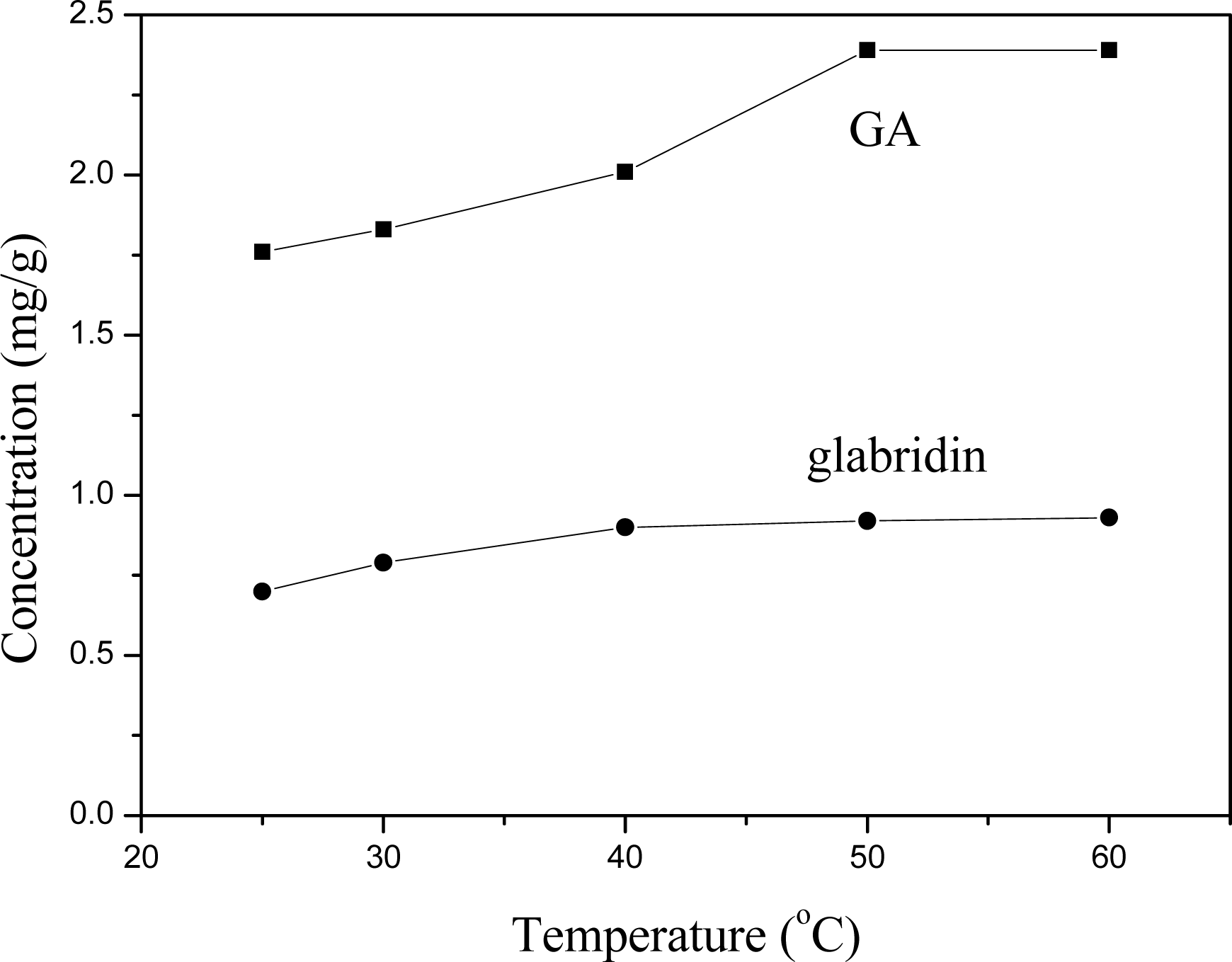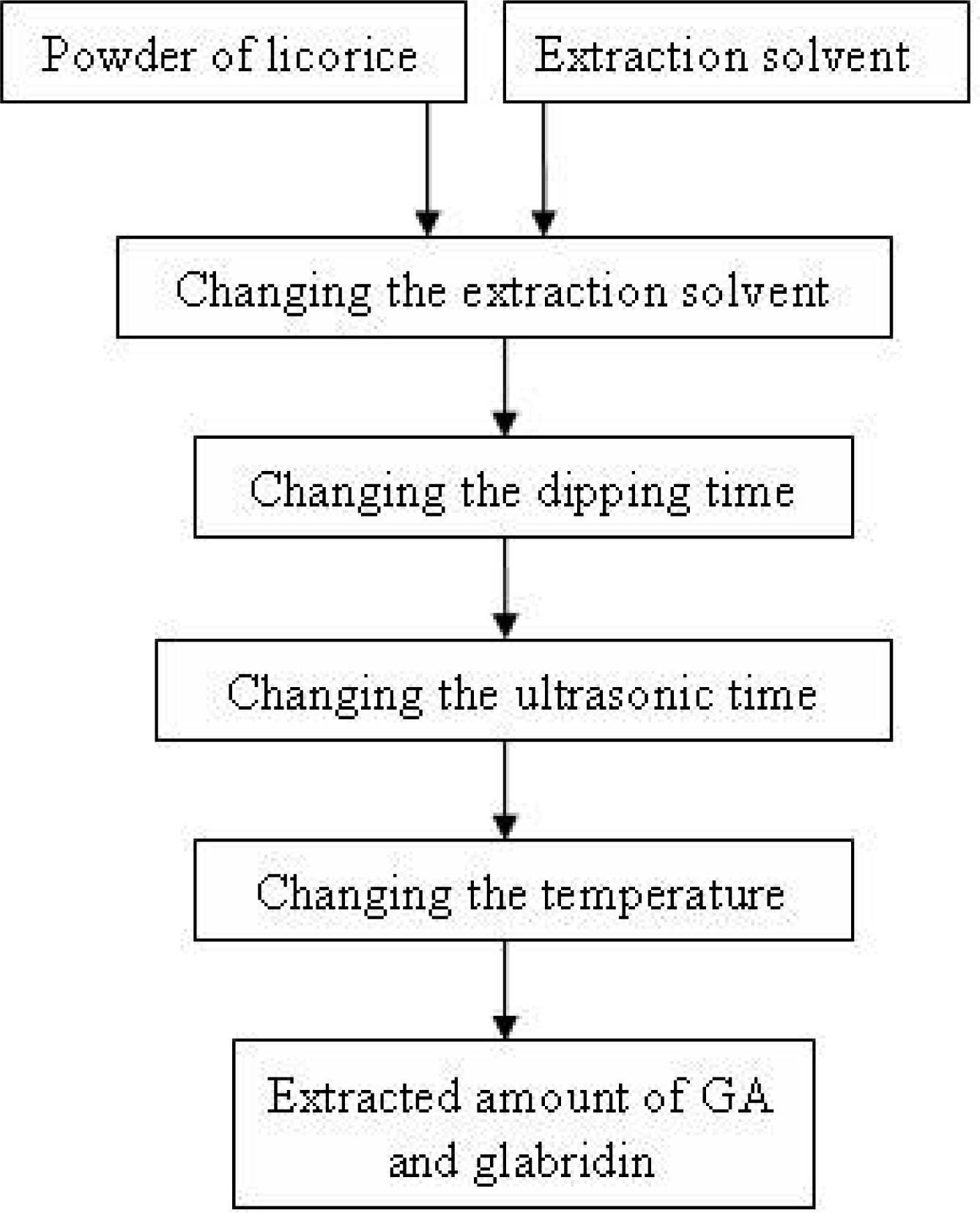 Table 1. Extracted amounts of GA and glabridin with different solvents.

| Compounds (mg/g) Solvents | GA | glabridin |
| --- | --- | --- |
| water | 2.44 | 0.18 |
| methanol | 0.86 | 0.72 |
| ethanol | 0.86 | 0.93 |
| acetonitrile | * | 0.006 |
| chloroform | * | * |
Table 2. Extracted amounts of GA and glabridin with different compositions of ethanol/water.

| Compounds (mg/g) Ethanol/water (v: v) | GA | glabridin |
| --- | --- | --- |
| 10:90 | 2.44 | 0.82 |
| 30:70 | 2.39 | 0.92 |
| 50:50 | 2.01 | 0.92 |
| 70:30 | 1.53 | 0.93 |
| 90:10 | 1.09 | 0.93 |
Table 3. RSDs, Recovery rates and LODs of the two compounds from licorice
Compounds
RSD (%)

---

Recovery rate

---

LOD (ng/mL)
Intra-day
Inter-day
Added (mg/mL)
Recovery (%)
RSD (%)
GA
0.54
0.59
0.5
88.7%
0.66
464
0.6
90.1%
0.8
90.3%
glabridin
0.83
0.90
0.05
74.5%
0.77
229
0.06
69.9%
0.07
73.3%