Open Access This article is
freely available
re-usable
Review
DNA Mimics for the Rapid Identification of Microorganisms by Fluorescence
in situ
Hybridization (FISH)
1
IBB - Institute for Biotechnology and Bioengineering, Centre of Biological Engineering, Universidade do Minho, Campus de Gualtar 4710-057, Braga, Portugal
2
Environmental Healthcare Unit, School of Biological Sciences, University of Southampton, Bassett Crescent East, Southampton SO16 7PX, UK
†
These authors contributed equally to this work
*
Author to whom correspondence should be addressed; Tel. +351-253605413; Fax: +351-253678986
Received: 2 April 2008; in revised form: 24 September 2008 / Accepted: 6 October 2008 / Published: 20 October 2008
Abstract
:
Fluorescence
in situ
hybridization (FISH) is a well-established technique that is used for a variety of purposes, ranging from pathogen detection in clinical diagnostics to the determination of chromosomal stability in stem cell research. The key step of FISH involves the detection of a nucleic acid region and as such, DNA molecules have typically been used to probe for the sequences of interest. However, since the turn of the century, an increasing number of laboratories have started to move on to the more robust DNA mimics methods, most notably peptide and locked nucleic acids (PNA and LNA). In this review, we will cover the state-of-the-art of the different DNA mimics in regard to their application as efficient markers for the presence of individual microbial cells, and consider their potential advantages and pitfalls. Available PNA probes are then reassessed in terms of sensitivity and specificity using rRNA databases. In addition, we also attempt to predict the applicability of DNA mimics in well-known techniques attempting to detect
in situ
low number of copies of specific nucleic acid sequences such as catalyzed reporter deposition (CARD) and recognition of individual genes (RING) FISH.
Keywords:
FISH; DNA mimics; PNA; LNA; molecular diagnostics
1. FISH for Microbial Detection
2. Emergence of DNA Mimics
DNA mimics are emerging as very promising molecules for cell detection in environmental and clinical samples. In fact, only two years after the description of the FISH technique by DeLong
et al.
[
17
], Nielsen and co-workers published the design and synthesis of peptide nucleic acids (PNA), one of the first DNA analogues to be published [
25
]. The value of PNA probes for clinical diagnostics has been very recently established by Forrest
et al
. [
29
,
30
]. When applying PNA FISH methods for the rapid differentiation of
S. aureus
from coagulase-negative staphylococci (CoNS) and also for the identification of
C. albicans
in blood cultures, it was determined that there was a significant reduction in median length of hospital stay and a trend towards less antibiotics usage. Consequently, the application of both methods was found to contribute to a decrease in hospital costs per patient and the assay on
C. albicans
has been recently cleared by the US FDA as an
in vitro
diagnostic kit for identification of yeast directly from positive blood cultures [
31
].
The number of other DNA mimics that have been reported to potentially have application on FISH procedures has in the meantime risen exponentially. The most common, besides PNA, are locked nucleic acid (LNA) [
32
] and 2'-O-methyl (2'-OMe) RNA [
22
], but other PNA or LNA-modified molecules have also appeared very recently [e.g. 33, 34–36]. Of these, the two mimics that have been applied for the identification of microorganisms are PNA and LNA [
15
,
37
,
38
]. These and other DNA mimics, along with their most relevant characteristics and applications, are described next.
2.1. Peptide nucleic acids (PNA)
2.2. Locked nucleic acids (LNA)
Locked nucleic acid (LNA) is a synthetic RNA derivative in which the ribose is linked to a methylene bridge between 2'-oxigen and 4'-carbon atoms,
i.e.
formed with 2'-O, 4'-C-methylene-ß-D-ribofuranosyl nucleotides (
Figure 1
) [
32
,
52
]. The connection encloses the sugar, which is responsible for the new conformation that is preferable for the formation of hybrids with complementary DNA or RNA sequences [
53
]. In fact, it has been shown by thermal studies that DNA duplexes containing LNA residues have the ability to increase the melting temperature between 2 °C and 10 °C per single LNA nucleotide incorporation [
26
,
54
]. Wahlestedt
et al.
demonstrated that LNA oligonucleotides have high
in vivo
efficacy, and hence are very useful in functional genomics and therapeutic applications [
28
]. As such, these oligonucleotides have so far found more utility in antisense studies rather in FISH methodologies [
26
,
28
].
Typically, FISH probes incorporate only few LNA nucleotides into a DNA strand, compensating the increased affinity of the new strand by a decrease in the number of base pairs used on the probe. Due to strong thermal stability, LNA may self-anneal, being difficult to design, but a web site is available with a help designing tool (
www.exiqon.com
) [
52
]. As for PNA, it is important to design LNA probes without extensive self-complementary sequences or applying chimeric LNAs. Equally, this DNA mimic is not susceptible to nucleases, which means that it is optimal when applied in living cell protocols [
55
].
LNA technology is only now providing the first steps towards application for rapid identification of microorganisms [
37
]. Nevertheless, applications of LNA in FISH technology for the detection of human miRNA and mRNA [
56
,
57
], together with studies that report increased fluorescence intensities of probes after the substitution of DNA bases by LNA bases [
37
,
58
], indicate that this technology also holds great promise.
3. Conclusions and Future Work
Before the appearance of DNA mimics, FISH techniques employed natural DNA molecules to perform hybridizations. By now, DNA mimics have unequivocally proved that they might contribute to improve the robustness of the method. Their main advantages include resistance to the attack of enzymes due to their synthetic nature; higher affinity for RNA sequences with a lower number of base pairs, which leads not only to more successful hybridizations but also to easier discrimination of single-base mismatches; and for certain mimics such as PNA, hybridization under low salt conditions allow unrestricted access to the full sequence of rRNA. This begs the question: Why have DNA mimics failed so far to impose themselves over standard DNA methods? The answer is threefold: First of all, not all microbiology laboratories are aware of these technologies, and when they are, it is not always easy to identify the companies or research groups that might provide you with the desired probe and know-how; Secondly, most of the probes have costs many times higher than those associated with DNA probes; Finally, the status of research for DNA probes is many years ahead than that of most DNA mimics. As a consequence, there is a general lack of information on some basic thermodynamic properties. For instance, whereas the estimation of hybridization temperature is quite straightforward for DNA probes in different hybridization solutions [
80
,
81
], all other mimics, arguably with the exception of PNA [
82
], have little data available. Before imposing DNA mimics-based procedures as the methods of excellence for the whole-cell detection of microorganisms in different settings, these issues need addressing.
In the future, the robustness of DNA mimics methods might improve the application of multiplex procedures, where various species are targeted with different probes at the same time. In fact, Perry-O'Keefe
et al.
developed a new PNA FISH procedure for the simultaneous detection of both Gram-negative and Gram-positive species, something never accomplished using DNA probes [
43
]. The use of DNA mimics to perform FISH in living cells could be another major area of application but it also appears to be a trickier one, because of all the deleterious processes that the cells undergo during the fixation, hybridization and washing steps. Besides having to support relatively high temperatures, cells will have to support the toxicity of compounds present in the solutions, such as paraformaldehyde and ethanol in the fixation step. So far, hybridization of unfixed cells as been accomplished [
83
], but there are serious questions over whether these cells remained viable during the whole hybridization process [
2
]. Nevertheless, with a battery of DNA mimics available, the chances of developing an experiment where the adverse effects of the hybridization process might be overcome are multiplied.
Finally, DNA mimics might also be of use for the detection of low-copy genomic sequences in the chromosome. Using DNA probes, techniques such as catalyzed reporter deposition (CARD) FISH [
18
], recognition of individual genes (RING) FISH [
84
] and rolling circle amplification [
85
] have tried to solve this problem. In CARD FISH, the enzyme horseradish peroxidase is covalently crosslinked to a nucleic acid probe, and if the probe hybridizes, the enzyme will be present inside the cell. When fluorescently-labelled tyramide is added, the enzyme will induce the deposition of these molecules by peroxidase activity. The major shortcoming of this technique is the large size of the enzyme, which means that damaging permeabilization procedures are necessary. Whereas the application of DNA mimics in this method is not expected to significantly affect the entry of the labelled probe, the increased specificity and sensitivity of these analogs might be very useful for the detection of single nucleotide polymorphisms (SNP). So far, only DNA CARD FISH has been attempted, but enzymes coupled with PNA are already accessible via Panagene. RING FISH is based on the hybridization of multiple-labelled probes (one labelled nucleotide every 10–20 bp) that usually have more than two hundred bases length. The probe then anchors other probes that in turn form a network around the cell periphery and emit an halo of fluorescence [
84
]. As the probe is particularly long, the incorporation of LNA residues would likely improve the specificity and sensitivity of the method. Even though PNA might minimize the membrane permeabilization issue, it is not clear how would such a long PNA probe behave on this method. On rolling circle amplification, the use of DNA mimics as probes seems to be of little use, as the method requires an amplification step mediated by the enzyme DNA-polymerase. Interestingly, the method does use PNA molecules to open the double helix configuration of DNA [
85
].
Due to their special chemical features, DNA mimics-based methods are expected to play a very important role in cell and gene detection in clinical and environmental samples in the future. The real challenge will be to determine the best nucleic acid for each specific case/method. Even though the chemistry of the molecules will allow us to take some theoretical assumptions, there are many uncertainties on how DNA mimics behave under most conditions. As such, new reliable and systematic screening protocols that compare all these different molecules – both biological and synthetic – should be developed.
Acknowledgments
This work was supported by the Portuguese Institute Fundação para a Ciência e Tecnologia (Post-Doc Fellowship SFRH/BPD/20484/2004 and PhD grants SFRH/BD/38124/2007 and SFRH/BD/29297/2006).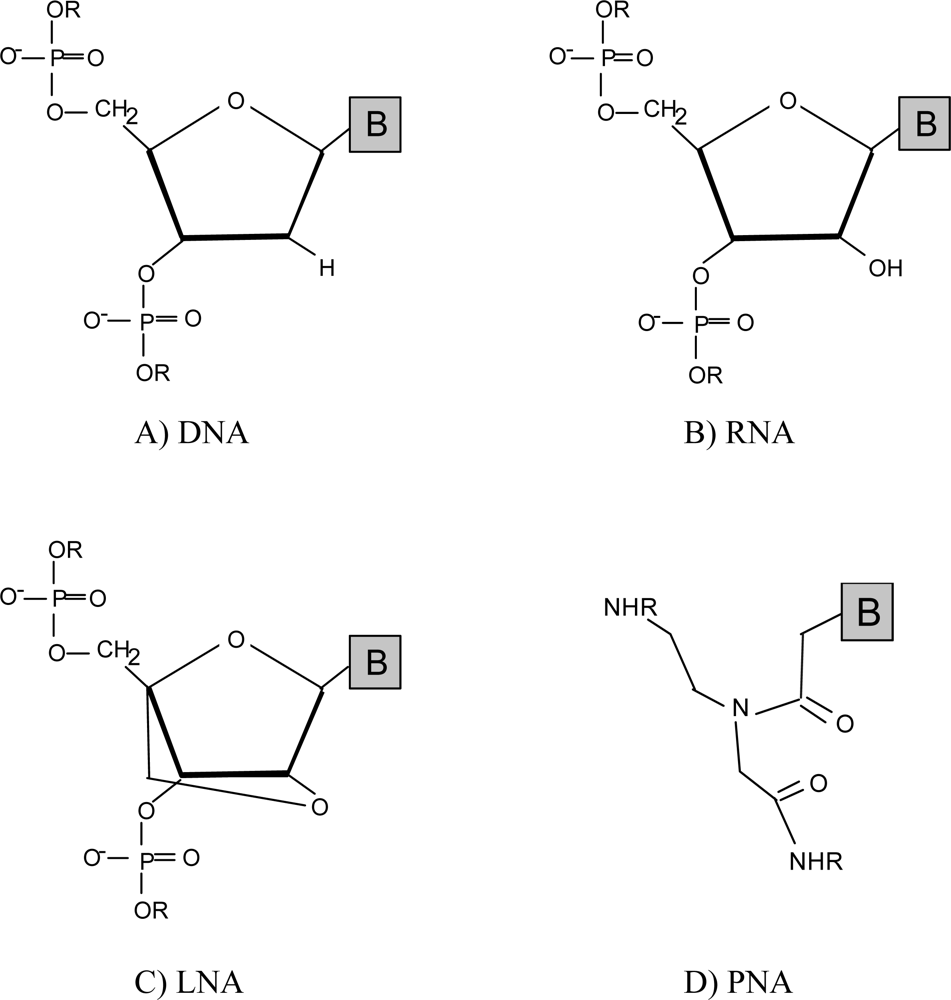 Figure 1. Chemical structures of DNA, RNA and of the DNA mimics, locked nucleic acid (LNA) and peptide nucleic acid (PNA).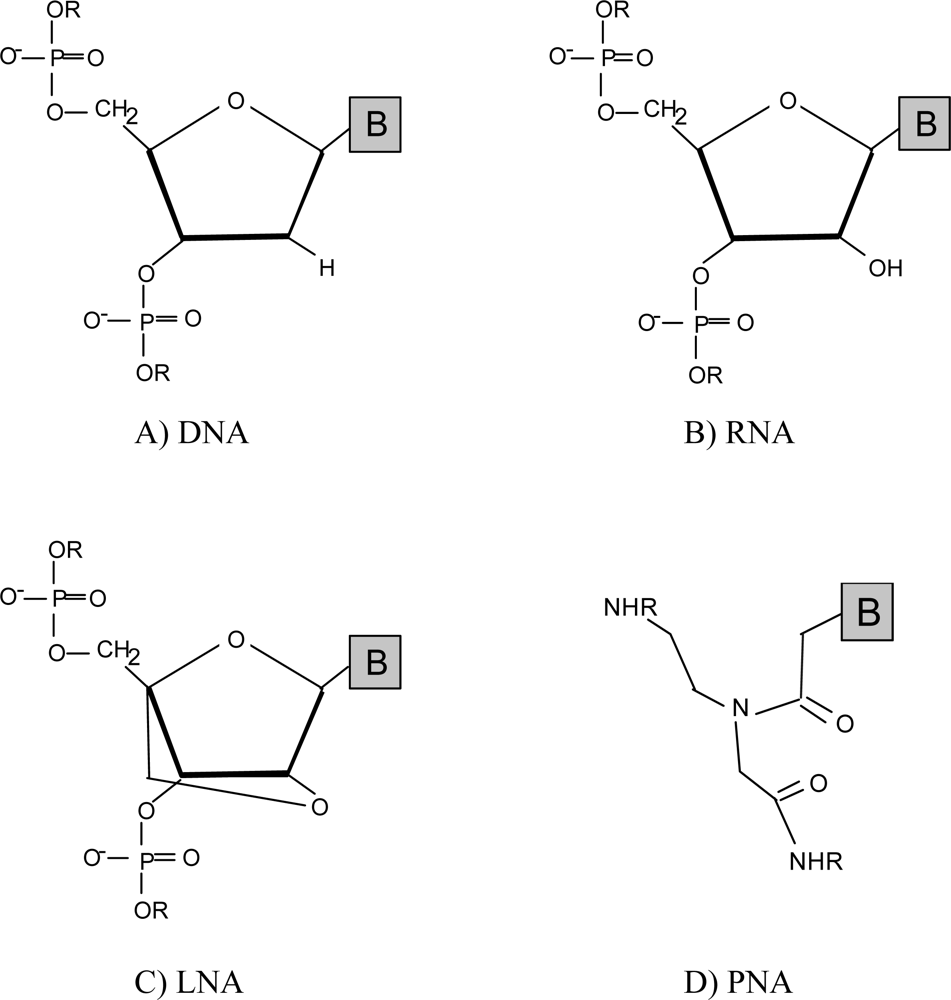 Table 1. PNA probes already described in the literature together with some of their most important characteristics.
Table 1. PNA probes already described in the literature together with some of their most important characteristics.
Microorganism
Sequence (5'–3')
Target
GC Content (%)
Hybridization temperature (°C)/solvent concentration
Specificity (%)
Sensitivity (%)
Ref.
Eucarya

C. albicans

AGAGAGCAGCATGCA
26S
53
55°C / 30% DMF
96
46
[86]

C. albicans

ACAGCAGAAGCCGTG
26S
60
50°C / 30% DMF
91
70
[87]

C. dubliniensis

TAGCCAGAAGAAAGG
18S
47
50°C / 30% DMF
100
4
[87]

D. bruxellensis

CGGTCTCCAGCGATT
26S
60
50°C / 50% DMF or 50°C / 30% DMF
100
85
[88]
Eucarya
ACCAGACTTGCCCTC
18S
60
55°C/ 0.5% (w/v) SDS 50°C/50% DMF
N.D.
N.D.
[43, 89]

S. cerevisae

TTACCGAGGCAAGCT
18S
53
50°C / 50% DMF
N.D.
N.D.
[43]

T.

subgenus A
CGGAACCCAGCCA
18S
69
45°C / 30% DMF
N.D.
N.D.
[90]

T.

subgenus A
GTTGCCACCAGCAGT
18S
60
45°C / 30% DMF
N.D.
N.D.
[90]

T.

genus B
GCCCTAACAGGTGTG
18S
60
55°C / 30% DMF
N.D.
N.D.
[90]

Z. bailii

CGAGCGAAACGCCTG
18S
67
50°C / 50% DMF
5
50
[89]
Bacteria

C. coli, C. jejuni

and

C. lari

CCCTACTCAACTTGT
16S
47
50°C / 30% DMF
100
91
[91]

E. coli

TCAATGAGCAAAGGT
16S
40
55°C/ 0.5%(w/v) SDS or 50°C/50% DMF or 57°C / 30% DMF
59
10
[43, 89, 91, 92]

E. coli

GCAAAGCAGCAAGCTC
16S
56
50°C/ 0.01% SDS
100
1
[41]
Eubacteria
CTGCCTCCCGTAGGA
16S
67
55°C/ 0.5% (w/v) SDS or 50°C/50% DMF
N.D.
93
[89]

H. pylori

GAGACTAAGCCCTCC
16S
60
59°C / 30% DMF
96
90
[6]

H. pylori

TAATCAGCACTCTAGCAA
16S
39
55°C / 30% DMF
100
24
[51, 93]

K. pneumoniae

CACCTACACACCAGC
23S
60
55°C
100
92
[94]

L. brevis

CTCTAAGATTGGCAG
16S
47
50°C / 50% DMF
81
97
[89]

Legionella

genus
GACGCAGGCTAATCT
16S
53
55°C to 65°C/ 30% DMF
88
68
[95]

L. pneumophila

CTGACCGTCCCAGGT
16S
67
55°C to 65°C / 30% DMF
92
100
[95]

Listeria

genus
CCCCAACTTACAGGC
16S
60
55°C /0.5% SDS
98
91
[96]

Listeria

genus
AAGGGACAAGCAGT
16S
50
55°C /0.5% SDS
97
97
[96]

M. avium

ATGCGTCTTGAGGTC
16S
53
55°C / 40% DMF
95
91
[97]

M. avium

subsp.

avium

and

M. avium

subsp.

paratuberculosis

TGCGTCTTGAGGTCC
16S
60
59°C / 30% DMF
100
89
[98]

M. kansasii

TATCCCGGTGTGCAG
16S
60
55°C / 40% DMF
57
100
[97]

M. leprae

CGCCTTGAAGTCCTA
16S
53
55°C / 40% DMF
100
100
[97]

M. tuberculosis

complex (MTC) species
GCATCCCGTGGTCCT
16S
67
60°C / 50% DMF
76
100
[97]

M. tuberculosis

complex (MTC) species
GGTTTTAAGGATTC
16S
40
55°C / 30% DMF
62
100
[38]
Nontuberculous (NTM) mycobacteria species
GCATTACCCGCTGGC
16S
67
55°C / 30% DMF
34
34
[38]

P. aeruginosa

CTGAATCCAGGAGCA
16S
53
55°C/ 0.5% (w/v) SDS or 50°C/50% DMF
80
87
[43, 89]

Salmonella

TAAGCCGGGATGGC
23S
64
55°C/ 0.5% (w/v) SDS or 50°C/50% DMF
41
60
[43, 89]

S. aureus

GCTTCTCGTCCGTTC
16S
60
55°C/ 0.5%(w/v) SDS or 50°C/50% DMF
100
92
[43, 89]
AT. brucei gambiense, T. brucei rhodesiense, T. brucei brucei, T. envasi and T. equiperdum
© 2008 by MDPI This article is an open-access article distributed under the terms and conditions of the Creative Commons Attribution license (http://creativecommons.org/licenses/by/3.0/).