Open Access This article is
freely available
re-usable
Full Research Paper
DNA-Binding Study of Tetraaqua-bis(
p
-nitrobenzoato)cobalt(II) Dihydrate Complex: [Co(H
2
O)
4
(
p
-NO
2
C
6
H
4
COO)
2
]·2H
2
O
1
Department of Chemistry, Faculty of Arts and Sciences, Kafkas University, 36300 Kars, Turkey
2
Department of Biochemistry, Faculty of Veterinary Medicine, Kafkas University, Kars, Turkey
*
Author to whom correspondence should be addressed:
Received: 27 March 2007; in revised form: 25 May 2007 / Accepted: 4 June 2007 / Published: 27 June 2007
Abstract
:
The interaction of [Co(H
2
O)
4
(p-NO
2
C
6
H
4
COO)
2
]
·
2H
2
O with sheep genomic DNA has been investigated by spectroscopic studies and electrophoresis measurements. The interaction between cobalt(II)
p
-nitrobenzoate and DNA has been followed by gel electrophoresis while the concentration of the complex was increased from 0 to 14 mM. The spectroscopic study and electrophoretic experiments support the fact that the complex binds to DNA by intercalation via
p
-nitrobenzoate into the base pairs of DNA. The mobility of the bands decreased as the concentration of complex was increased, indicating that there was increase in interaction between the metal ion and DNA.
Keywords:
Cobalt(II) complexes; DNA-binding; p-nitrobenzoate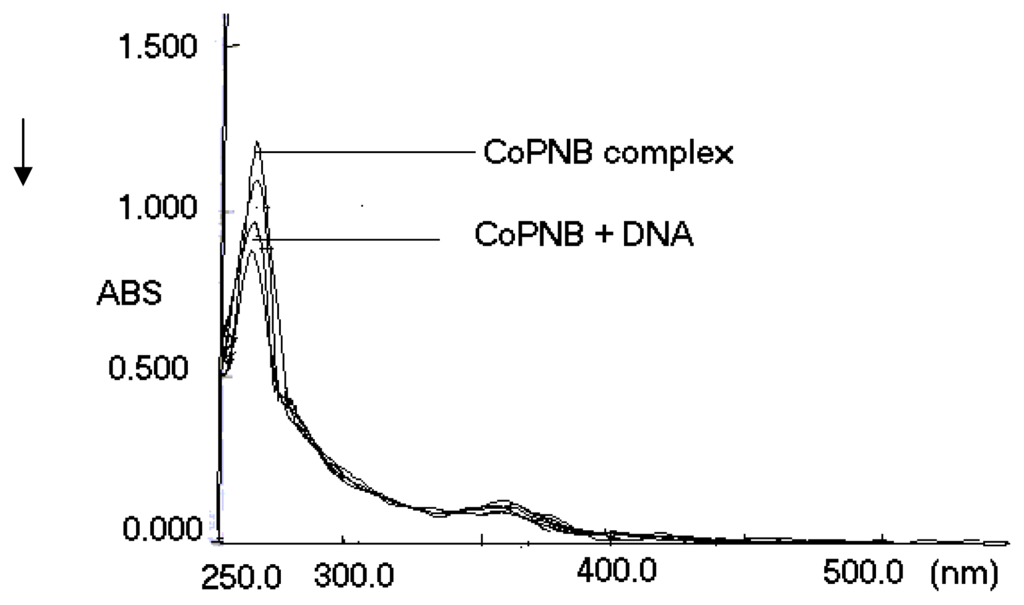 Figure 1. Absorption spectra of CoPNB (14 mM) in the absence and presence upon addition of genomic DNA (0–10 mM). Arrow represents the absorbance changing when concentration of genomic DNA is increased.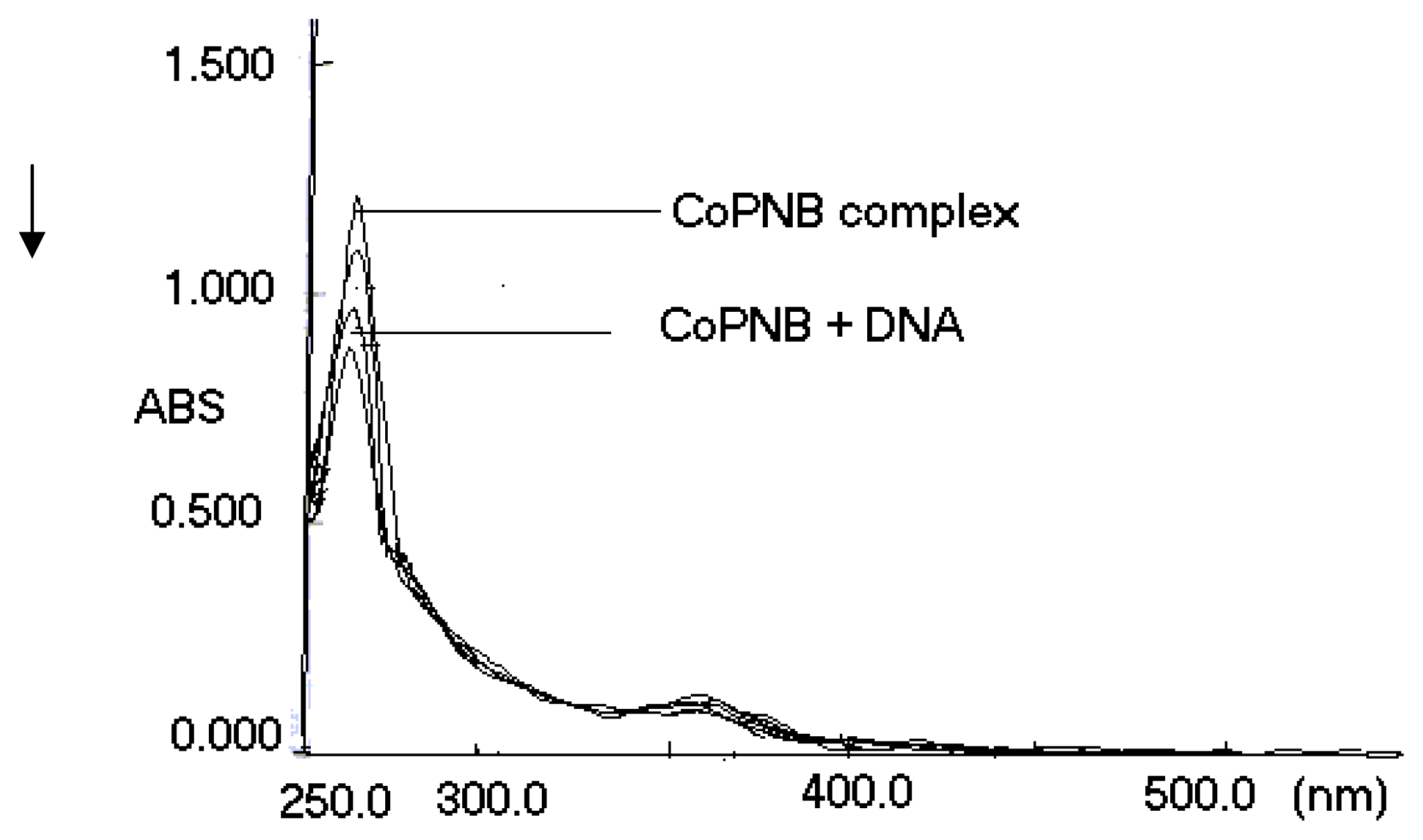 Figure 2.
Interaction between cobalt(II)
p
-nitrobenzoate and genomic DNA in presence of TAE buffer at pH 7.3 in air, and 24 h incubation. Lane 1–3: DNA + cobalt(II)
p-
nitrobenzoate with 0.14, 1.4 to 14 mM, respectively; lane 4: untreated genomic DNA in in TAE buffer at pH 7.3 in air, and incubation for 24 h.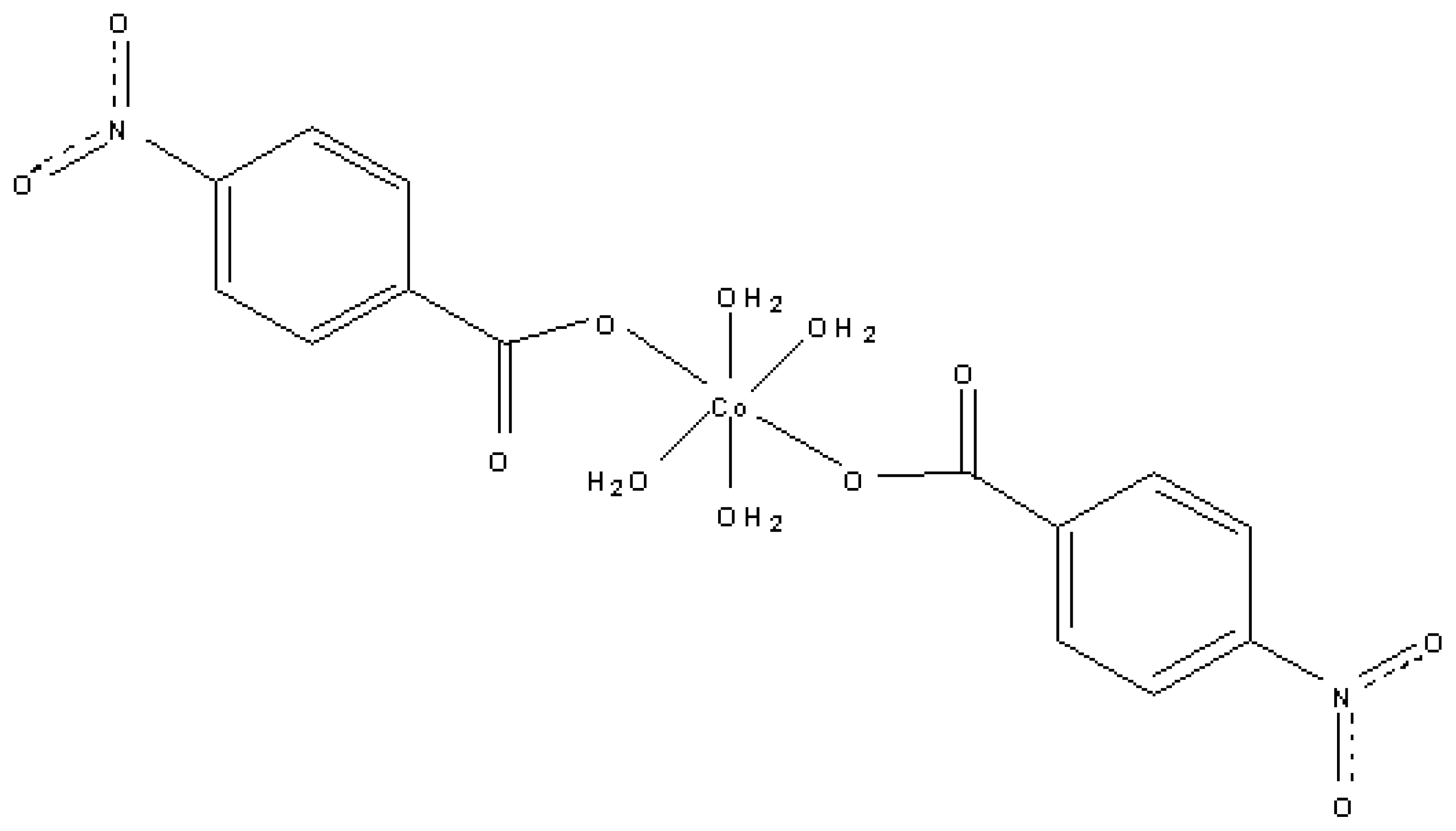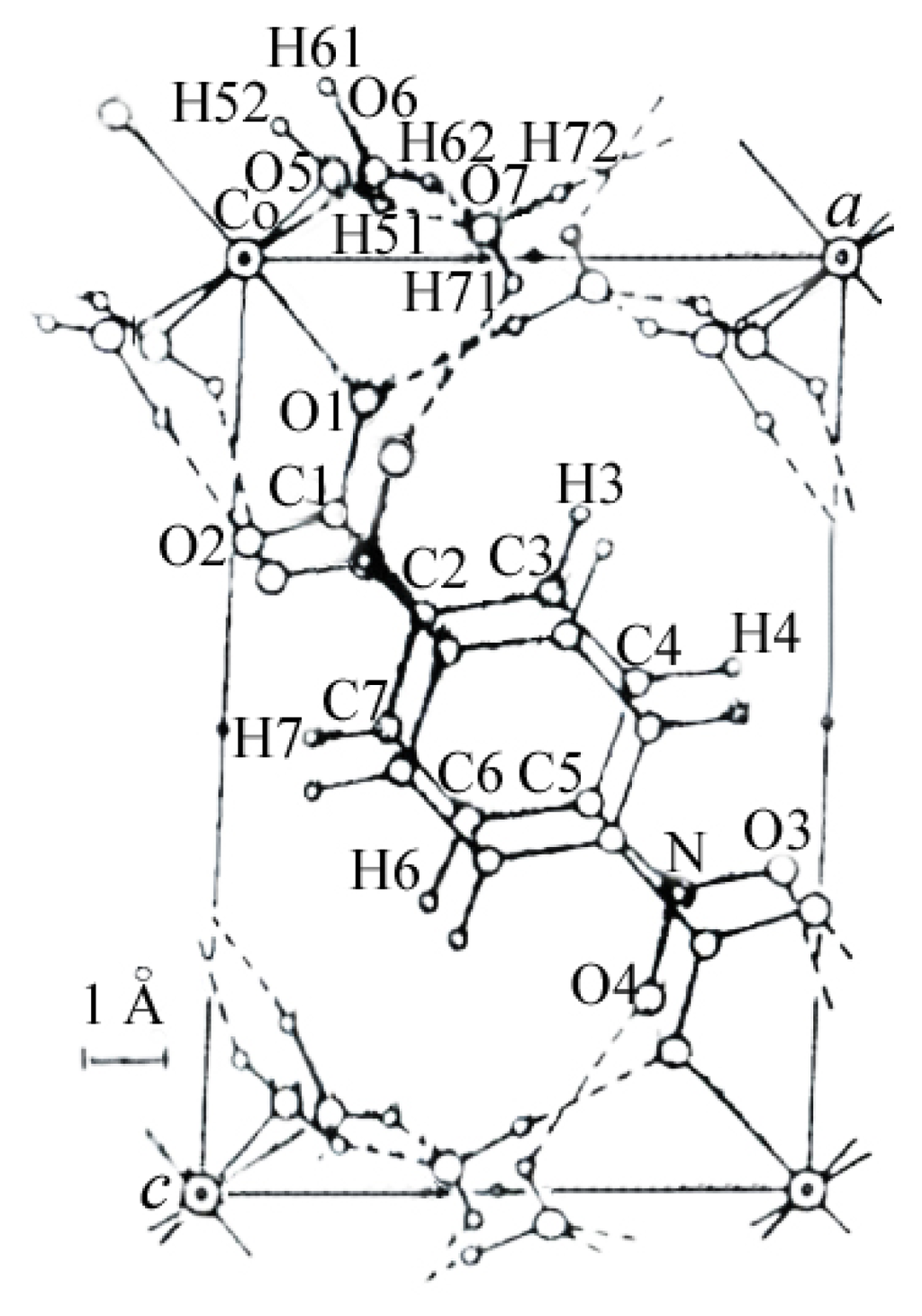 Figure 4.
Crystal structure of Cobalt(II)
p
-nitrobenzoate complex [
31
].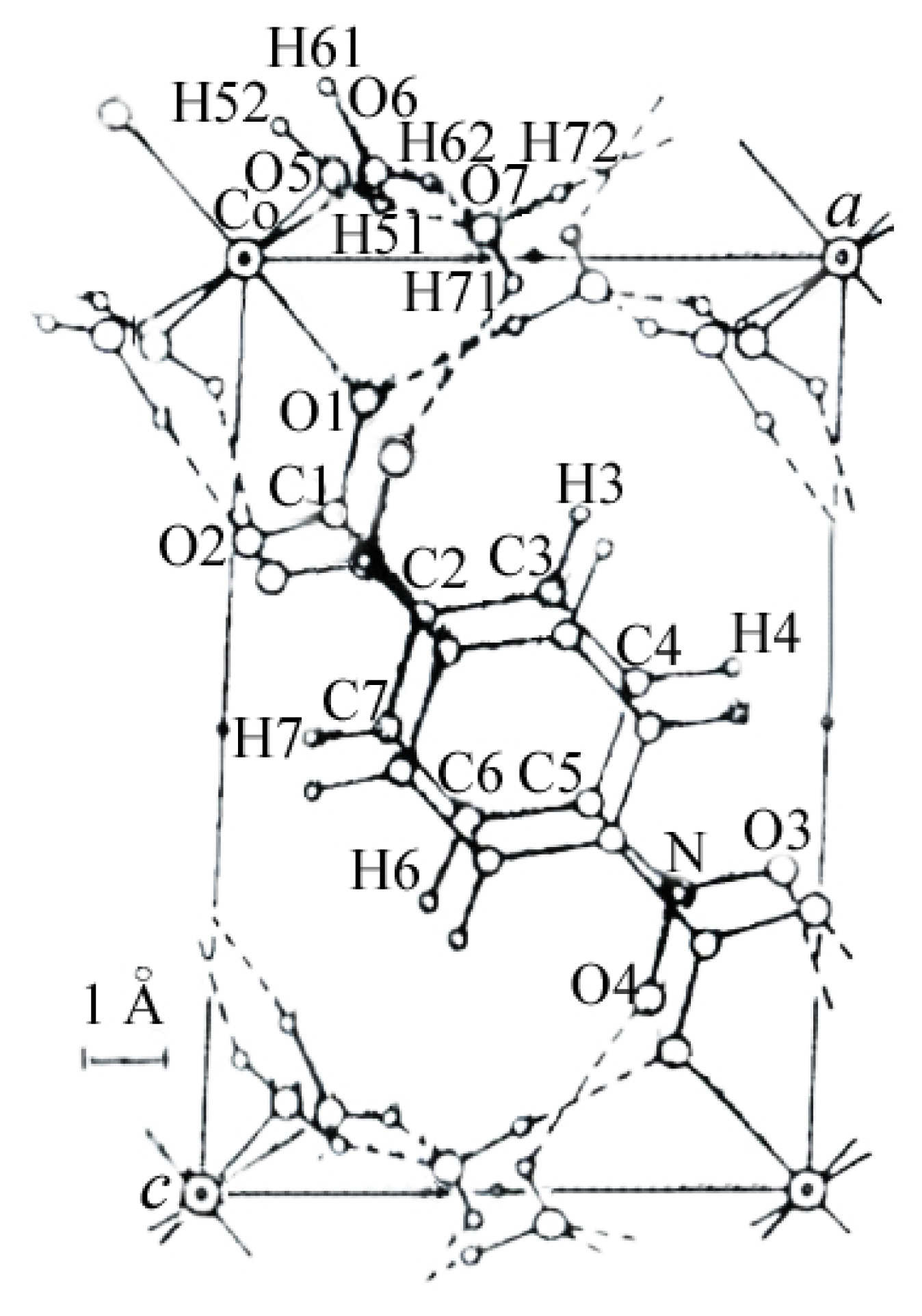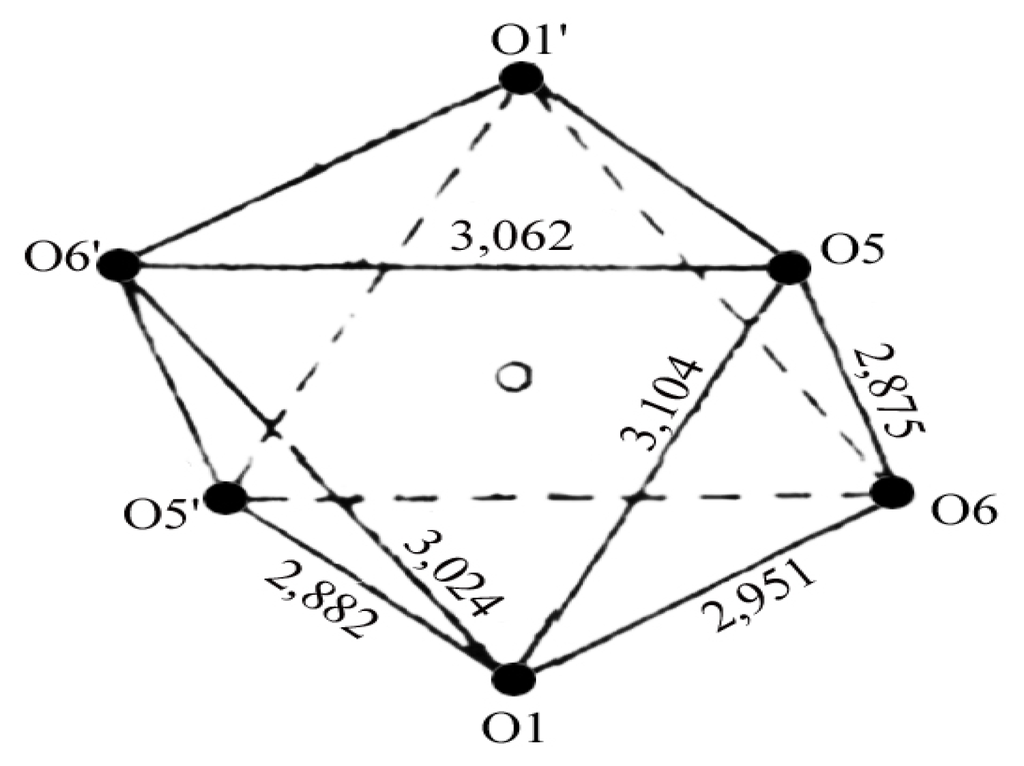 Figure 5.
Octahedral environment of the cobalt atom [
31
].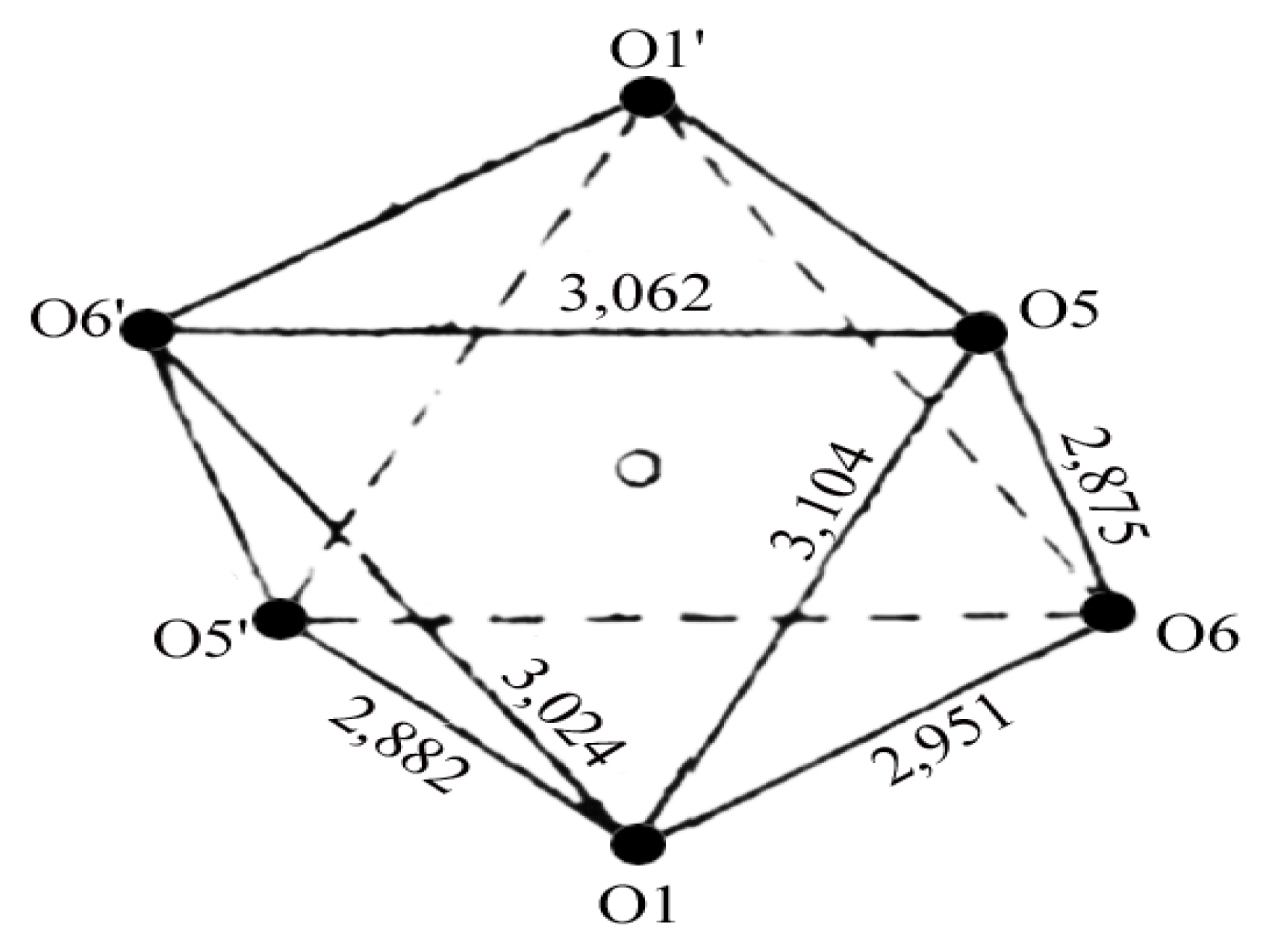 Acknowledgements
The Authors thank Assistant Professor Hanife Ozbay Biology Department of the School of Arts and Sciences at Kafkas University, for her help.
Abbreviations
[Co(H2O)4 (p-NO2C6H4COO)2]·2H2O

tetraaqua-bis(p-nitrobenzoato)cobalt(II) Dihydrate

Tris

tris(hydroxymethyl)aminomethane

UV/VIS

UV-visible

CoPNB

Cobalt(II)

p

-nitrobenzoate