Nitrate Reductases Are Relocalized to the Nucleus by AtSIZ1 and Their Levels Are Negatively Regulated by COP1 and Ammonium
1
Department of Plant Science, Research Institute of Agriculture and Life Sciences, Seoul National University, Seoul 151-921, Korea
2
Department of Botany and Plant Pathology, Purdue University, West Lafayette, IN 47907, USA
3
School of Applied Biosciences, Kyungpook National University, Daegu 41566, Korea
4
Plant Genomics and Breeding Institute, Seoul National University, Seoul 151-921, Korea
5
Bio-MAX Institute, Seoul National University, Seoul 151-818, Korea
6
Department of Plant Science, College of Agriculture and Life Sciences, Seoul National University, Gwanak-ro 1, Gwanak-gu, Seoul 151-921, Korea
*
Author to whom correspondence should be addressed.
Received: 16 March 2018 / Revised: 11 April 2018 / Accepted: 11 April 2018 / Published: 15 April 2018
Abstract
Nitrate reductases (NRs) catalyze the first step in the reduction of nitrate to ammonium. NR activity is regulated by sumoylation through the E3 ligase activity of AtSIZ1. However, it is not clear how NRs interact with AtSIZ1 in the cell, or how nitrogen sources affect NR levels and their cellular localization. Here, we show that the subcellular localization of NRs is modulated by the E3 SUMO (Small ubiquitin-related modifier) ligase AtSIZ1 and that NR protein levels are regulated by nitrogen sources. Transient expression analysis of GFP fusion proteins in onion epidermal cells showed that the NRs NIA1 and NIA2 localize to the cytoplasmic membrane, and that AtSIZ1 localizes to the nucleoplasm, including nuclear bodies, when expressed separately, whereas NRs and AtSIZ1 localize to the nucleus when co-expressed. Nitrate did not affect the subcellular localization of the NRs, but it caused AtSIZ1 to move from the nucleus to the cytoplasm. NRs were not detected in ammonium-treated cells, whereas the localization of AtSIZ1 was not altered by ammonium treatment. NR protein levels increased in response to nitrate but decreased in response to ammonium. In addition, NR protein levels increased in response to a 26S proteasome inhibitor and in
cop1-4
and DN-COP1-overexpressing transgenic plants. NR protein degradation occurred later in
cop1-4
than in the wild-type, although the NR proteins did not interact with COP1. Therefore, AtSIZ1 controls nuclear localization of NR proteins, and ammonium negatively regulates their levels. The function and stability of NR proteins might be post-translationally modulated by ubiquitination.
View Full-Text
►

▼

Figures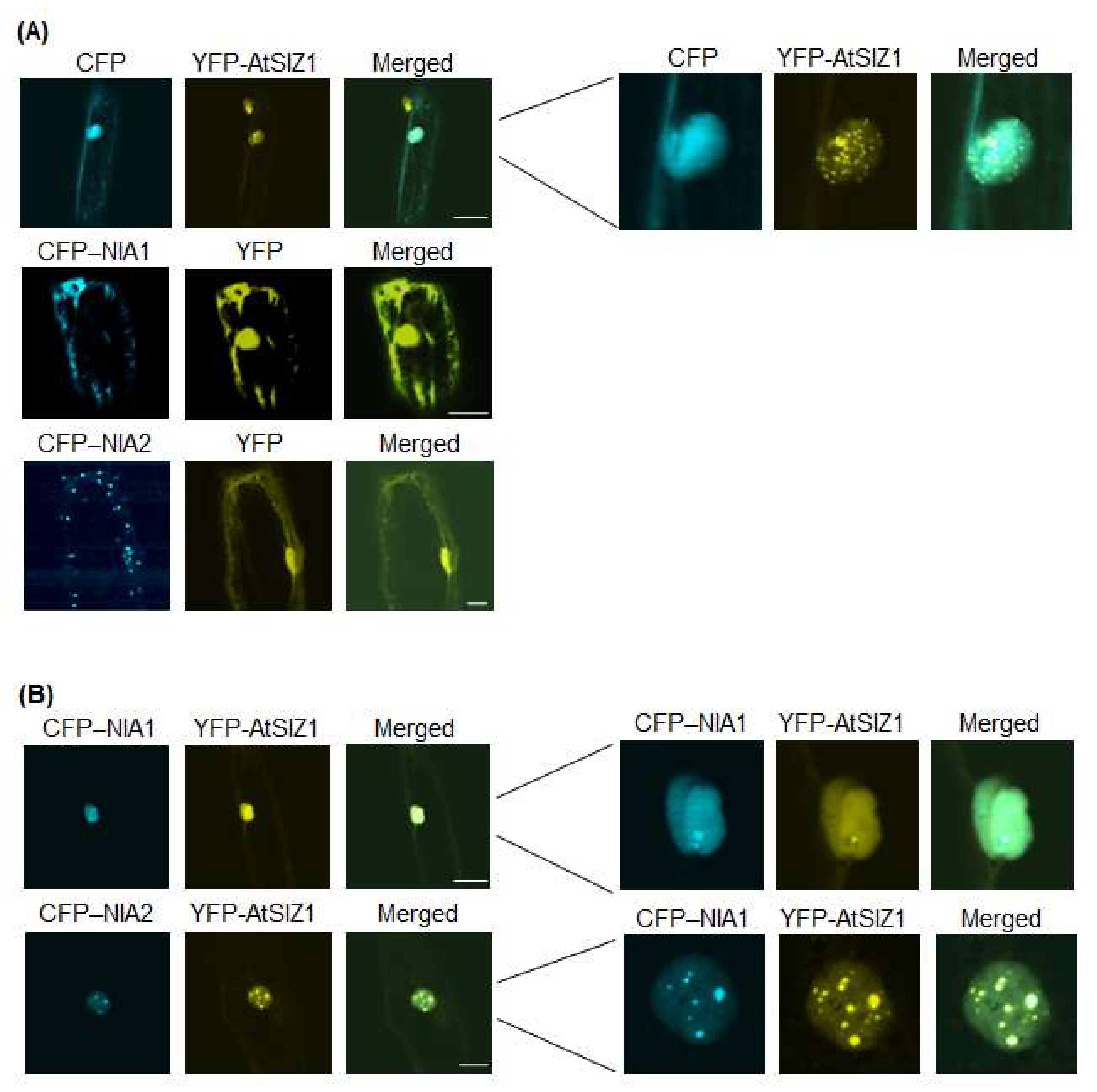 Figure 1
This is an open access article distributed under the
Creative Commons Attribution License
which permits unrestricted use, distribution, and reproduction in any medium, provided the original work is properly cited. (CC BY 4.0).
Share & Cite This Article
MDPI and ACS Style
Kim, J.Y.; Park, B.S.; Park, S.W.; Lee, H.Y.; Song, J.T.; Seo, H.S. Nitrate Reductases Are Relocalized to the Nucleus by AtSIZ1 and Their Levels Are Negatively Regulated by COP1 and Ammonium. Int. J. Mol. Sci. 2018, 19, 1202.
Note that from the first issue of 2016, MDPI journals use article numbers instead of page numbers. See further details here.
Related Articles
Comments
[Return to top]