Aging and Intermittent Fasting Impact on Transcriptional Regulation and Physiological Responses of Adult Drosophila Neuronal and Muscle Tissues
1
Donald P. Shiley BioScience Center, San Diego State University, San Diego, CA 92182, USA
2
Biological and Medical Informatics Research Center, San Diego State University, San Diego, CA 92182, USA
3
Department of Biology, San Diego State University, San Diego, CA 92182, USA
4
Sanford Consortium for Regenerative Medicine, 2880 Torrey Pines Scenic Dr., La Jolla, CA 92037, USA
5
The Salk Institute for Biological Studies, Cellular Neurobiology, 10010 North Torrey Pines Road, La Jolla, CA 92037, USA
*
Author to whom correspondence should be addressed.
Received: 5 March 2018 / Revised: 29 March 2018 / Accepted: 30 March 2018 / Published: 10 April 2018
Abstract
The progressive decline of the nervous system, including protein aggregate formation, reflects the subtle dysregulation of multiple functional pathways. Our previous work has shown intermittent fasting (IF) enhances longevity, maintains adult behaviors and reduces aggregates, in part, by promoting autophagic function in the aging
Drosophila
brain. To clarify the impact that IF-treatment has upon aging, we used high throughput RNA-sequencing technology to examine the changing transcriptome in adult
Drosophila
tissues. Principle component analysis (PCA) and other analyses showed ~1200 age-related transcriptional differences in head and muscle tissues, with few genes having matching expression patterns. Pathway components showing age-dependent expression differences were involved with stress response, metabolic, neural and chromatin remodeling functions. Middle-aged tissues also showed a significant increase in transcriptional drift-variance (TD), which in the CNS included multiple proteolytic pathway components. Overall, IF-treatment had a demonstrably positive impact on aged transcriptomes, partly ameliorating both fold and variance changes. Consistent with these findings, aged IF-treated flies displayed more youthful metabolic, behavioral and basal proteolytic profiles that closely correlated with transcriptional alterations to key components. These results indicate that even modest dietary changes can have therapeutic consequences, slowing the progressive decline of multiple cellular systems, including proteostasis in the aging nervous system.
View Full-Text
►

▼

Figures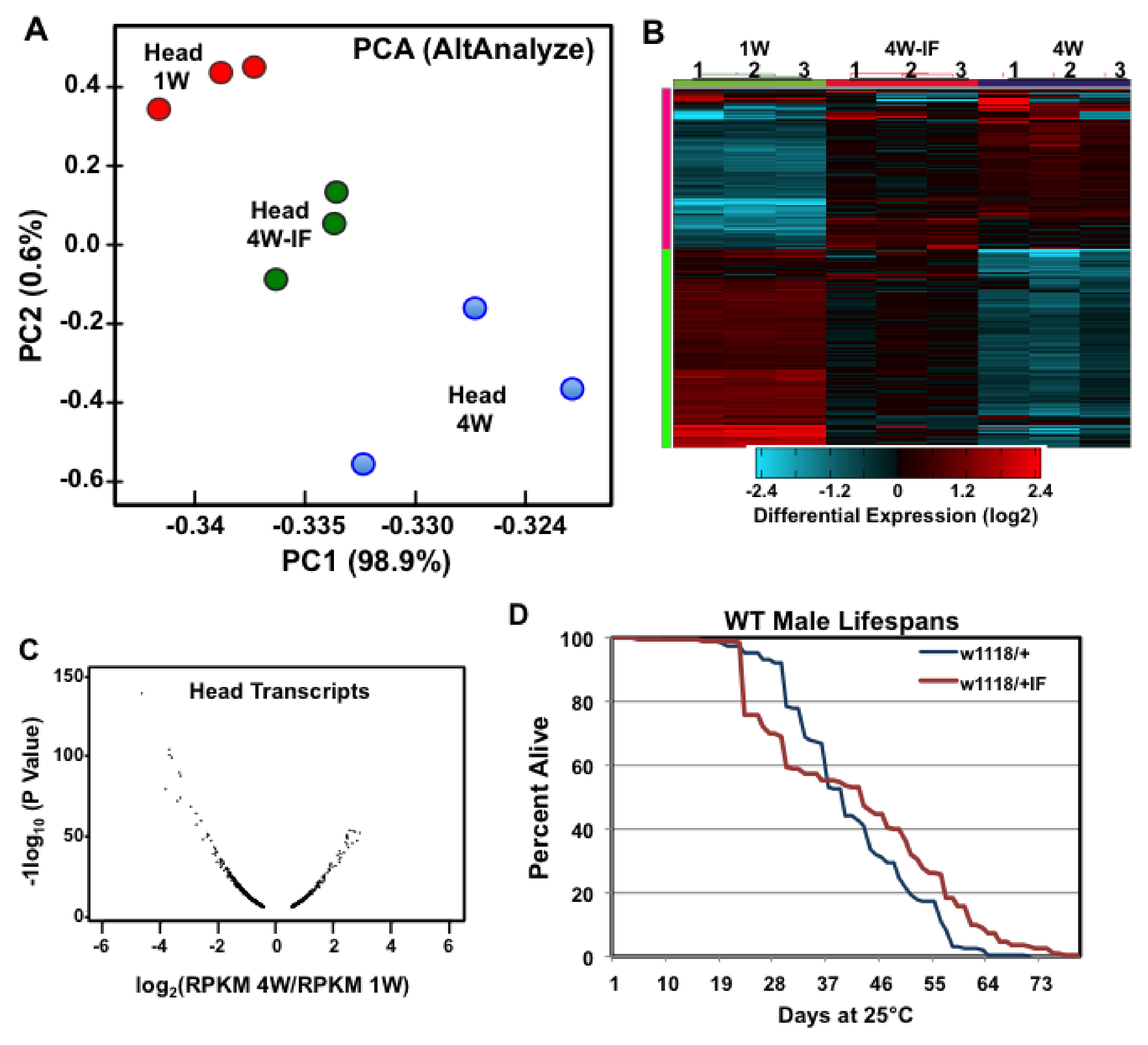 Figure 1
This is an open access article distributed under the
Creative Commons Attribution License
which permits unrestricted use, distribution, and reproduction in any medium, provided the original work is properly cited. (CC BY 4.0).
Share & Cite This Article
MDPI and ACS Style
Zhang, S.; Ratliff, E.P.; Molina, B.; El-Mecharrafie, N.; Mastroianni, J.; Kotzebue, R.W.; Achal, M.; Mauntz, R.E.; Gonzalez, A.; Barekat, A.; Bray, W.A.; Macias, A.M.; Daugherty, D.; Harris, G.L.; Edwards, R.A.; Finley, K.D. Aging and Intermittent Fasting Impact on Transcriptional Regulation and Physiological Responses of Adult Drosophila Neuronal and Muscle Tissues. Int. J. Mol. Sci. 2018, 19, 1140.
Note that from the first issue of 2016, MDPI journals use article numbers instead of page numbers. See further details here.
Related Articles
Comments
[Return to top]