17β-Hydroxysteroid Dehydrogenase Type 2 Expression Is Induced by Androgen Signaling in Endometrial Cancer
1
Department of Obstetrics and Gynecology, Tohoku University Graduate School of Medicine, Sendai 980-8575, Japan
2
Department of Disaster Obstetrics and Gynecology, International Research Institute of Disaster Science (IRIDeS), Tohoku University, Sendai 980-8577, Japan
3
Department of Pathology and Histotechnology, Tohoku University Graduate School of Medicine, Sendai 980-8575, Japan
*
Author to whom correspondence should be addressed.
Received: 23 February 2018 / Revised: 26 March 2018 / Accepted: 9 April 2018 / Published: 10 April 2018
Abstract
Endometrial cancer is one of the most common female pelvic cancers and has been considered an androgen-related malignancy. Several studies have demonstrated the anti-cell proliferative effect of androgen on endometrial cancer cells; however, the mechanisms of the anti-cancer effect of androgen remain largely unclear. 17β-hydroxysteroid dehydrogenase type 2 (17β-HSD2), which catalyzes the conversion of E2 to E1, is known to be upregulated by androgen treatment in breast cancer cells. In this study, we therefore focused on the role of androgen on estrogen dependence in endometrial cancer. Dihydrotestosterone (DHT) was found to induce
17β-HSD2
mRNA and protein expression in HEC-1B endometrial cancer cells. DHT could also inhibit cell proliferation of HEC-1B when induced by estradiol treatment. In 19 endometrioid endometrial adenocarcinoma (EEA) tissues, intratumoral DHT concentration was measured by liquid chromatography/electrospray tandem mass spectrometry and was found to be significantly correlated with 17β-HSD2 immunohistochemical status. We further examined the correlations between 17β-HSD2 immunoreactivity and clinicopathological parameters in 53 EEA tissues. 17β-HSD2 status was inversely associated with the histological grade, clinical stage, and cell proliferation marker Ki-67, and positively correlated with progesterone receptor expression. 17β-HSD2 status tended to be positively associated with androgen receptor status. In 53 EEA cases, the 17β-HSD2-positive group tended to have better prognosis than that for the negative group with respect to progression-free survival and endometrial cancer-specific survival. These findings suggest that androgen suppresses the estrogen dependence of endometrial cancer through the induction of 17β-HSD2 in endometrial cancer.
View Full-Text
►

▼

Figures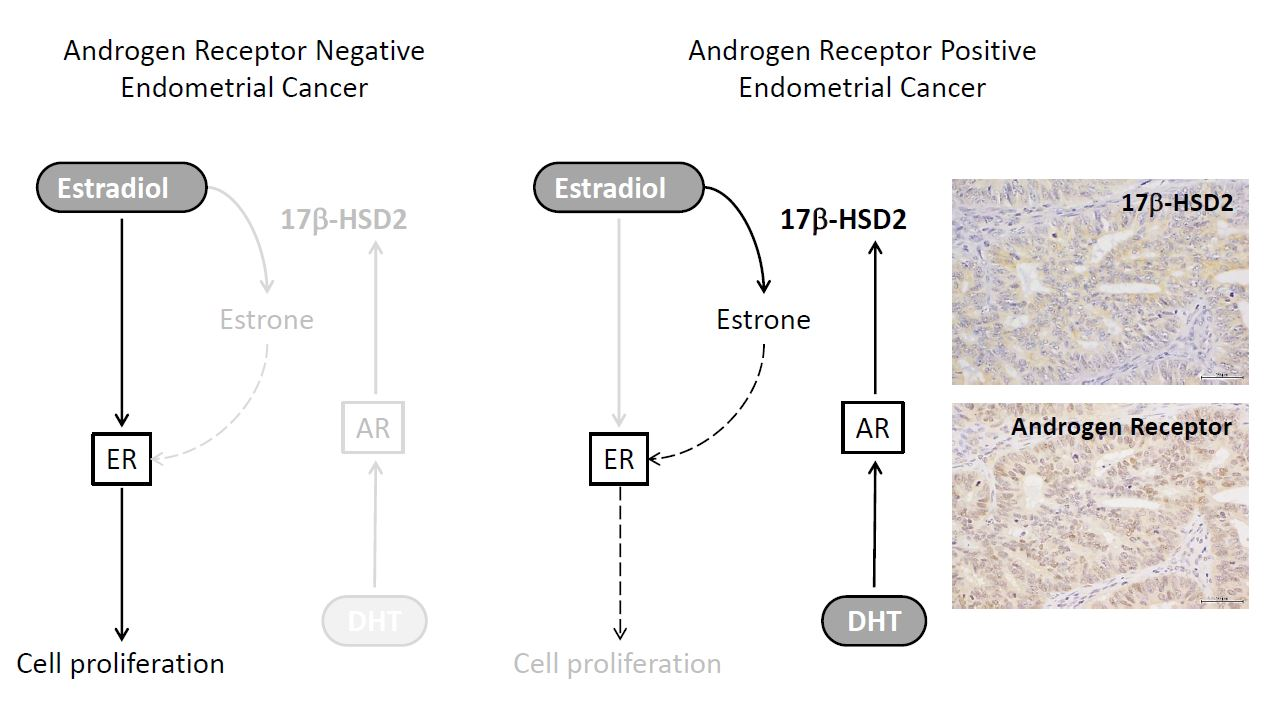 This is an open access article distributed under the
Creative Commons Attribution License
which permits unrestricted use, distribution, and reproduction in any medium, provided the original work is properly cited. (CC BY 4.0).
Share & Cite This Article
MDPI and ACS Style
Hashimoto, C.; Miki, Y.; Tanaka, S.; Takagi, K.; Fue, M.; Doe, Z.; Li, B.; Yaegashi, N.; Suzuki, T.; Ito, K. 17β-Hydroxysteroid Dehydrogenase Type 2 Expression Is Induced by Androgen Signaling in Endometrial Cancer. Int. J. Mol. Sci. 2018, 19, 1139.
Note that from the first issue of 2016, MDPI journals use article numbers instead of page numbers. See further details here.
Related Articles
Comments
[Return to top]