Nephroprotective Effects of Saponins from Leaves of Panax quinquefolius against Cisplatin-Induced Acute Kidney Injury
1
College of Chinese Medicinal Materials, Jilin Agricultural University, Changchun 130118, China
2
College of Pharmacy, Guangxi University of Chinese Medicine, Nanning 530001, China
*
Authors to whom correspondence should be addressed.
Received: 12 May 2017 / Revised: 21 June 2017 / Accepted: 27 June 2017 / Published: 13 July 2017
Abstract
Although cisplatin is an anticancer drug that has activity against malignant tumor, it often causes nephrotoxicity. Previous reports have confirmed that the saponins from the leaves of
P. quinquefolium
(PQS) exerted many pharmacological activities. However, the renoprotective effects of PQS were still unknown. The purpose of the present research was to discuss renoprotective effect of PQS in a mouse model of cisplatin-induced acute kidney injury (AKI). The levels of blood urea nitrogen (BUN) and serum creatinine (CRE) were evidently increased in cisplatin-intoxicated mice, which were reversed by PQS. Renal oxidative stress, evidenced by increased malondialdehyde (MDA) level and decline of glutathione (GSH) and superoxide dismutase (SOD) activities, was significantly alleviated by PQS pretreatment. The suppression of inflammatory response by PQS was realized through the decrease the mRNA expression levels of tumor necrosis factor-α (
TNF-α
) and interleukin-1β (
IL-1β
) in kidney tissues, which were measured by quantitative real-time polymerase chain reaction (qRT-PCR). Simultaneously, the overexpression of cytochrome P450 E1 (CYP2E1) and heme oxygenase-1 (HO-1) were attenuated by PQS. Furthermore, the effects of Western blotting demonstrated that PQS administration significantly suppressed the protein expression levels of nicotinamide adenine dinucleotide phosphate oxidase type 4 (Nox4), cleaved Caspase-3, cleaved Caspase-9, Bax, nuclear factor-κB (NF-κB), cyclooxygenase-2 (COX-2), and inducible nitric oxide synthase (iNOS), suggesting the inhibition of apoptosis and inflammation response. Overall, PQS may possess protective effects in cisplatin-induced AKI through suppression of oxidative stress, inflammation and apoptosis.
View Full-Text
►

▼

Figures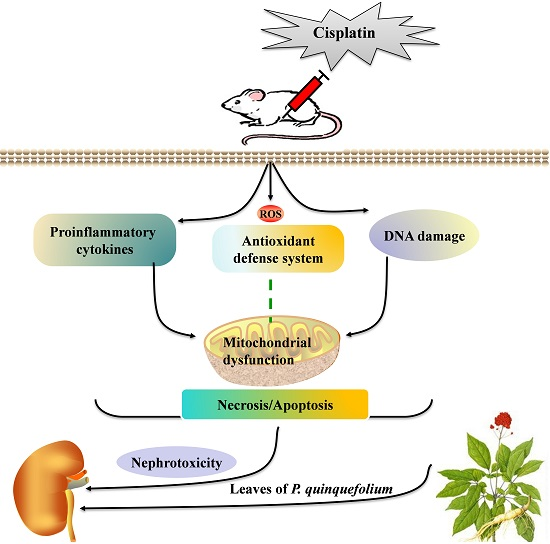 This is an open access article distributed under the
Creative Commons Attribution License
which permits unrestricted use, distribution, and reproduction in any medium, provided the original work is properly cited. (CC BY 4.0).
Share & Cite This Article
MDPI and ACS Style
Ma, Z.-N.; Li, Y.-Z.; Li, W.; Yan, X.-T.; Yang, G.; Zhang, J.; Zhao, L.-C.; Yang, L.-M. Nephroprotective Effects of Saponins from Leaves of Panax quinquefolius against Cisplatin-Induced Acute Kidney Injury. Int. J. Mol. Sci. 2017, 18, 1407.
Note that from the first issue of 2016, MDPI journals use article numbers instead of page numbers. See further details here.
Related Articles
Comments
[Return to top]