The Instrumentation of a Microfluidic Analyzer Enabling the Characterization of the Specific Membrane Capacitance, Cytoplasm Conductivity, and Instantaneous Young's Modulus of Single Cells
1
State Key Laboratory of Transducer Technology, Institute of Electronics, Chinese Academy of Sciences, Beijing 100190, China
2
School of Electronic, Electrical and Communication Engineering, University of Chinese Academy of Sciences, Beijing 100190, China
3
Institute of Microelectronics of Chinese Academy of Sciences, Beijing 100029, China
4
Department of Mechanical Engineering, University of Colorado, Boulder, CO 80309, USA
5
Division of Haematology/Oncology, Department of Internal Medicine, Chang Gung Memorial Hospital at Linkou, Taoyuan City 33302, Taiwan
6
Graduate Institute of Biochemical and Biomedical Engineering, Chang Gung University, Taoyuan City 33302, Taiwan
†
These authors contributed equally to this work.
*
Authors to whom correspondence should be addressed.
Academic Editors: Tuhin Subhra Santra and Fan-Gang Tseng
Received: 16 April 2017 / Revised: 23 May 2017 / Accepted: 25 May 2017 / Published: 19 June 2017
Abstract
This paper presents the instrumentation of a microfluidic analyzer enabling the characterization of single-cell biophysical properties, which includes seven key components: a microfluidic module, a pressure module, an imaging module, an impedance module, two LabVIEW platforms for instrument operation and raw data processing, respectively, and a Python code for data translation. Under the control of the LabVIEW platform for instrument operation, the pressure module flushes single cells into the microfluidic module with raw biophysical parameters sampled by the imaging and impedance modules and processed by the LabVIEW platform for raw data processing, which were further translated into intrinsic cellular biophysical parameters using the code developed in Python. Based on this system, specific membrane capacitance, cytoplasm conductivity, and instantaneous Young's modulus of three cell types were quantified as 2.76 ± 0.57 μF/cm
2
, 1.00 ± 0.14 S/m, and 3.79 ± 1.11 kPa for A549 cells (
n
cell
= 202); 1.88 ± 0.31 μF/cm
2
, 1.05 ± 0.16 S/m, and 3.74 ± 0.75 kPa for 95D cells (
n
cell
= 257); 2.11 ± 0.38 μF/cm
2
, 0.87 ± 0.11 S/m, and 5.39 ± 0.89 kPa for H460 cells (
n
cell
= 246). As a semi-automatic instrument with a throughput of roughly 1 cell per second, this prototype instrument can be potentially used for the characterization of cellular biophysical properties.
View Full-Text
►

▼

Figures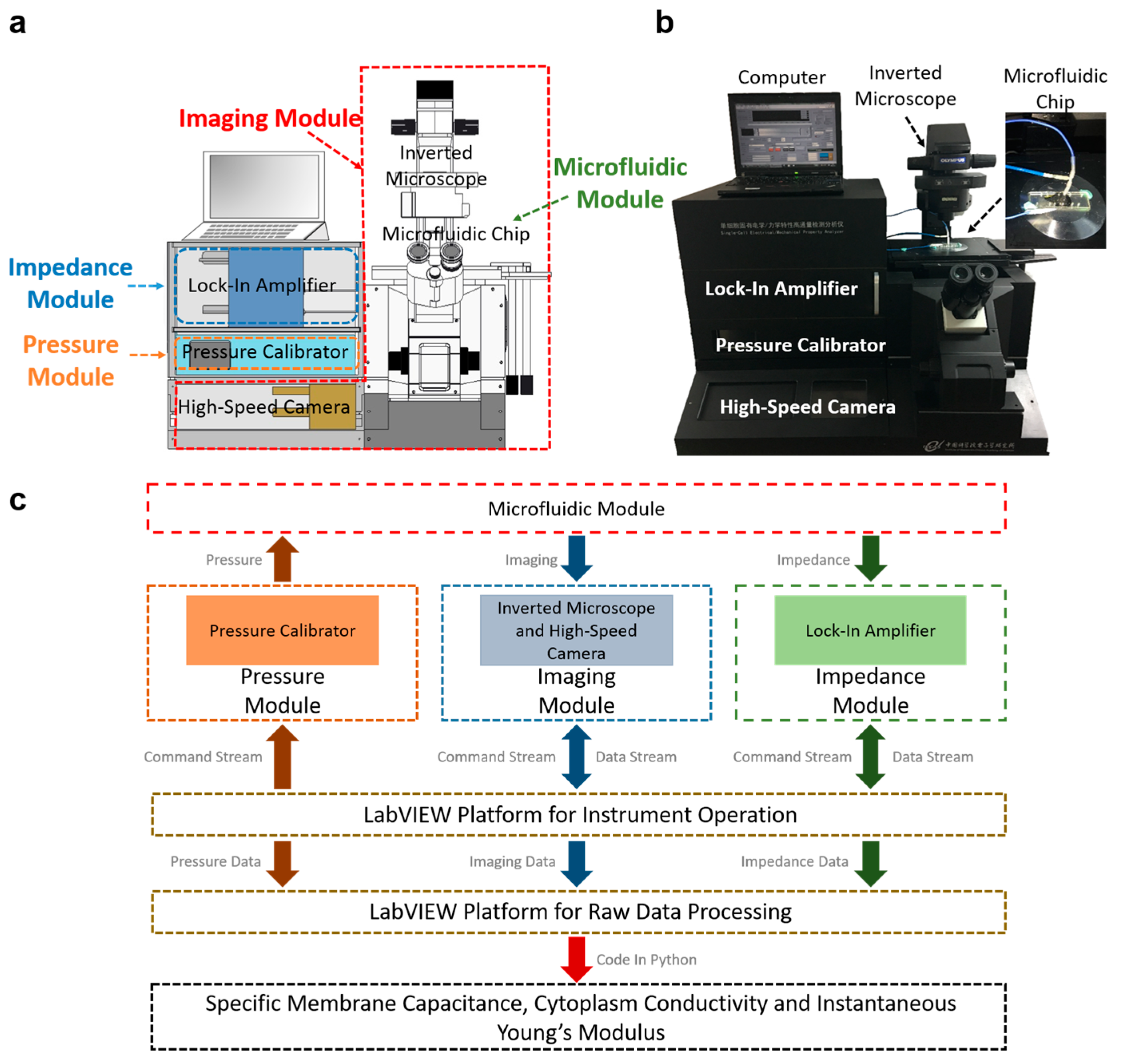 Figure 1
This is an open access article distributed under the
Creative Commons Attribution License
which permits unrestricted use, distribution, and reproduction in any medium, provided the original work is properly cited. (CC BY 4.0).
Share & Cite This Article
MDPI and ACS Style
Wang, K.; Zhao, Y.; Chen, D.; Huang, C.; Fan, B.; Long, R.; Hsieh, C.-H.; Wang, J.; Wu, M.-H.; Chen, J. The Instrumentation of a Microfluidic Analyzer Enabling the Characterization of the Specific Membrane Capacitance, Cytoplasm Conductivity, and Instantaneous Young's Modulus of Single Cells. Int. J. Mol. Sci. 2017, 18, 1158.
Note that from the first issue of 2016, MDPI journals use article numbers instead of page numbers. See further details here.
Related Articles
Comments
[Return to top]