Redox Regulation of the Tumor Suppressor PTEN by Hydrogen Peroxide and Tert-Butyl Hydroperoxide
1
Department of Biochemistry, Chonnam National University Medical School, Gwangju 501-190, Korea
2
Department of Biomedical Sciences, Research Center for Aging and Geriatrics, Research Institute of Medical Sciences, Chonnam National University Medical School, Gwangju 501-190, Korea
3
COTDE Inc. 19-3, Ugakgol-gil, Susin-myeon, Cheonan-si, Chungcheongnam-do 330-882, Korea
4
Department of Obstetrics and Gynecology, Chonnam National University Medical School, Gwangju 501-190, Korea
5
Department of Biochemistry, Dental Science Research Institute, School of Dentistry, Chonnam National University and Korea Mouse Phenotype Center, Gwangju 500-757, Korea
†
These authors contributed equally to this work.
*
Author to whom correspondence should be addressed.
Academic Editor: Terrence Piva
Received: 2 March 2017 / Revised: 21 April 2017 / Accepted: 25 April 2017 / Published: 10 May 2017
Abstract
Organic peroxides and hydroperoxides are skin tumor promoters. Free radical derivatives from these compounds are presumed to be the prominent mediators of tumor promotion. However, the molecular targets of these species are unknown. Phosphatase and tensin homologs deleted on chromosome 10 (PTEN) are tumor suppressors that play important roles in cell growth, proliferation, and cell survival by negative regulation of phosphoinositol-3-kinase/protein kinase B signaling. PTEN is reversibly oxidized in various cells by exogenous and endogenous hydrogen peroxide. Oxidized PTEN is converted back to the reduced form by cellular reducing agents, predominantly by the thioredoxin (Trx) system. Here, the role of
tert
-butyl hydroperoxide (
t
-BHP) in redox regulation of PTEN was analyzed by using cell-based and in vitro assays. Exposure to
t
-BHP led to oxidation of recombinant PTEN. In contrast to H
2
O
2
, PTEN oxidation by
t
-BHP was irreversible in HeLa cells. However, oxidized PTEN was reduced by exogenous Trx system. Taken together, these results indicate that
t
-BHP induces PTEN oxidation and inhibits Trx system, which results in irreversible PTEN oxidation in HeLa cells. Collectively, these results suggest a novel mechanism of
t
-BHP in the promotion of tumorigenesis.
View Full-Text
►

▼

Figures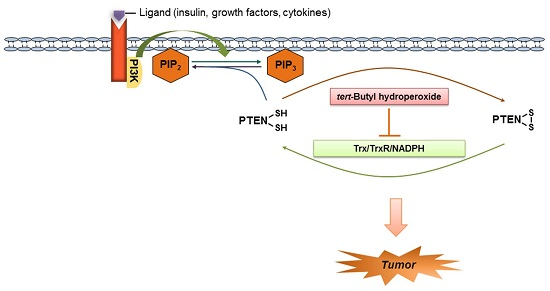 This is an open access article distributed under the
Creative Commons Attribution License
which permits unrestricted use, distribution, and reproduction in any medium, provided the original work is properly cited. (CC BY 4.0).
Share & Cite This Article
MDPI and ACS Style
Zhang, Y.; Han, S.-J.; Park, I.; Kim, I.; Chay, K.-O.; Kim, S.M.; Jang, D.I.; Lee, T.-H.; Lee, S.-R. Redox Regulation of the Tumor Suppressor PTEN by Hydrogen Peroxide and Tert-Butyl Hydroperoxide. Int. J. Mol. Sci. 2017, 18, 982.
Note that from the first issue of 2016, MDPI journals use article numbers instead of page numbers. See further details here.
Related Articles
Comments
[Return to top]