Sus scrofa miR-204 and miR-4331 Negatively Regulate Swine H1N1/2009 Influenza A Virus Replication by Targeting Viral HA and NS, Respectively
1
State Key Laboratory of Agricultural Microbiology, College of Veterinary Medicine, Huazhong Agricultural University, Wuhan 430070, China
2
Department of Animal Science, Tibet Agricultural and Animal Husbandry College, Linzhi 860000, China
3
The Cooperative Innovation Center for Sustainable Pig Production, Wuhan 430070, China
*
Author to whom correspondence should be addressed.
Academic Editor: Susanna K. P. Lau
Received: 23 February 2017 / Revised: 23 March 2017 / Accepted: 29 March 2017 / Published: 3 April 2017
Abstract
The prevalence of swine pandemic H1N1/2009 influenza A virus (SIV-H1N1/2009) in pigs has the potential to generate novel reassortant viruses, posing a great threat to human health. Cellular microRNAs (miRNAs) have been proven as promising small molecules for regulating influenza A virus replication by directly targeting viral genomic RNA. In this study, we predicted potential
Sus scrofa
(ssc-, swine) miRNAs targeting the genomic RNA of SIV-H1N1/2009 by RegRNA 2.0, and identified ssc-miR-204 and ssc-miR-4331 to target viral HA and NS respectively through dual-luciferase reporter assays. The messenger RNA (mRNA) levels of viral HA and NS were significantly suppressed when newborn pig trachea (NPTr) cells respectively overexpressed ssc-miR-204 and ssc-miR-4331 and were infected with SIV-H1N1/2009, whereas the suppression effect could be restored when respectively decreasing endogenous ssc-miR-204 and ssc-miR-4331 with inhibitors. Because of the importance of viral HA and NS in the life cycle of influenza A virus, ssc-miR-204 and ssc-miR-4331 exhibited an inhibition effect on SIV-H1N1/2009 replication. The antiviral effect was sequence-specific of SIV-H1N1/2009, for the target sites in HA and NS of H5N1 or H9N2 influenza A virus were not conserved. Furthermore, SIV-H1N1/2009 infection reversely downregulated the expression of ssc-miR-204 and ssc-miR-4331, which might facilitate the virus replication in the host. In summary, this work will provide us some important clues for controlling the prevalence of SIV-H1N1/2009 in pig populations.
View Full-Text
►

▼

Figures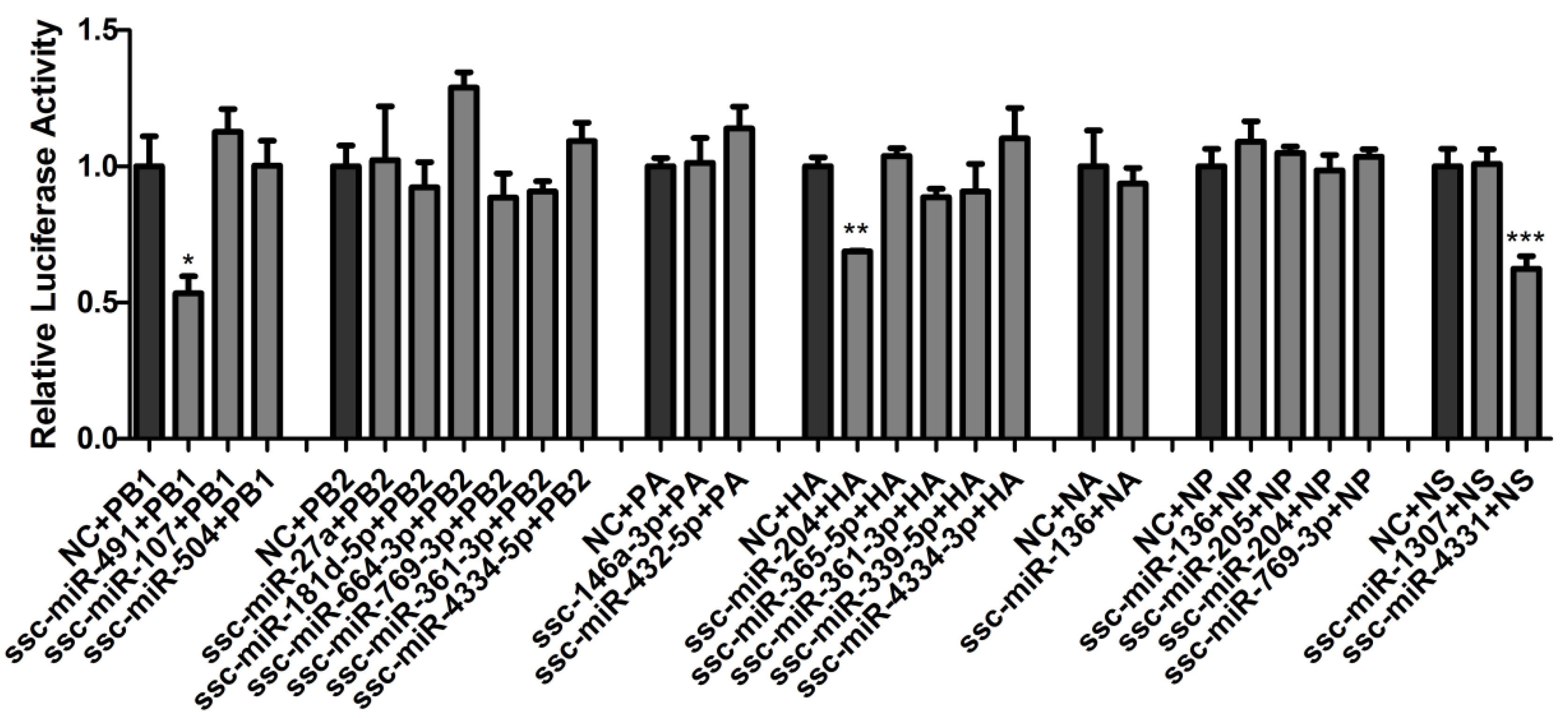 Figure 1
This is an open access article distributed under the
Creative Commons Attribution License
which permits unrestricted use, distribution, and reproduction in any medium, provided the original work is properly cited. (CC BY 4.0).
Share & Cite This Article
MDPI and ACS Style
Zhang, S.; Wang, R.; Su, H.; Wang, B.; Sizhu, S.; Lei, Z.; Jin, M.; Chen, H.; Cao, J.; Zhou, H. Sus scrofa miR-204 and miR-4331 Negatively Regulate Swine H1N1/2009 Influenza A Virus Replication by Targeting Viral HA and NS, Respectively. Int. J. Mol. Sci. 2017, 18, 749.
Note that from the first issue of 2016, MDPI journals use article numbers instead of page numbers. See further details here.
Related Articles
Comments
[Return to top]