Unconventional Transport Routes of Soluble and Membrane Proteins and Their Role in Developmental Biology
1
Institute of Biosciences and Bioresources—Research Division of Perugia, National Research Council (CNR), via della Madonna Alta 130, 06128 Perugia, Italy
2
Department of Experimental Medicine, University of Perugia, 06132 Perugia, Italy
3
Centre for Plant Science, School of Biology, University of Leeds, Leeds LS2 9JT, UK
4
School of Life Sciences, University of Warwick, Coventry CV4 7AL, UK
5
Institute for Microbiology, Heinrich Heine University Düsseldorf, Düsseldorf 40225, Germany
6
Clinical Biochemistry, Institute of Metabolic Science, University of Cambridge, Cambridge CB2 1TN, UK
7
Department of Experimental Plant Biology, Faculty of Science, Charles University, 12844, Prague 2, Czech Republic
8
Institute of Experimental Botany, v.v.i., the Czech Academy of Sciences, 16502, Prague 6, Czech Republic
9
Department of Biological and Environmental Sciences and Technologies (DISTEBA), University of Salento, S.P. 6, 73100 Lecce, Italy
*
Author to whom correspondence should be addressed.
Received: 15 February 2017 / Revised: 22 March 2017 / Accepted: 23 March 2017 / Published: 25 March 2017
Abstract
Many proteins and cargoes in eukaryotic cells are secreted through the conventional secretory pathway that brings proteins and membranes from the endoplasmic reticulum to the plasma membrane, passing through various cell compartments, and then the extracellular space. The recent identification of an increasing number of leaderless secreted proteins bypassing the Golgi apparatus unveiled the existence of alternative protein secretion pathways. Moreover, other unconventional routes for secretion of soluble or transmembrane proteins with initial endoplasmic reticulum localization were identified. Furthermore, other proteins normally functioning in conventional membrane traffic or in the biogenesis of unique plant/fungi organelles or in plasmodesmata transport seem to be involved in unconventional secretory pathways. These alternative pathways are functionally related to biotic stress and development, and are becoming more and more important in cell biology studies in yeast, mammalian cells and in plants. The city of Lecce hosted specialists working on mammals, plants and microorganisms for the inaugural meeting on "Unconventional Protein and Membrane Traffic" (UPMT) during 4–7 October 2016. The main aim of the meeting was to include the highest number of topics, summarized in this report, related to the unconventional transport routes of protein and membranes.
View Full-Text
►

▼

Figures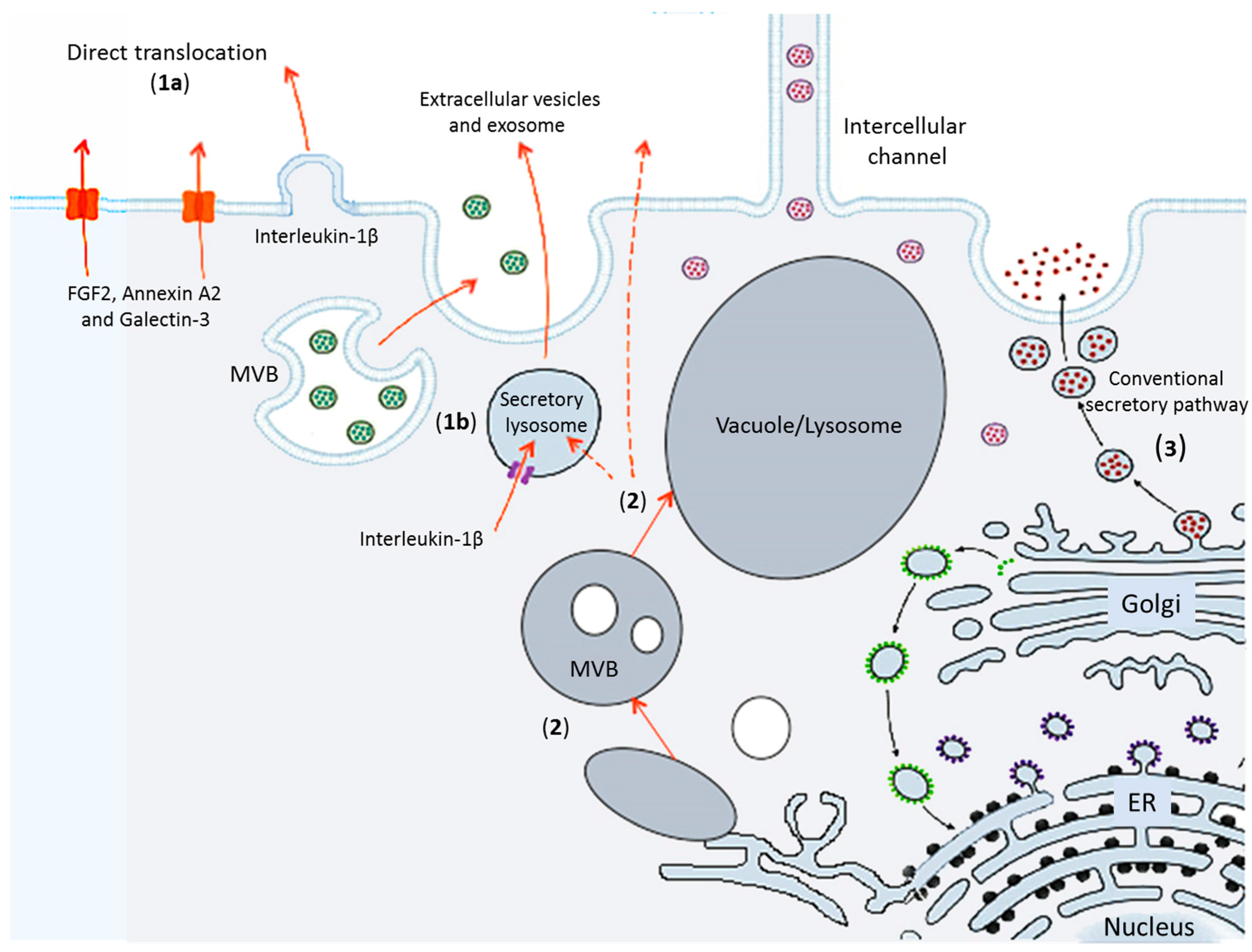 Figure 1
This is an open access article distributed under the
Creative Commons Attribution License
which permits unrestricted use, distribution, and reproduction in any medium, provided the original work is properly cited. (CC BY 4.0).
Share & Cite This Article
MDPI and ACS Style
Pompa, A.; De Marchis, F.; Pallotta, M.T.; Benitez-Alfonso, Y.; Jones, A.; Schipper, K.; Moreau, K.; Žárský, V.; Di Sansebastiano, G.P.; Bellucci, M. Unconventional Transport Routes of Soluble and Membrane Proteins and Their Role in Developmental Biology. Int. J. Mol. Sci. 2017, 18, 703.
Note that from the first issue of 2016, MDPI journals use article numbers instead of page numbers. See further details here.
Related Articles
Comments
[Return to top]